How Stranger Things Worked Gaten Matarazzo's Medical Condition Into The Script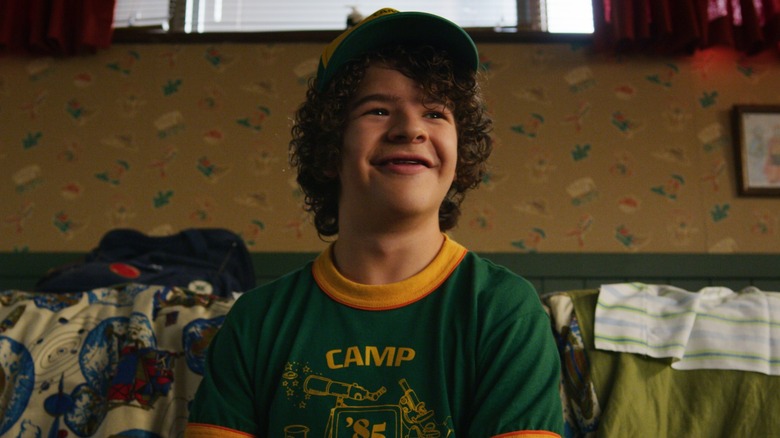 Netflix
Since its premiere during the summer of 2016, the sci-fi drama series "Stranger Things" has become one of the gold standards of Netflix's original programming. This is thanks to a dazzling array of visual effects, poignant and exciting storytelling from creators Matt and Ross Duffer, a hefty dose of '80s nostalgia, and a cast of characters that finds its way into the hearts of viewers. Winona Ryder (as Joyce Byers) and David Harbour (as Jim Hopper) stand out as the resident adults of the show, but the core group of younger actors lead the show.
Fans of the program all have their favorite characters, but when it comes to charm and comedy relief, Dustin Henderson, played by Gaten Matarazzo, is a highlight. Whether he is singing "The Neverending Story" theme song with Suzie (Gabriella Pizzolo) or dancing with Nancy Wheeler (Natalia Dyer), Dustin's best episodes are always memorable. Matarazzo lives with cleidocranial dysplasia (CCD), which he has brought awareness to since the start of the show when he gained recognition for his performance. Interestingly, he has also spoken about how the showrunners worked the bone condition into the script for Dustin.
Dustin uses humor when mentioning his CCD on the show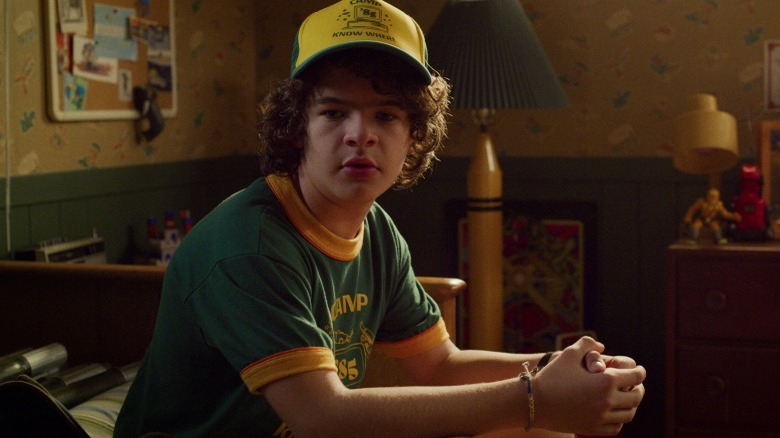 Netflix
In a 2022 interview with Esquire, Gaten Matarazzo speaks about his career since the launch of "Stranger Things" in 2016. He also discusses life with CCD, including his tireless work to bring more awareness to the bone condition that can affect the development of the skull, bones, and joints, particularly the clavicle (which the actor does not have). Matarazzo's malady is a rare disease, and this explains why most people may not be familiar with some of its symptoms.
The actor established a nonprofit organization called "CCD Smiles" that raises revenue for those who may not receive financial assistance in covering the cost of cleidocranial dysplasia surgeries. Health insurance companies frequently decline coverage for the procedures. Thanks to the Duffer Brothers, art imitates life since the writers added the bone condition as part of Dustin's life as well.
Matarazzo shared how the scripts transition into Dustin's CCD in unique ways and usually make light of the circumstance. He commented, "It makes me emotional thinking about how weirdly accurate they bring it up every season. There's always a little reference in a weird little joking manner. It's the way I would joke about it with my friends."