Michael B. Jordan Looks Perfect As DC's Val-Zod In Mesmerizing Fan Art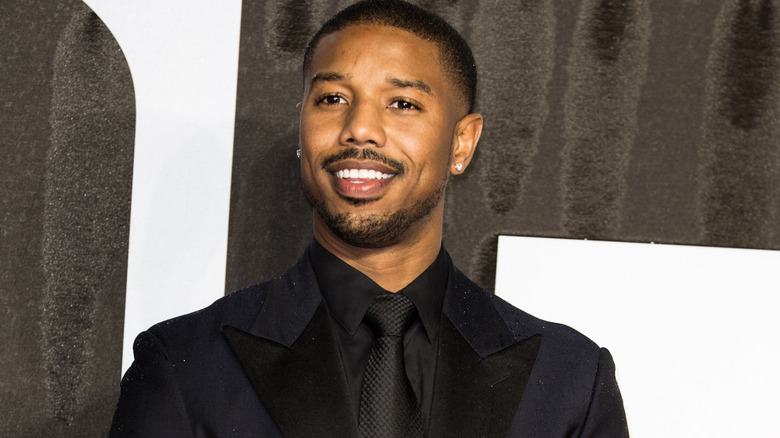 Tom Rose/Shutterstock
The past few months have seen a series of interesting developments for the DC Universe. In late October 2022, DC Films producer Peter Safran and former Marvel director James Gunn were brought on to DC Studios to revamp the company's line of projects for the near future. And after a few more months of waiting, fans got the news they'd been anticipating. The end of January 2023 saw Gunn and company reveal their plans for the next few years with DC's fresh lineup of projects. Amid the varied collection of films, television shows, and animation, one of the biggest announcements is the news of the film, "Superman: Legacy," the first big-screen appearance of Superman since 2013's "Man of Steel."
But before that was announced, another project featuring another version of the iconic character was set to be made, that being the series "Val-Zod." The project would have seen none other than "Creed III" star Michael B. Jordan take on the alternate version of Superman. News of the project heated up in 2021, but since the new DC plans have taken place, not much has been revealed on the limited series' fate. But that hasn't stopped some fans from visualizing Jordan in the iconic role. 
This fan art shows that Michael B. Jordan more than fits the bill
Michael B. Jordan is no stranger to comic book movie roles. In 2015, the actor starred as good guy Johnny Storm, also known as the Human Torch, in the messy production of "Fantastic Four." Three years later, Jordan's talents were lent to a far more successful project, this time joining the Marvel Cinematic Universe for 2018's "Black Panther," where the actor received widespread acclaim for his rugged performance as the film's main antagonist, Erik "Killmonger" Stevens. And while he did once voice Cyborg in the 2013 animated film "Justice League: The Flashpoint Paradox," the news of him playing Val-Zod in a proposed HBO Max series would've been the actor's first major step into the world of live-action DC films. 
But perhaps Instagram artist Yadvender Singh Rana, aka @ultraraw26, was ahead of the crowd. In February 2021, when only rumors were circulating of Jordan's involvement in the JJ Abrams-written Superman project, Rana created a fan piece giving us an idea of what Michael B. Jordan's take on Val-Zod might look like. Between Jordan's peak physique and the classic Val-Zod costume and coloring, it doesn't take much to convince us that Jordan would be more than a perfect fit. While the actor's most recent updates on the project have been rather vague, to say the least, it does little to change the thrill of imagining what Jordan could bring to the role.