Harry Potter's Evanna Lynch Wants Fans To Give JK Rowling A Second Chance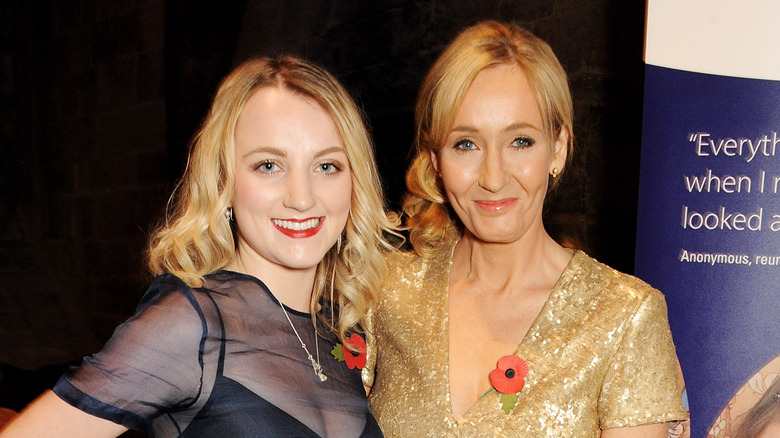 David M. Benett/Getty Images
Three years after coming to the defense of trans "Harry Potter" fans at the height of J.K. Rowling's initial transphobic Twitter barrage in June of 2020, Evanna Lynch is seemingly walking back her rebuke of the British children's author. Lynch is best known for playing the free-spirited Ravenclaw witch Luna Lovegood, who first appeared in the 2007 film "Harry Potter and the Order of the Phoenix."
Shortly after Rowling first began denouncing the trans community (in a series of tweets that spiraled out of a reaction to an article using the gender-inclusive phrase "people who menstruate"), Lynch tweeted (per the Independent) that she was "saddened to see trans people feeling abandoned by the HP community." Though she insisted that Rowling was both compassionate and philanthropic, she stated that she disagreed with the author's claim that cis-women were "the most vulnerable minority in this situation" and further asserted that Rowling was "on the wrong side of this debate."
"I imagine that being trans and learning to accept and love yourself is challenging enough," wrote Lynch at the time, "and we as a society should not be adding to that pain. Feeling like you don't fit in or aren't accepted for who you are are the worst, most lonely feelings a human can experience and I won't be helping to marginalise trans women and men further." She ended her statement by apologizing to trans fans and promised, "I for one will work to make [the Wizarding World] feel inclusive because trans women are women." In the years since, however, it appears as though Lynch's perspective has shifted slightly, as she seemingly characterizes her previous stance as "naive."
Lynch empathizes with both sides of the argument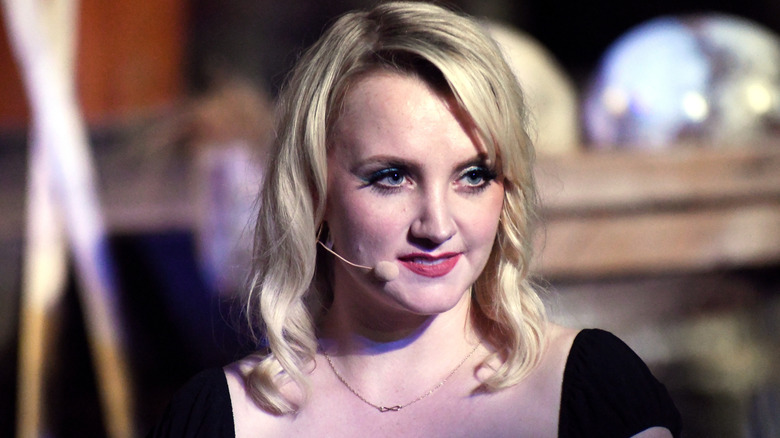 Gerardo Mora/Getty Images
"I was very naive when I was dragged into that conversation," said Evanna Lynch in a February 2023 interview with The Telegraph. "I didn't even know there were two sides. I had a view of, like, good and bad."
Though she reiterates that she doesn't want to add to the pain trans people experience (comparing their dysmorphia to her experience of being "a teenager who hated my body so much I wanted to crawl out of my skin"), she believes J.K. Rowling's work in "amplifying the voices of de-transitioners" has been "important." In a 2020 analysis of Rowling's initial claims about so-called "de-transitioners," Insider wrote that Rowling had mischaracterized the concept both in scope and reasoning, citing a study that found less than 1 percent of people who transition ultimately reget their choice.
For Lynch, while she doesn't seem to champion either side of this issue anymore, she does express her support for Rowling's perspective to be heard. "I just felt that her character has always been to advocate for the most vulnerable members of society," she said. "The problem is that there's a disagreement over who's the most vulnerable. I do wish people would just give her more grace and listen to her."
Lynch is joined in her support of Rowling by fellow "Harry Potter" alum Helena Bonham Carter, who lightly accused those castmates who distanced themselves from Rowling (such as Daniel Radcliffe) of merely protecting their fanbase. Rowling has also courted the favor of personalities ranging from activist Dennis Noel Kavanagh (whom she personally welcomed back to Twitter after a tweet about preferring the AIDs epidemic to trans charities got him banned) to popular conservative commentator and self-described "theocratic fascist" Matt Walsh.