Daisy Jones & The Six Fans Are Obsessing Over The Series' Casting Choices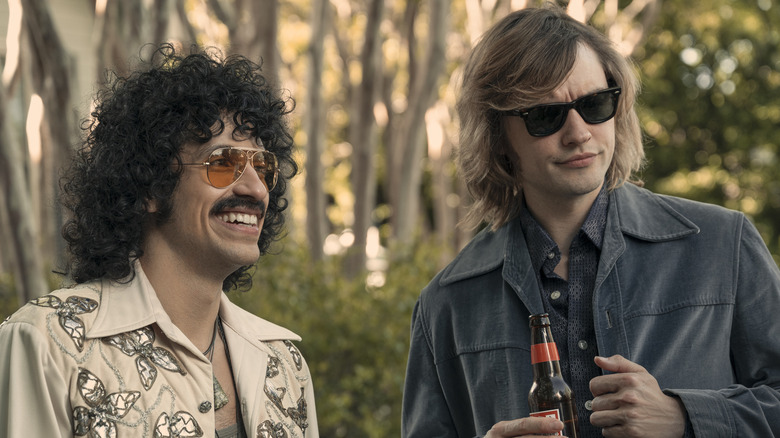 Lacey Terrell/Prime Video
On March 2, 2023, Amazon dropped the first three episodes of its newest Prime Video series, "Daisy Jones & the Six." Based on the New York Times bestseller of the same name written by Taylor Jenkins Reid, fans and critics alike have been awaiting the release of the fictional behind-the-scenes rock drama since before the pandemic, with production delays pushing its release further and further out.
While much fanfare has been made as to who "Daisy Jones & the Six" is based on, Reid wrote an essay for Hello Sunshine and revealed that as she was writing the book, she kept going back to a moment between Fleetwood Mac's Stevie Nicks and Lindsey Buckingham. "I kept coming back to that moment when Lindsey watched Stevie sing 'Landslide'," she wrote. How it looked so much like two people in love. And yet, we'll never truly know what lived between them. I wanted to write a story about that, about how the lines between real life and performance can get blurred, about how singing about old wounds might keep them fresh."
Like most book readers, fans have had images in their heads of what each member of the band should look like ever since the work came out in 2019. Fans have been impressed that the actors learned to play their instruments and sing to increase the authenticity of the band, but we're even more excited that the cast strongly resembles the images we already had in our heads.
Fans think the characters are spot on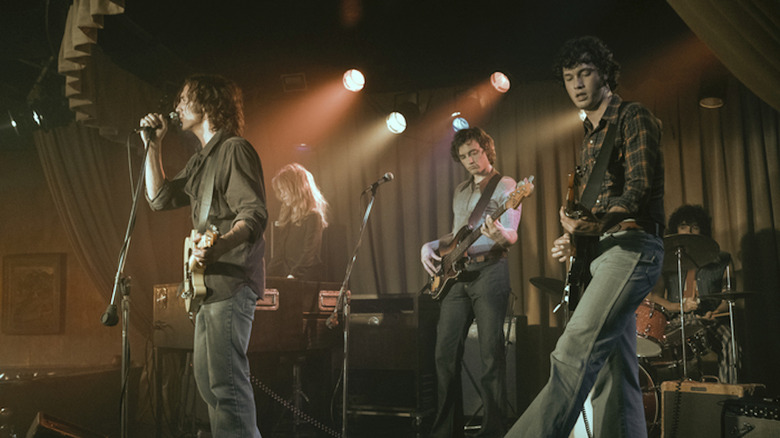 Pamela Littky/Amazon Studios
"Daisy Jones & The Six" is composed of six band members: singer Daisy Jones (Riley Keough), singer and guitarist Billy Dunne (Sam Claflin), Billy's brother and guitarist Graham (Will Harrison), keyboardist Karen Sirko (Suki Waterhouse), bass player Eddie Roundtree (Josh Whitehouse), and drummer Warren Rojas (Sebastian Chacon). While Daisy Jones and Billy are the show's stars — with the focus on their love-hate relationship along with the friction it causes Billy and Camila's (Camila Morrone) marriage — fans are happily surprised at how well the rest of the band members are fleshed out. "Big fan of the book," wrote a fan on a "Daisy Jones & the Six" subreddit. "I can't get over how this casting is flawless for every character. Really, really great casting. I'm hopeful for the show."
Fans were impressed with how perfectly many of the actors matched up with their characterizations from the book. "OMG Eddie is so cute, he looks exactly as I imagined Eddie," tweeted @jillywonker. "Billy Dunne's cast[ing] is immaculate," tweeted @crookedweasley. Fans also praised the casting of Riley Keough as the hard-headed, beautiful free spirit Daisy. "Somehow fitting that Elvis's granddaughter plays a rock star," wrote u/wednesdayware.
With a Rotten Tomatoes Tomatometer score of 73% and an Audience Score of 86% as of this writing, it's obvious that "Daisy Jones & the Six" has struck a chord with fans, and a big reason for it is likely because the actors embody these characters so thoroughly.