Sylvester Stallone Got His Revenge For Not Getting Cast In The Godfather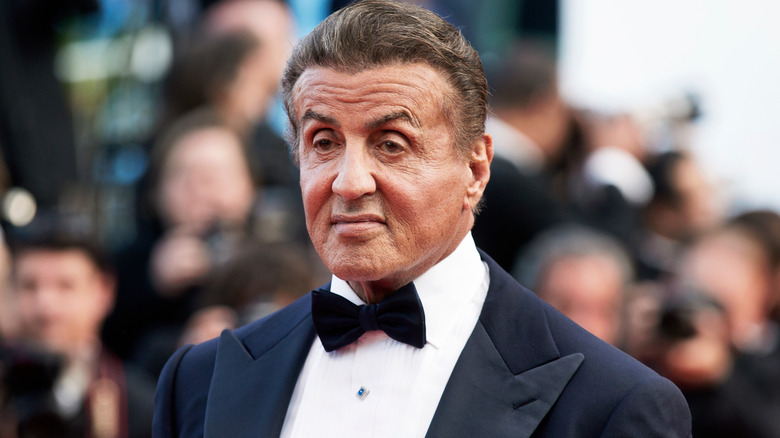 Andrea Raffin/Shutterstock
It's hard to fathom the idea of Sylvester Stallone not being chosen for a part, especially something as simple as an extra in the background. However, the actor experienced quite the heartbreaking rejection by Francis Ford Coppola, director of "The Godfather" trilogy.
In an interview with Empire, Stallone revealed that he campaigned to have a small role in the 1972 film's famous wedding scene between Connie Corleone Rizzi (Talia Shire) and Carlo Rizzi (Gianni Russo). However, his dreams were quickly dashed. The actor recalled, "I went to Paramount and said, 'Can I be an extra in the wedding scene?' They said, 'Yeah, we don't know if you're the type of guy.' I go, 'I'm not the type? To play in the background, hiding behind a f****** wedding cake?'"
Stallone elaborated in a separate interview with SiriusXM: "I wasn't Italian enough, can you imagine?"
Of course, Stallone went on to enjoy a storied career thanks to the "Rocky" film series, which ironically stars Shire as his on-screen wife Adrian, and many other popular projects like "Creed." Still, there was always a bit of annoyance toward Ford Coppola for not including him in "The Godfather," especially given Stallone's Italian-American heritage. Much to Stallone's satisfaction, he got revenge on Ford Coppola a few years later in the sweetest way possible.
Sylvester Stallone got to smash the cake of Godfather director Francis Ford Coppola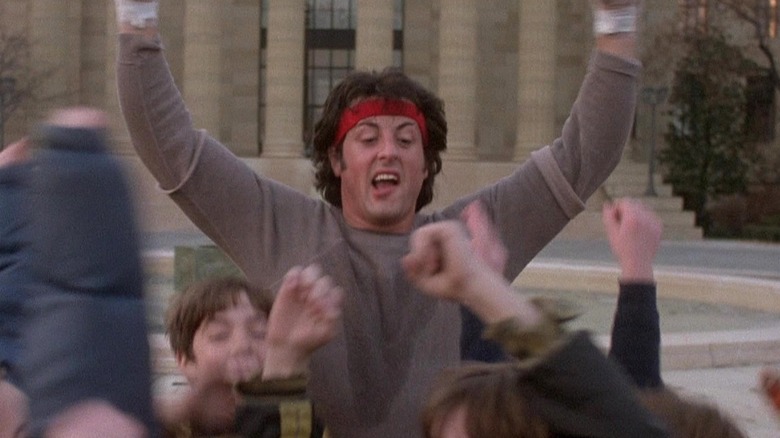 Chartoff-Winkler Productions
Several years after the release of "The Godfather," Sylvester Stallone was one of the top names in Hollywood, thanks to his portrayal of Philadelphia boxer Rocky Balboa. In fact, "Rocky" took home the Academy Award for Best Picture in 1977. Therefore, when he heard that Francis Ford Coppola was casting for "Apocalypse Now," he assumed that this time around, the director wouldn't overlook him. Stallone shared with SiriusXM that his assumption was incorrect, but he ensured Ford Coppola would remember this second slight toward him. 
One day, at around noon, Stallone went to Ford Coppola's office at Warner Bros. Studios to meet with him regarding "Apocalypse Now." Person after person came and went, yet Stallone remained to wait. As the hours passed, he became angrier — and hungrier — and ventured to the coffee area.
"I see this seven-layer jelly cake with saran wrap on it. I go, 'Ah, I gotta have this, I need a sugar high. I need something,'" said Stallone. However, there was a toothpick stuck in the cake with a small flag bearing the words, "Hands off, property of Francis." Fed up, Stallone took both hands and smashed the cake, covering himself and the walls before storming out. "I go home, Francis Ford calls up berserk. He went nuts. He threw an Oscar through the window. He was out of his mind that I squashed his jelly cake," said Stallone.
Needless to say, Stallone didn't get a part in "Apocalypse Now," but he has absolutely no regrets. In fact, he's finally getting to live out his mafia dream as New York capo Dwight "The General" Manfredi in Taylor Sheridan's Paramount+ series "Tulsa King." Stallone told Empire, "Everything comes to those who wait."