Young Sheldon Fans' Hearts Are Melting Over The Name Of George And Mandy's Baby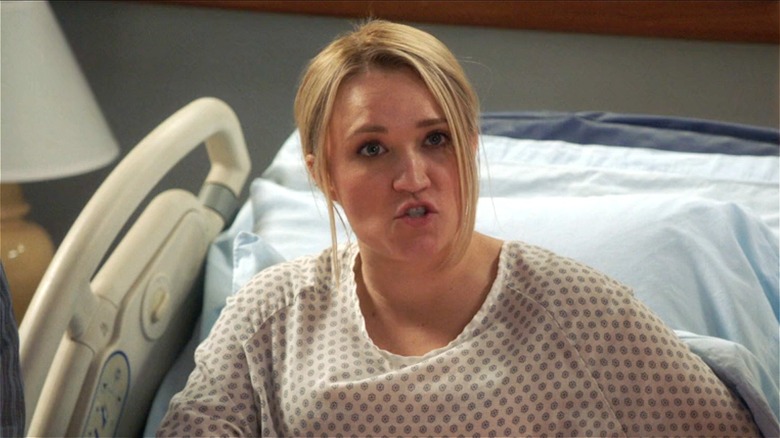 CBS
Despite the main character of "Young Sheldon" not being the biggest fan of interpersonal relationships, that doesn't mean the show is totally bereft of human drama. As a matter of fact, the dynamics between individuals in "Young Sheldon" can actually be drama-filled — just look at the interactions between Pastor Rob (Dan Byrd) and Mary Cooper (Zoe Perry) or Georgie (Montana Jordan) and Mandy McAllister (Emily Osment).
The most recent episode of "Young Sheldon" features a bunch of different stories, but they all converge at the hospital. This particular episode starts with the Cooper family pretending to be excited for Sheldon (Iain Armitage) on account of his launch party for his early internet program. However, this takes the proverbial backseat to Georgie's attempt at setting up a baby car seat, Mandy going into labor, and plenty of accusations in the hospital waiting room. As Mary and George (Lance Barber) air their grievances and suspicions, Meemaw (Annie Potts) steps in to act as a support for Mandy, since everybody else is fighting or aggravating the soon-to-be mother (a reoccurring trend in the past few episodes). Of course, when Mandy's baby finally arrives, audiences are treated to her choice of names, and it seems like fans of "Young Sheldon" absolutely adore the selection.
Fans love that Mandy and Georgie's baby is named after Meemaw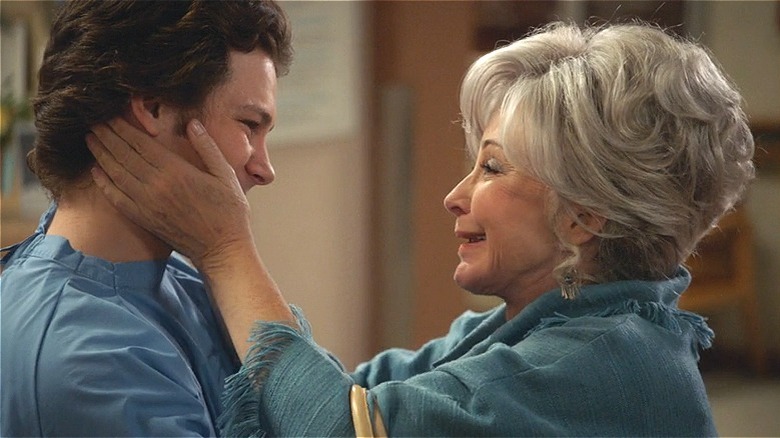 CBS
Although most of the people in Mandy's life are too busy being angry with each other, Meemaw and Georgie provide the one consistent foundation in her life. Right before Mandy delivers the baby, Georgie manages to get everybody else out of the delivery room. The different families and individuals then wait for the good news, which happens when Georgie comes out and tells everybody that Mandy just gave birth the most beautiful baby girl named Constance — Meemaw's real name. This tender moment and response from Meemaw was almost too much for fans of the show, and they took to social media to share their love of the moment.
On Reddit, u/edits_updates_more wrote, "Naming the baby after Connie was the sweetest thing ever. She was there for Mandy more then anyone (Besides Georgie, obviously), and they grew such a special bond. I'm so happy for her." u/hbumjr also felt the same way and said that they believe that Meemaw totally earned the right for the baby to be named after her. Thoughts were quite similar on Twitter, where @Reebunchanumbers said they loved this moment, calling it sweet and adding that they needed this episode. @TheRealKDeppz, @makkipun, and @EarthFae306 were also big fans and expressed happiness for both Meemaw and the newly arrived baby Constance. One thing is for certain, though — "Young Sheldon" fans were filled with joy during the aforementioned scene.