Jerry Stiller Originally Passed On Doing Seinfeld (Until Six Months Later)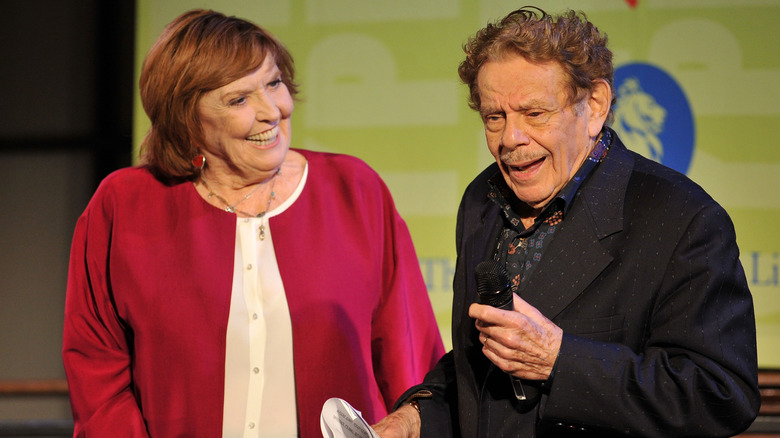 Bryan Bedder/Getty Images
There are a countless number of stories (sometimes cringe-worthy) of actors turning down roles in movies and TV that ended up becoming hugely well-known. Burt Reynolds famously turned down being John McClane in "Die Hard" as well as Han Solo in "Star Wars." Julia Roberts turned down "Shakespeare in Love," and Matt Damon said no to James Cameron's "Avatar." Many people may not know that Jerry Stiller was in the same category. He initially turned down a role that ended up being for what many consider the greatest sitcom in television history. But the one thing Stiller had happen that these other stars didn't was that he got a second chance at this decision.
Stiller, who passed away in 2020 at age 92, started studying theater at Syracuse University after serving in World War II. His career really took off when he and his wife, Anne Meara, began performing at various points on "The Ed Sullivan Show." Of course, Stiller is probably most famously known for playing the character Frank Costanza, father of George Costanza (Jason Alexander) on NBC's "Seinfeld." The hilariously unique character of Frank embodied both calmness and rage simultaneously, especially when around his wife Estelle (Estelle Harris). The Brooklyn native appeared in 27 episodes spanning six seasons. One thing that many fans may not know is that not only was Stiller not the first actor to play Costanza, but it was because he initially turned the role down.
John Randolph played Frank Costanza first
Believe it or not, the role of Frank Costanza was originally played by the late veteran actor John Randolph. But that was because Jerry Stiller initially said no to the role — mostly because he was in the middle of performing in a Broadway show, but also because he had never heard of Jerry Seinfeld before. However, as Stiller explained in an interview with "Pioneers of TV," six months later producer Larry David met with him and admitted that Randolph wasn't working out. The part was re-offered with some immediate direction from David regarding Frank's on-screen wife. "You're working with a lady who screams a lot. She's very loud," Stiller said, repeating David's words. "And I want you to play it down." Stiller agreed, but as his fans now know, David's direction didn't last long.
When Stiller first got to the "Seinfeld" set and ran through rehearsals with Harris, she played the role exactly how David explained. However, Stiller could tell that the character dynamic between the two of them wasn't clicking, and the audience's non-reaction proved it. Stiller gave it another try and — this time — yelled back at Harris instead of staying quiet. "Well, everybody starts screaming and laughing. And Larry David said 'yeah, keep it that way,'" he recalled. The rest is history as this ready-to-blow-any-moment firecracker of a character was exactly what fans got and adored throughout the rest of Stiller's run on the hit series.