11 Best Directorial Debuts By Actors Turned Directors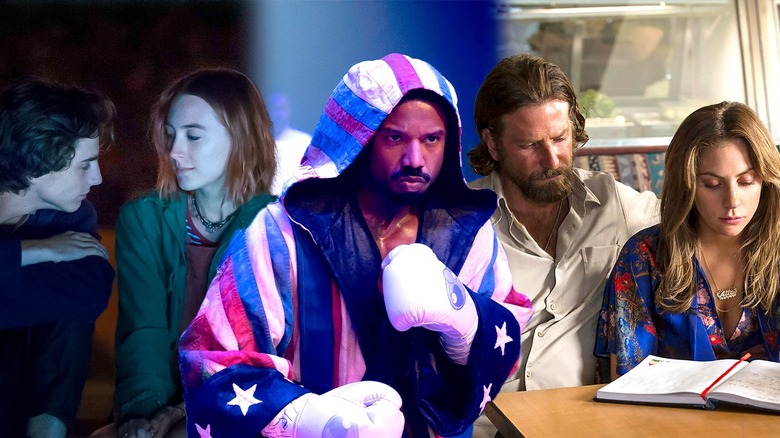 Static Media
Nobody knows how to draw a great performance out of an actor more than someone who's been in front of the camera themselves. Throughout film history, some of the industry's greatest thespians have graduated from movie stars to prestigious film directors. No matter the genre they originated in, actors like Bradley Cooper, Dennis Hopper, Jodie Foster, Clint Eastwood, and Denzel Washington have made the climb from stardom to tell their own powerful stories.
Though many have directed flicks with themselves in the title role, some, such as Washington, have ventured out into stories that don't include them in front of the camera at all. In the 21st century alone, some incredible movies have been directed by actors-turned-directors, films like Angelina Jolie's "Unbroken," Ben Stiller's "The Secret Life of Walter Mitty," and John Krasinski's "A Quiet Place."
Directorial debuts are exciting because they are our first look at a filmmaker's vision. That said, when an actor transitions to directing, their debuts are even more interesting, as we see what they've learned from all their time in front of the camera.
Easy Rider (Dennis Hopper)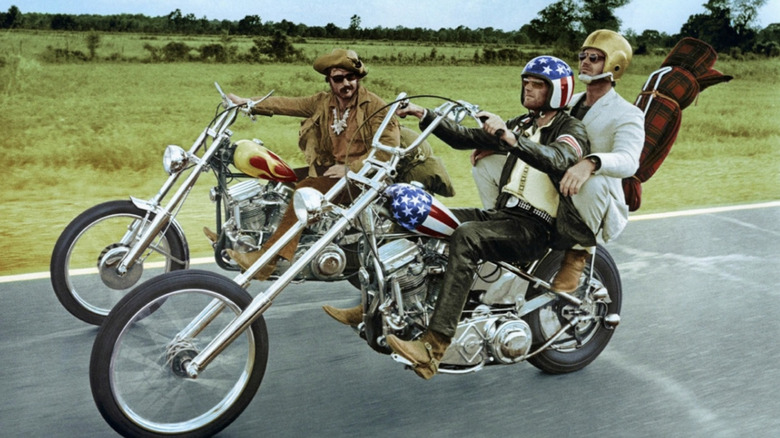 Columbia Pictures
After 50 years, Dennis Hopper's 1969 directorial debut is still the actor's finest filmmaking endeavor, and some of his most compelling work as a performer. "Easy Rider" was written by Hopper, his co-star Peter Fonda, and Terry Southern. It centers around two bikers traveling throughout the American Southwest into the deep South. The film has been praised by critics and audiences alike for highlighting the "New Hollywood" era of filmmaking that eventually influenced flicks like "Rocky," "Taxi Driver," "Alien," and "The Godfather."
The film's psychedelic and countercultural approach was notable at the time of its release, as was the film's use of actual drugs in the production, according to the "Easy Rider: Shaking the Cage" making-of documentary. Both Wyatt (Fonda) and Billy (Hopper) challenge the establishment of Old Hollywood, reinforcing the rise of "hippie culture" as they search for America. "Easy Rider" also helped put actor Jack Nicholson on the map, earning him an Academy Award nomination for best supporting actor.
When reviewing the film, critic Roger Ebert noted that "it was inevitable that a great film would come along, utilizing the motorcycle genre, the same way the great Westerns suddenly made everyone realize they were a legitimate American art form. "Easy Rider" is the picture." There's no doubt that this road trip flick — which serves as a sort of anti-Western — is among Hollywood's greatest, proving Hopper's chops as both a motorcyclist and a feature film director.
Antwone Fisher (Denzel Washington)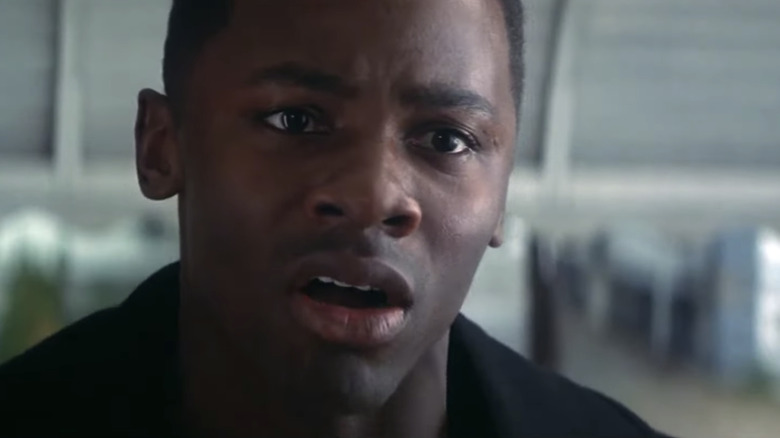 20th Century Fox
After starring in nearly 30 films, Denzel Washington released his first directorial feature "Antwone Fisher" in 2002. Based on the story of the real-life Antwone Fisher, a former U.S. Navy seaman who is credited as the screenwriter, the film stars Derek Luke in the title role. Washington also stars as Fisher's psychiatrist Lt. Cmdr. Dr. Jerome Davenport, a capable man of conviction who helps Fisher find his way and heal from his past traumas.
Not only is Washington's performance exceptional as always, but his style as a director suits him nicely. While critics and audiences spoke highly of Washington's debut, it was Fisher's reaction that was most notable. "When I saw the film for the first time, I was overwhelmed by a mixture of feelings: fear, joy, pride and satisfaction — all of which still linger," he told Cinema.com. "I hope others, too, walk away with those same feelings and the courage to do something to better the lives of children in general."
When discussing Washington, Luke praised the actor-turned-director remarking, "Denzel is a genius. He's an actor's actor. He's able to conform to any actor and he brings out the best in you." No doubt, Washington's subsequent work as a director speaks for itself, especially the 2016 film "Fences," which earned four Oscar nominations and one win. For Washington, "Antwone Fisher" was the first step towards a compelling catalog of directorial work that shows just how impressive a filmmaker he truly is.
A Star Is Born (Bradley Cooper)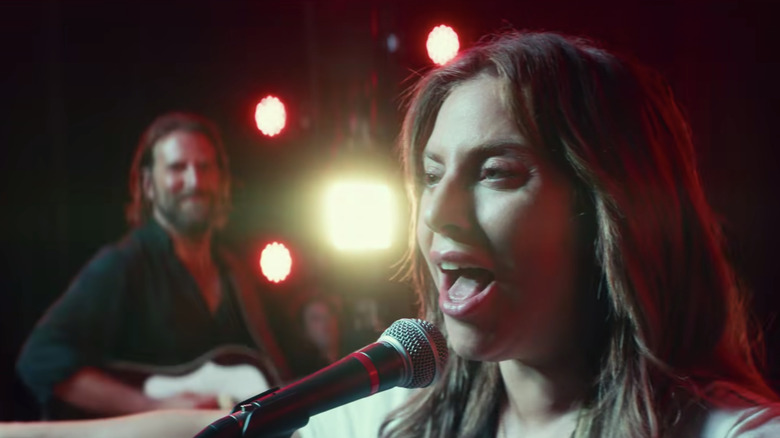 Warner Bros.
Since the late 1930s, "A Star Is Born" has been retold every few decades, updating this iconic musical romance for the times. The latest remake, released in 2018, was directed by Bradley Cooper, who put his own unique spin on the Hollywood classic, this time starring opposite Lady Gaga. Cooper's work as the alcoholic country rockstar Jackson Maine, performing his own impressive vocals, was a performance for the ages, only rivaled by that of Lady Gaga. With a killer soundtrack and imposing visuals, this was a triumphant debut for Cooper.
The film's soundtrack was quickly certified double platinum, selling over six million copies, according to Billboard, while the film itself was nominated for eight Academy Awards, winning the Oscar for best original song in the process. "Shallow," which is performed by Cooper and Gaga, became an immediate hit with audiences. For Cooper's first time in the director's chair, he crafted a compelling and challenging rendition of this timeless tale that sticks the tragic ending.
As Cooper's only directorial feature to date, "A Star Is Born" is a great launching point for his future filmmaking career. His next feature, the 2023 Netflix film "Maestro," is a biopic about Leonard Bernstein, played by Cooper himself, which will highlight the musician's romance with Felicia Montealegre, played by Carey Mulligan. Needless to say, after his 2018 debut, we're excited for whatever Cooper does next.
This Is Spinal Tap (Rob Reiner)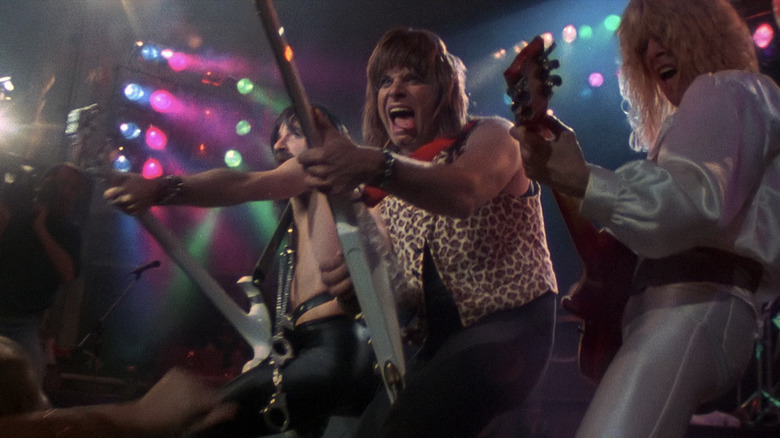 Embassy Pictures
Before he was famous as the director of films like "The Princess Bride," "Stand By Me," and "When Harry met Sally," Rob Reiner was best known as the actor who played Michael "Meathead" Stivic on the sitcom "All In The Family." But that all changed with the release of his directorial debut, "This Is Spinal Tap." The "rockumentary" centered around the fictional Spinal Tap, known as "England's loudest band," as they tour the country, playing to dwindling audiences. Naturally, the film was self-promoted as "the funniest rock movie ever made."
The movie stars a wild cast of characters (including Reiner himself) as the fictitious metalheads make their way across America. The mockumentary was incredibly influential from the moment it premiered in 1984, including being the origin of the phrase "these go to eleven." The group had enough fun making the original soundtrack album, which featured actual music from the fake rock group, that over the years, two more Spinal Tap albums were produced, one in 1992 and the other in 2009. Needless to say, Spinal Tap has lived on.
As for the film itself, Reiner's directorial debut became a cult classic, and was even ushered into the Library of Congress's National Film Registry in 2002 due to its cultural significance. Though Reiner has moved well beyond his initial "rockumentary," the director is helming a sequel to commemorate the original's 40th anniversary. Apparently, the band just wasn't satisfied with how the first one turned out.
Booksmart (Olivia Wilde)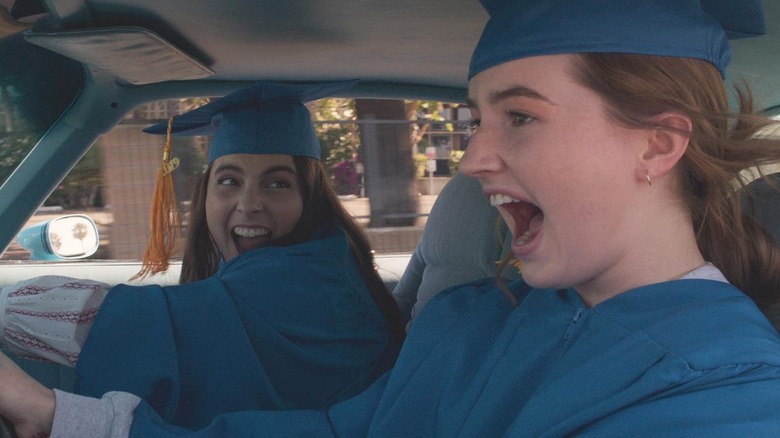 United Artists Releasing
Directed by actress Olivia Wilde, "Booksmart" was an instant hit with both critics and audiences. This coming-of-age dramedy stars Beanie Feldstein and Kaitlyn Dever as high school seniors Molly and Amy on a quest to prove that they're not just academic overachievers prepping for college. As these girls decide to break all the rules they possibly can, they get themselves into a host of troubles that threaten to dissolve their long-lasting friendship into nothing. Labeled by some as the best high school comedy since "Superbad," Wilde's inaugural film was a critical success.
While Olivia Wilde's sudden turn to directing was unprecedented, though she had directed a few shorts prior to her feature debut, it was met with high praise all around. Peter Debruge of Variety praises Wilde "for sustaining both the laughter and the energy throughout, and for pulling off several bold surprises along the way." He concludes his assessment of the 2019 film by stating that, "in this year's class of first-time feature directors, Wilde handily earns the title of Most Likely to Succeed."
Since the release of the Will Ferrell and Adam McKay-produced high school dramedy, Wilde directed the 2022 feature "Don't Worry Darling," which was rife with behind-the-scenes controversies. While her second feature wasn't as well received as her first, Wilde's future as a filmmaker is an exciting one. Here's hoping that she can pull off another hit as interesting, likable, and challenging as "Booksmart" in the near future.
Get Out (Jordan Peele)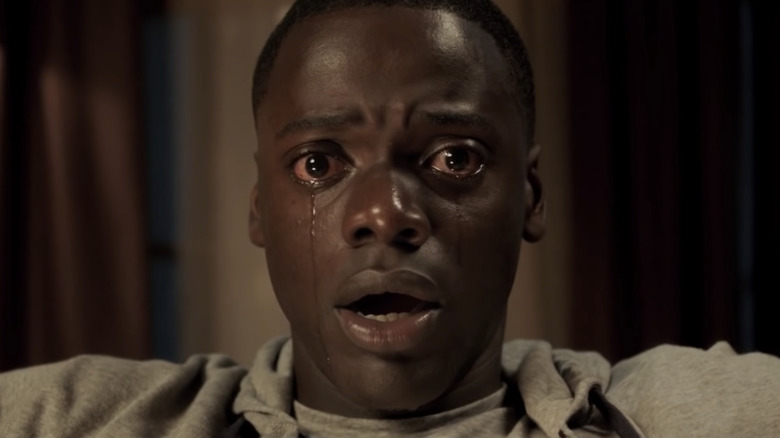 Universal Pictures
There may not be a more successful modern directorial debut than Jordan Peele's 2017 psychological horror flick "Get Out." Starring Daniel Kaluuya, Peele's first horror feature is a masterpiece, and a vast departure from his previous work on "Key & Peele." The film follows Kaluuya's character Chris as he meets the family of his white girlfriend Rose (Allison Williams), only to learn that they have some pretty horrific skeletons hidden deep within their walls. Not literally, of course, but pretty close.
Like many of the films on this list, "Get Out" was highly praised upon its release and was nominated for five Oscars, with Peele ultimately winning for best screenplay. When Chicago Sun-Times critic Richard Roeper wrote about the film, he explained that "the real star of the film is writer-director Jordan Peele, who has created a work that addresses the myriad levels of racism, pays homage to some great horror films, carves out its own creative path, has a distinctive visual style — and is flat-out funny as well."
With some clear Hitchcockian influences and timely cultural critiques, "Get Out" was groundbreaking. The first of several Peele-helmed horror features, the actor-turned-director has continued to churn out breathtaking work with "Us" and 2022's "Nope." But if one thing could be said about "Get Out," it's that it set the tone for Peele's career, a tone that he'd not been associated with before and won't shake going forward.
Lady Bird (Greta Gerwig)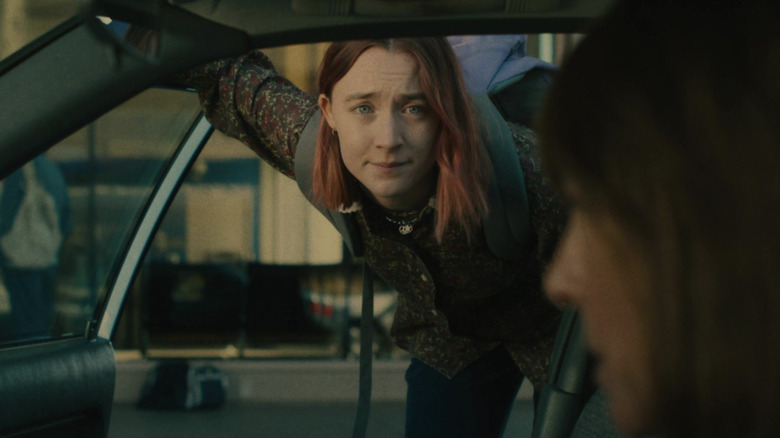 A24
Okay, you caught us, this is technically the second film that Greta Gerwig directed, since she co-directed "Nights and Weekends" with Joe Swanberg. But, since "Lady Bird" is her first solo directorial effort, we'll let it slide. A coming-of-age comedy-drama, the five-time Academy Award-nominated feature stars Saoirse Ronan as Christine "Lady Bird" McPherson, a young woman with big dreams and a complex relationship with her mother (Laurie Metcalf). The mother-daughter story is enchanting, with powerful performances and creative direction that makes "Lady Bird" relatable to all, especially young women.
In a behind-the-scenes featurette, Gerwig expanded on her process saying that it "was inspired by events in my own life, but I tend to start with things from my own life, then pretty quickly they spin out into their own orbit." She went on to explain that, while "Lady Bird" isn't a direct adaptation of her own life story, "it's all true."
Since "Lady Bird," Gerwig directed the 2019 adaptation of Louisa May Alcott's "Little Women," which also starred Ronan, as well as the upcoming "Barbie" feature film starring Margot Robbie. She has even allegedly been considered as a potential director for some of Netflix's upcoming "The Chronicles of Narnia" adaptations. Whatever artsy story she decides to tell next, it will undoubtedly be a sure-fire hit.
Little Man Tate (Jodie Foster)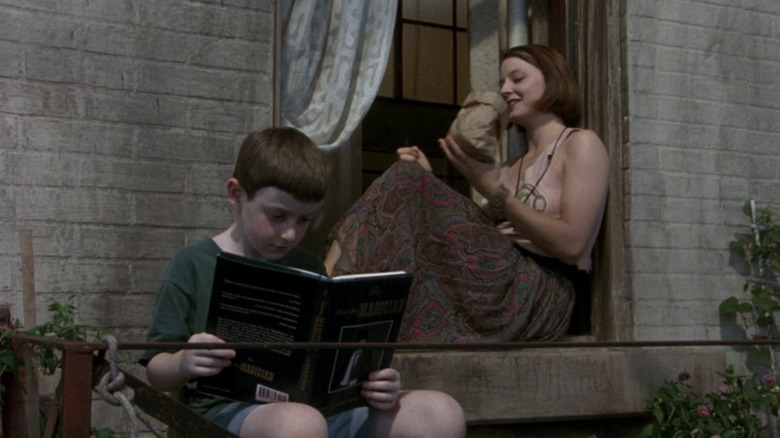 Columbia Pictures
Alongside the success of "The Silence of the Lambs," Jodie Foster's other 1991 feature "Little Man Tate" is notable not only because it's a wonderful drama, but because it was directed by Foster herself. The story of a child prodigy named Fred Tate (Adam Hann-Byrd), the film centers around Fred's desire to fit in and his mother's (Foster) hopes to help him. The film made $25 million against a $10 million budget, proving a financial success for Orion Pictures.
Film critic Roger Ebert observed a distinct connection between Foster and her lead character, "a certain balance, a certain perspective on the strangeness of life." He went on in his review to explain that Foster is unimpressed by "showbiz glitter," a quality he compares to the character of Fred Tate, "he looks at things with a level eye, he is not neurotic, he handles a roller-coaster childhood without going nuts." Ebert, like others, went on to praise Foster's direction, citing it as "the kind of movie you enjoy watching."
Audiences took a similar liking to Foster's directorial debut, and it didn't take long before her next feature, "Home for the Holidays," was released. Prior to "Little Man Tate," Foster had a directing credit on an episode of "Tales from the Darkside," but afterward her career as a filmmaker opened wide as she bounced between feature films and television. She may be best known for her role as Clarice Starling, but Foster proves herself much more than that.
Play Misty For Me (Clint Eastwood)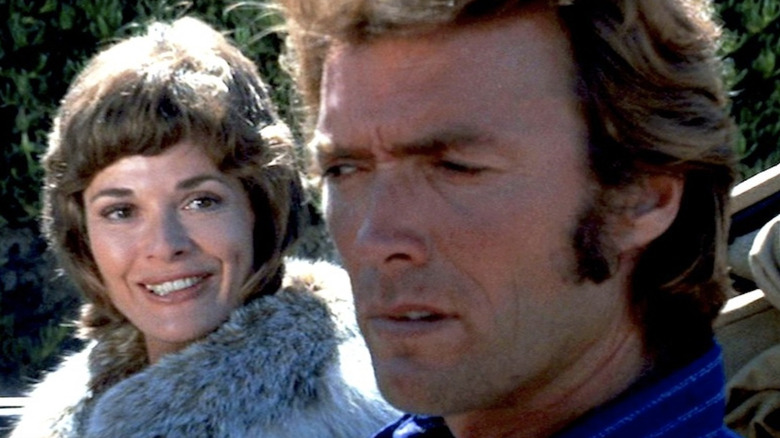 Universal Pictures
Today, Clint Eastwood is best known for being one of the greatest Western heroes and one of the most prolific film directors. After playing characters like the Man With No Name and Rowdy Yates on "Rawhide," Eastwood stepped into the director's chair and made a movie of his own. Ironically, his directorial debut wasn't a Western (though he'd direct plenty of those), but rather a psychological thriller called "Play Misty for Me," centered around a radio disc jockey (Eastwood) who is stalked by an overly-obsessed fan played by Jennifer Walters.
Rotten Tomatoes called the film, certified fresh by critics, "a coolly calculating psychological thriller that manages to scare the audience even if it is just using textbook thrills," and given that just description, it's no wonder that Eastwood went on to become one of the best directors in Hollywood. As always, Eastwood's straight-man performance is notable, but it's really Walters, known best for her role as Lucille Bluth on "Arrested Development," who shines brightest here.
Eastwood's first effort, "Play Misty for Me" led the way for other successes, such as "The Outlaw Josey Wales," "Unforgiven," "Gran Torino," "American Sniper," and a host of other incredible flicks that prove that the actor is just as masterful a director as any filmmaker out there. At over 90 years old, Eastwood shows no signs of slowing down.
Wind River (Taylor Sheridan)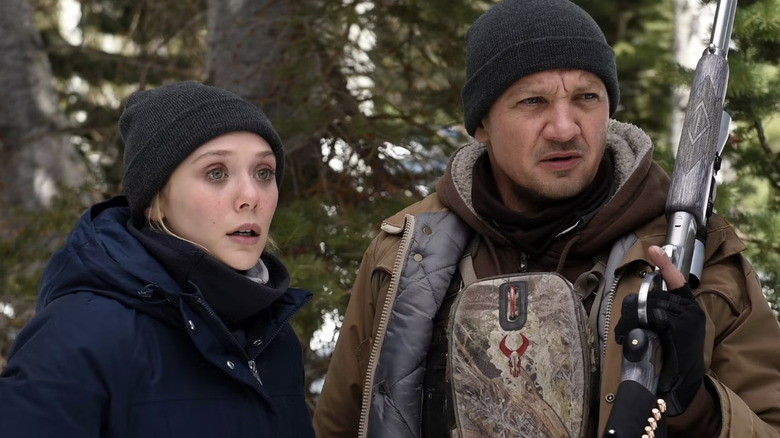 The Weinstein Company
From cowboy to actor to filmmaker, Taylor Sheridan has had quite the career. Finding success on "Sons of Anarchy" and "Veronica Mars," Sheridan is best known for creating the highly successful "Yellowstone" empire for the Paramount Network. While Sheridan is credited with directing a 2011 horror flick called "Vile," the filmmaker doesn't consider it his directorial debut, since he wasn't involved much in the process and his work was a favor to a friend. Instead, he considers "Wind River" his directorial debut, which makes sense: It looks and feels more like Sheridan's type of story.
Known originally for writing "Sicario" and "Hell or High Water," Sheridan's work on "Wind River" pulls from his personal experience as a cowboy as well as the often unspoken realities of reservation life. The film, which stars Jeremy Renner and Elizabeth Olsen, centers around the murder of a young Native woman on the Wind River Indian Reservation, unraveling what really happened to her. Renner and Olsen are phenomenal, and though they had already proven chemistry from "Avengers: Age of Ultron," Sheridan pulls out even more stirring performances from them.
Since "Wind River," Sheridan has directed a number of "Yellowstone" episodes, both prequel spin-offs, and the Angelina Jolie-led film "Those Who Wish Me Dead." Beyond his directorial works, the cowboy filmmaker has a handful of other projects coming down the pipeline, on which he serves as either the head writer or producer.
Creed III (Michael B. Jordan)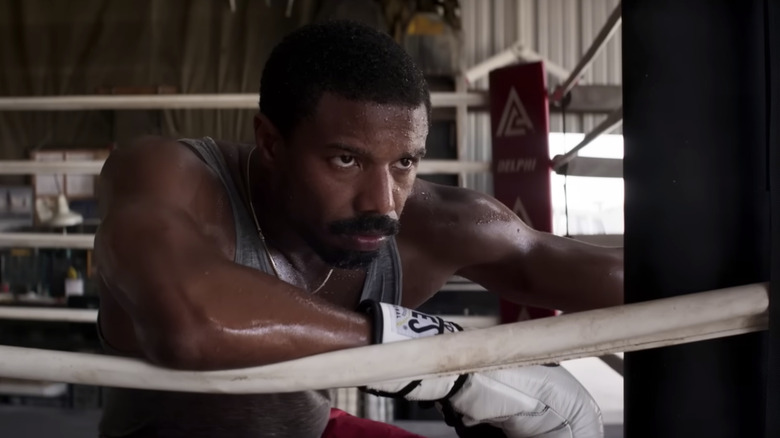 Metro-Goldwyn-Mayer
The third installment in the "Creed" trilogy, itself a spin-off from the "Rocky" films, "Creed III" is what happens when star Michael B. Jordan steps into the ring as a director. With no prior directing credits to his name, Jordan excels both on and off camera, crafting the next chapter of Adonis Creed's powerful story as a boxing legend. Of course, Jordan isn't the only star in the greater "Rocky" franchise to step into the director's chair. Before him, Sylvester Stallone directed the second, third, and fourth "Rocky" pictures, as well as the 2006 comeback "Rocky Balboa."
With powerful performances from Tessa Thompson, Jonathan Majors, and the rest of the cast, Jordan shifts the aesthetic of the series a bit for the third installment, focusing more on the titular hero's inner turmoil. This is especially seen in the final battle between Adonis and "Diamond" Dame Anderson, which was heavily inspired by Jordan's love of anime series such as "Dragon Ball Z," "Naruto," and "My Hero Academia." While "Creed III" isn't an anime, and there's very little overt anime influence outside of some of the fights, it allows for Jordan's vision as a director to shine clearly through. 
Despite being the first film in the "Rocky" franchise not to include Stallone as Rocky (though he remained as a producer), "Creed III" is a triumph that takes the boxing series to the next level, with deeply personal and timely themes.