Why Shameless' Ethan Cutkosky Feels Carl's Story Had A Fitting End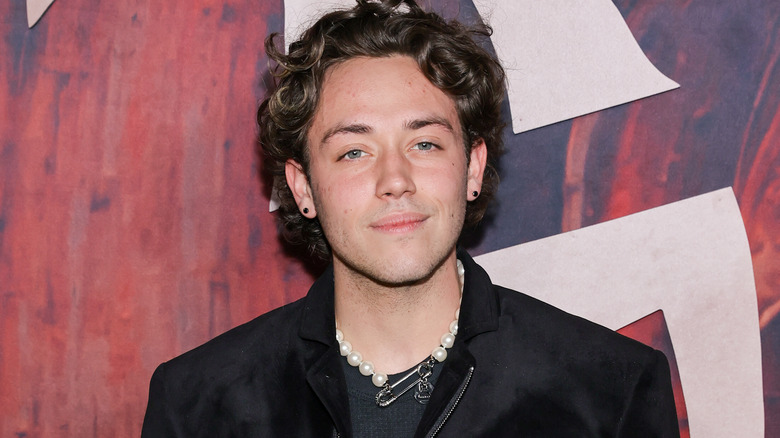 Matt Winkelmeyer/Getty Images
It's never easy to say goodbye to a show that was on the air for as long as "Shameless" was. During the series' 11-season run on Showtime, the boundary-pushing series regularly proved worthy of the unbridled adoration many long-time fans bestowed upon it. As for the series' final episode, well, it served as a fittingly fond, and mildly bittersweet, farewell to the first family of South Side hustlers. 
That finale was also pretty open-ended, with creator John Wells and company opting not to close the proverbial book on most of the Gallagher clan, save for William H. Macy's hard-living-and-then-some patriarch Frank Gallagher. As for Franks's wily brood, futures were largely on the right side of bright by series end, though some of their fates were a bit sunnier than others. Still, as far as "Shameless" fates go, things were looking relatively clear for younger Gallagher sibling Carl.
Early in the series' run, of course, few fans likely would have included "Carl becomes a cop and tries to do some good in his hood" on any "Shameless" bingo card. Heck, even Ethan Cutkosky — who portrayed Carl in every season of "Shameless" — probably didn't see the once trouble-making character's turnaround coming. The actor is, however, quite happy with the way things broke for his onscreen counterpart.
Cutkosky was happy to see Carl trying to do some good by the end of Shameless
Carl Gallagher is still, naturally, making his share of trouble on the streets of Chicago when the credits roll for the series finale of "Shameless." He just happens to be doing so on the right side of the law. If you watched "Shameless" all the way through, you know the idea of Carl joining the Chicago P.D. would have been laughable early on. Even midway through the series' run Carl seemed more likely ticketed to a life behind bars. But he eventually turned his life around, and as the series concluded, he's legitimately trying to be both a good cop and a positive influence on his community.
That turnaround made for one of the better overarching storylines on "Shameless." And during a 2021 interview with Euphoria, Cutkosky admitted he was pretty happy about it himself because Carl's story ended on a relatively high note. "I think it was a nice arc of Carl's storyline," Cutkosky told Euphoria, before alluding that the dramatic highs and lows of the character's life made for fascinating, and often timely, storytelling. With such extreme moments in the character's life, Cutkosky liked that it all ended pretty well for Carl. The actor went on to elaborate that he was indeed quite happy that things were, more or less, starting to work out for Carl by the series' end, stating in no uncertain terms, "I was very happy with the way that they left it off."
As happy as Cutkosky was about Carl's surprisingly positive landing spot in the "Shameless" finale, it's safe to say fans were even happier. But that undoubtedly made it all the more difficult for them to say goodbye.