EEAAO: Michelle Yeoh Changed Evelyn's Name For An Important Reason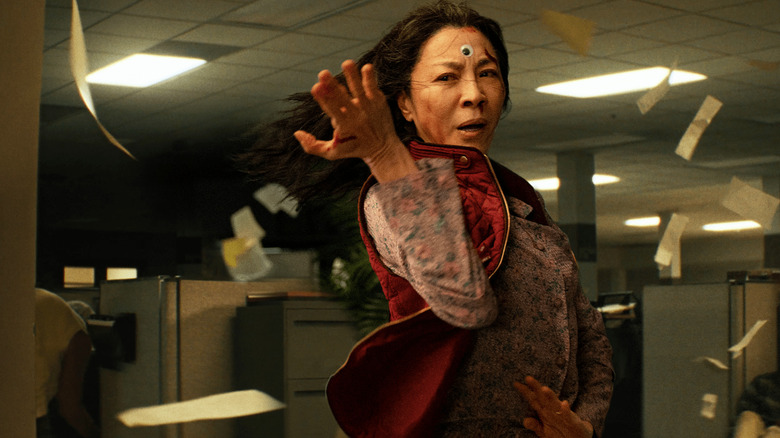 A24
"Everything Everywhere All at Once" continues its absolute rampage through Hollywood, sweeping up awards left and right, including an incredible reaction from Jamie Lee Curtis. The multiverse-hopping comedy was released nearly a year ago, setting a new precedent for Hollywood with an almost entirely Asian cast. Not only that, but the film proved there are still original and unique stories to tell when the overall industry seems focused on adaptations, sequels, and remakes.
The movie is clearly one of the best of 2022, but many changes during the production process gave audiences the final product they saw in theaters. Initially, the Daniels — directors Daniel Scheinert and Daniel Kwan — believed "Everything Everywhere All at Once" needed a male actor in the lead role, writing the part for Jackie Chan. The directing duo told The Hollywood Reporter that the original plan was to have Chan play the lead role, with Michelle Yeoh playing the secondary parent. Switching the roles led to a much more personal film, as the filmmakers took inspiration from the strong women in their lives for the project. Chan's involvement is just one of many interesting facts surrounding the production of "Everything Everywhere All at Once."
The changes to Yeoh's Evelyn Wang didn't stop there either, as the actress recently revealed that the Daniels wanted her to keep her name, but she wanted even more representation in the film.
Michelle Yeoh wanted to represent the Evelyns of the world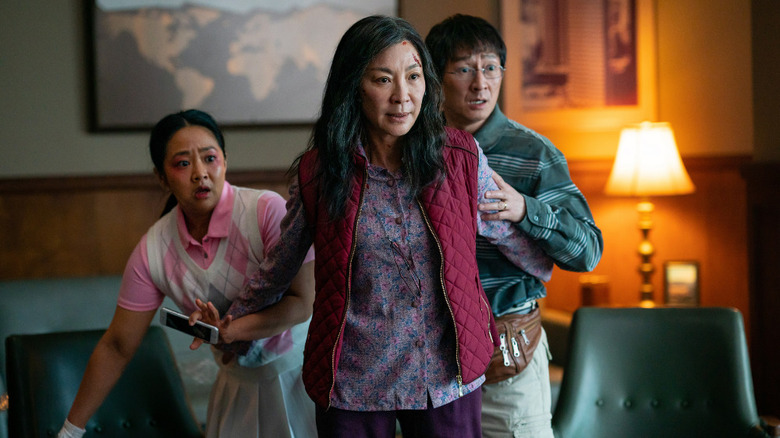 A24
During her recent guest appearance on "The Late Show with Stephen Colbert," Michelle Yeoh revealed that her "Everything Everywhere All at Once" character originally had a different name, albeit one she's pretty familiar with: Michelle.
"I said to The Daniels," the actress reminisced, "'You have to change her name. She's not going to be called Michelle.' And they were like, 'But we wrote it.' I love Daniel Quan [mimics Quan's face]. And so, I said, 'Because this woman, she deserves a voice. She deserves to be seen.' If you call her Michelle, you as an audience will keep going, 'That is Michelle trying to play this aging immigrant woman, but we still see Michelle.' I have to allow Evelyn to have her own voice because there's so many Evelyns in the world, and they should get a chance to be seen and heard and to be a superhero."
In another interview with Deadline, Yeoh touched on another heroic representation in the Oscar-nominated film, relating Evelyn to mothers worldwide. At its core, "Everything Everywhere All at Once" is a story about the relationship between a mother and daughter, and Yeoh's mother couldn't be more proud. In the movie, Evelyn worries about Joy (Stephanie Hsu) because she only wants what's best for her daughter, similar to how Yeoh's mother still worries about her to this day. "She still treats me like I'm 6," she said as she praised her mom and mothers everywhere. They are the "real superheroes," Yeoh said, focusing on the maternal struggles women deal with daily without getting the recognition they deserve.