Yellowstone's Ian Bohen Originally Auditioned For The Part Of A Dutton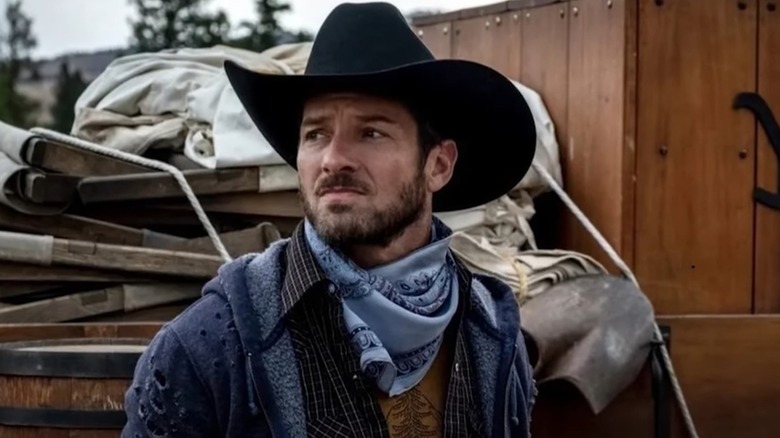 Paramount Global Distribution Group
We're now four-and-a-half seasons into the ratings-shattering run of "Yellowstone," and one rule continues to ring true. It's the Dutton's world, and if you're living in it, you're probably pretty miserable. Among the many "Yellowstone" supporting characters scratching out a life in the ominous shadow of Montana's power-hungry first family is faithful Dutton Ranch hand Ryan. The bunkhouse regular is portrayed with an easy-going affability by Ian Boheh, who's become one of Hollywood's pre-eminent "oh, it's that guy" actors throughout his decades-long career.
Like his "Yellowstone" co-stars, Bohen is having a bit of a professional moment as the Western saga continues to be one of the most watched and talked about in TV land. Bohen's endearing Ryan has become not just a bunkhouse favorite but one of the show's best-loved supporting characters. However, it seems "Yellowstone" mastermind Taylor Sheridan initially had the actor read for a much bigger role — one that bears the surname of Dutton.
Bohen nearly played Jamie Dutton on Yellowstone
Ian Bohen made that claim during a recent interview in answer to a question about how he scored the role of Ryan. He had, of course, already acquainted himself with Taylor Sheridan after appearing in the "Yellowstone" creator's 2017 drama, "Wind River." Given Sheridan's proclivity for re-teaming with actors he's enjoyed working with, it's not surprising he'd pass the "Yellowstone" script on to Bohen. And as Bohen told Swagger Magazine, he immediately knew he wanted to work on the series. "When I read the script, I knew it was as close to flawless as you can get for the start of a new saga," he said, later adding, "It was brilliantly written, so, of course, I wanted to do it."
The only hitch was that Sheridan brought Bohen in to audition for Jamie Dutton, a role that eventually went to Wes Bentley. As Bohen recounts, Sheridan broke the bad news with a bit of good, noting, "I then got a call saying, 'Hey, great job, but you're not Jamie, you're Ryan,' and I said, 'Great, who is Ryan?'" Sheridan and the "Yellowstone" team didn't have an answer for that question, with Bohen quipping, "They said, 'We don't know, but if you trust us, come along on the journey, come and play, and we'll figure it out.'"
Bohen wisely opted to trust in Sheridan's "Yellowstone" vision. That trust has paid off, and in turn, Bohen has helped Sheridan turn Ryan into one of the more grounded and likable characters in a show that doesn't feature many.