Whatever Happened To Emily Kinney After Beth's Death On The Walking Dead?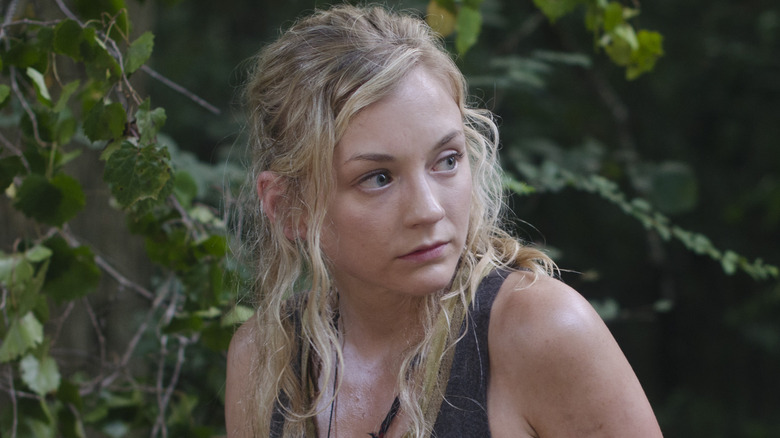 Gene Page/AMC
AMC's "The Walking Dead" is tied with HBO's "Game of Thrones" when it comes to devastating viewers with unexpected character deaths. This is even more pronounced by the fact that beloved personalities usually die in horrific, painful, and unremittingly depressing ways. But perhaps most importantly for viewers, the saddest deaths on "The Walking Dead" are the ones that literally come out of nowhere and usually happen to good-natured characters. And the series kept this gut-wrenching momentum going year after year.
While Lori (Sarah Wayne Callies), Andrea (Laurie Holden), Glenn (Steven Yeun), and Carl (Chandler Riggs) are some of the biggest deaths on the program, there are countless others that are just as traumatic to watch. Beth's (Emily Kinney) accidental murder at the hands of Dawn (Christine Woods) in the Season 5 mid-season finale is one of many character exits that may get lost in the tally. Many fans think she was unjustly axed from the show, but like so many bleak passings before her, it made for compelling television thanks to Kinney's emotional performance. So whatever happened to the actor after she exited "The Walking Dead"?
Emily Kinney has continued to act since The Walking Dead
Emily Kinney has continued to act since Beth's death on "The Walking Dead." Immediately after, she made guest appearances on "The Flash," "Masters of Sex," "The Knick," and "Arrow." In a nice callback, Beth later appears in a dream Rick Grimes (Andrew Lincoln) has during his final episode on the show (before his return for the series finale): 2018's "What Comes After."
In 2016, Kinney played Tess Larson, the mysterious paralegal of NYC's Conviction Integrity Unit, on the ABC legal drama "Conviction," which aired for 13 episodes before its cancellation. She has also fulfilled her artistic ambition of becoming a recording artist, which has seen her release five albums since 2011.
In a 2021 interview with The Big Takeover, the actor shared what was up next in both of her careers. "I'd like to reach more with my music. I still have so many acting jobs that I haven't gotten yet," she said. "Walking Dead, or Spring Awakening, have that really dedicated fanbase that would follow what you were doing and check out all your new projects. So I do think I have some really special fans that are interested in whatever I'm doing, whether it's acting or music, and they've allowed me to continue to do that."