Annie Potts Reminisces On Her Season 1 Bond With The Cast Of Young Sheldon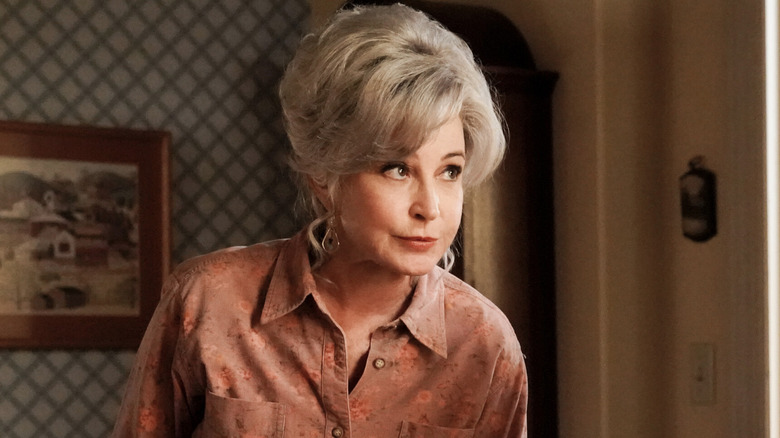 Robert Voets/2022 Warner Bros. Entertainment Inc.
Time is a funny, fleeting thing. One minute you're young and in your prime. Next, you're signing up for Social Security. The cast of "Young Sheldon" is nowhere near ready for a senior moment, but time's definitely flying as quickly for them as it is for the rest of us.
To wit — the show's youngest cast members, Iain Armitage (Sheldon Cooper) and Raegan Revord (Missy Cooper), who started with the show when they were preteens — are fourteen and fifteen as of press time. They have gone from children to teenagers preparing to make their mark on the world.
That's enough to make anyone take a look back at their life and cause them to take stock of how much time has passed by, especially their grown-up co-stars, who have spent the past five years watching all three kids get taller. When "Young Sheldon" filmed its 100th episode in 2022, Annie Potts (Meemaw) took a big look back on the show's first season, giving her a chance to publicly recall how the cast's bond has developed and grown over the ensuing years.
Annie Potts notes that her co-stars are getting taller, but misses their childhood days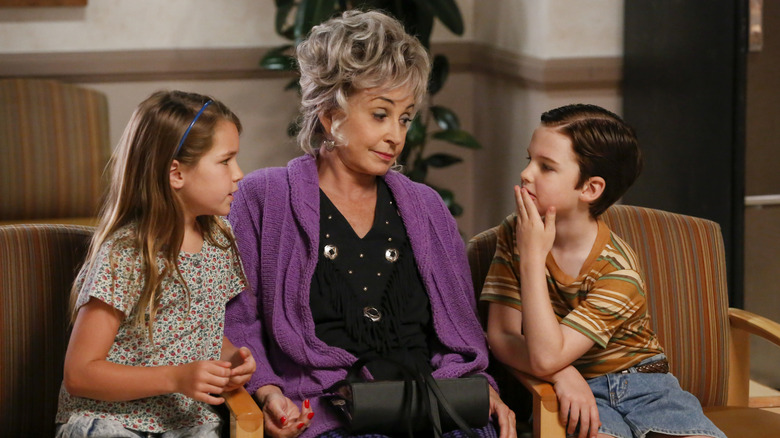 Robert Voets/Warner Bros. Entertainment Inc.
During the 100th episode celebration for "Young Sheldon" in 2022, Entertainment Tonight asked Annie Potts whether or not the passage of time has been noticeable to her. "The children have grown up," Potts observed, "but I like to think of when they were little and that first season. And they were always just always in my lap, kissing me and holding my hand and playing with my fingers and telling me they loved me all the time."
Those days may be gone, but it appears that the familial closeness between Iain Armitage, Raegan Revord, and Potts continues onward. In a 2018 Variety interview, Potts spoke fondly about Armitage, whose family happens to live close to where she resides for the series. "As fate would have it, when I started working on the show I was renting a house not far from where Iain and his mother were renting a house, so we were sort of neighbors and we started seeing a lot of each other off-set — playing together and taking walks together," Potts explained. She further elaborated on how important it was for adult actors to foster a safe but fun work environment for the main child actors due to their young age. In 2020, Revford told Pop Culturalist that she and Potts lived close by and spent time together away from the show as well.
Even if you think this season ought to be the last "Young Sheldon" outing ever produced, that's an awfully sweet extended family they have, and it's all thanks to the sitcom's existence.