Suzume Makes Anime Movie History And Breaks Jujutsu Kaisen 0's Record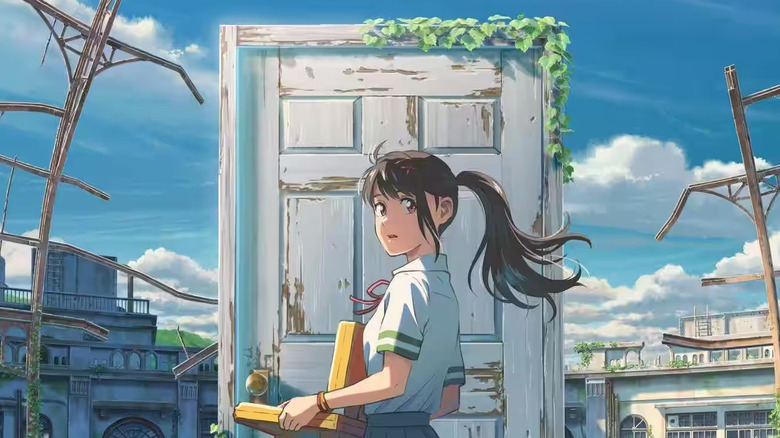 Toho
In the ever-growing anime industry, there's a new movie making waves at the Japanese box office. "Suzume," also known as "Suzume no Tojimari," premiered late last year, coming from legendary director Makoto Shinkai ("Your Name").
"Suzume" tells the story of Suzume Iwato (Nanoka Hara), an ordinary girl who stumbles into a mysterious world of magic. On her way to school one day, she meets Sōta Munakata (Hokuto Matsumura), a mysterious yet familiar man looking for abandoned places. She follows him to an old resort, where she finds a door leading to the magical world she has experienced in her dreams. Later on, she notices smoke coming from the old resort, followed by a small earthquake, prompting her to return to the location. There she finds the smoke coming out of the magical door and Sōta struggling to close it. A larger earthquake then hits, seemingly tied to the magic from behind the door. The two work together to shut it, and Sōta reveals to Suzume he must find and close all of the doors located in abandoned locations to prevent catastrophes from occurring.
With a director like Shinkai, the movie's success should be no surprise. If his name wasn't enough to convince anime fans, the staggering amount of actresses who auditioned for Suzume proves that everyone in the industry wants to work with him. However, fan interest was never really in doubt as they rallied behind the movie from the get-go, thinking the trailer looked incredible. Now that "Suzume" is out in Japan, fans continue to support Shinkai's work, and it's overtaken some big names at the box office.
Suzume earned itself a spot in Japan's all-time box office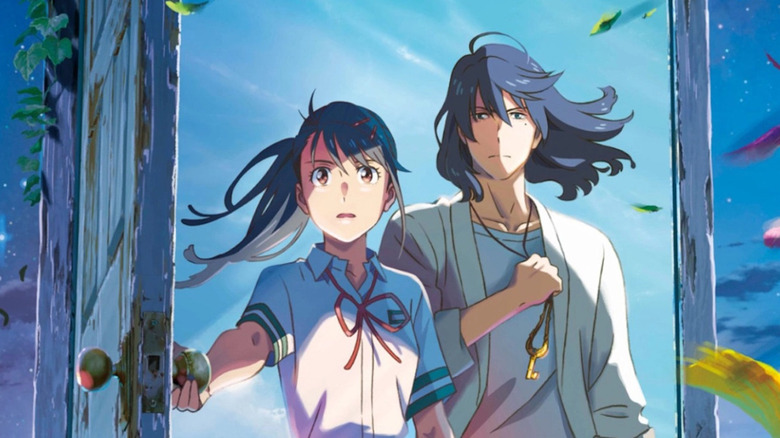 Toho
According to a report from Anime News Network, "Suzume" has officially become Japan's 15th highest-grossing movie of all time, surpassing the insanely popular "Jujutsu Kaisen 0." After the movie's premiere back in November, it has gone on to gross over 13 billion yen, equal to about $102 million. Keep in mind the list of highest-grossing movies in Japan also includes Western releases, so "Suzume" has edged out films like "Top Gun: Maverick" and "Star Wars."
Now that it's sitting comfortably in the 15th spot, "Suzume" ranks just below Makoto Shinkai's previous work "Weathering with You." The director's most famous movie, "Your Name," holds the spot for the fifth highest-grossing movie of all time, but "Suzume" is competing with some of its earliest records. In its first three days in theaters, "Suzume" claimed the number one spot at the box office, making nearly two billion yen in ticket sales. To compare it to Shinkai's other films, "Your Name" made 1.27 billion yen in its first three days, while "Weathering with You" brought in 1.64 billion yen.
Western audiences are in luck because they won't have to wait long to see "Suzume." Crunchyroll and Sony Pictures are bringing Shinkai's latest project to theaters worldwide, and it will open in North American cinemas on April 14. The movie will look to continue its box-office success, as the director's previous works, "Weathering with You" and "Your Name," grossed $193 million and $358 million worldwide, respectively.