Dick Wolf Reminded Two Chicago PD Cast Members They Could Be Killed Off Anytime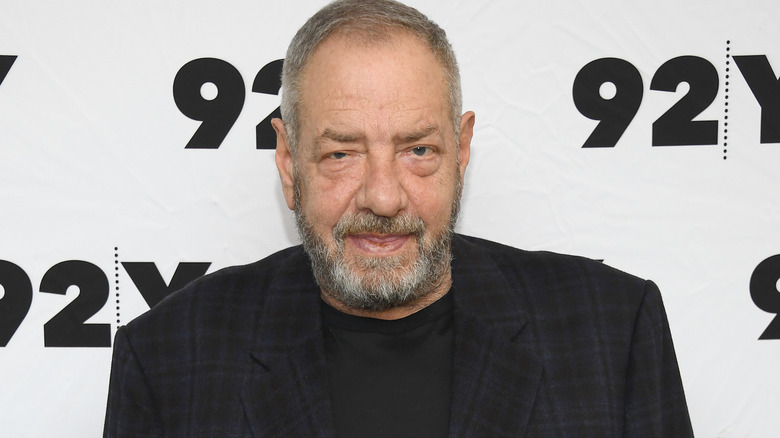 Dimitrios Kambouris/Getty Images
Most, but not all, of the characters who bite the dust on producer Dick Wolf's "Chicago P.D." are criminal offenders, along with a scattering of innocent victims. This One Chicago procedural is, after all, a network TV cop show. And it's difficult to imagine an entry in this venerable genre that doesn't feature one or more deaths, violent or otherwise, in every episode if not every five or ten minutes.
But it should also be noted that "Chicago P.D." isn't exactly averse to deep-sixing one of its hero cast members now and then. And this includes recurring and even regular, starring characters in its large, ensemble cast. For instance, take Intelligence Unit Detective Alvin Olinsky, played by Elias Koteas. A genuine fan favorite, Olinsky serves as the dependable, loyal friend and ally of the series' star and Intel Unit head Hank Voight (Jason Beghe) for many years. Seen consistently on the show since its debut, Olinsky unceremoniously gets bumped off in Season 5, dying as a result of being stabbed while unjustly imprisoned.
If a beloved persona like Olinsky can be dispatched without so much as a gold watch or an office goodbye-and-good-luck cake, should any cast member on "Chicago P.D." be certain they'll still be alive and suiting up for duty a few episodes down the line? Maybe not.
Dick Wolf let Marina Squerciati and Patrick Flueger know their fates are in his hands
While Intel Unit Officers Kim Burgess (Marina Squerciati) and Adam Ruzek (Patrick John Flueger) have both been busting bad guys on "Chicago P.D." since the premiere episode "Stepping Stone" back in 2014, that's apparently no reason for them to be complacent about enduring on the show. As revealed during an appearance on NBC's "Lie Detector Test" (which employs a bogus lie detector device and operator) the two stars cited an interlude with producer Dick Wolf that seems to indicate their careers as Chi-Town first responders could be terminated at the drop of a hat.
In the session, Flueger asks Squerciati if she thinks her character will make it to the final episode of "Chicago P.D." Laughing, she confidently replies, "Yes!" This prompts Flueger to say, "When Dick Wolf said 'I can kill you at any time' the first time we ever had dinner with [him], did that make you nervous?" At which point the actress admits, "It did."
But do these two central players really need to worry about being written into oblivion on "Chicago P.D."? Well, you should ask former significant "Chicago P.D." characters Nadia Decotis, Justin Voight, Gregory Yates, Lexi Olinsky, Blair Williams, Brian Kelton, and Anna Avalos. Their status? Let's just say they're keeping Alivin Olinsky company on that Big Cop Drama in the Sky.