The Mandalorian's Anzellans Were All Voiced By A Former Harry Potter Star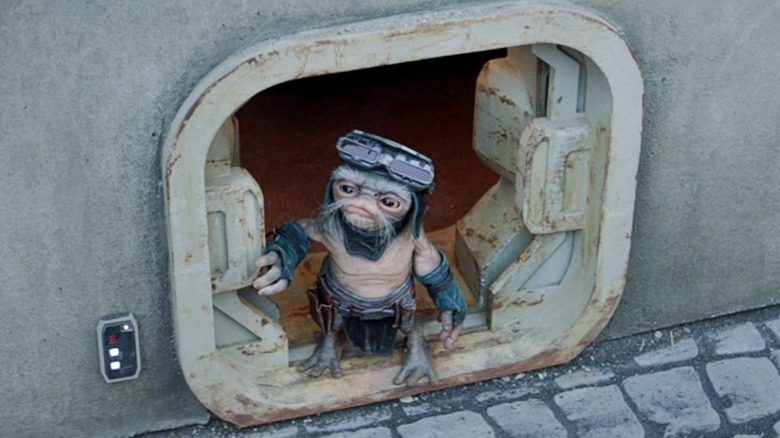 Lucasfilm/Disney+
Light spoilers for the season 3 premiere of "The Mandalorian" ahead.
In the season 3 premiere of "The Mandalorian," audiences meet a new creature that's at once new and familiar: the Anzellans, which look like they're probably related to "The Rise of Skywalker" breakout star Babu Frik. In any case, the Anzellans have already proven that they'll be pretty important as the third season of "The Mandalorian" continues. After Din Djarin (Pedro Pascal) tries to resurrect his droid buddy IG-11 only for it to attack Grogu, he visits the Anzellans, who are experts at droid repair, only to be told that he needs an entirely different part that he has to go and find.
Din has a bit of trouble understanding the Anzellans' small, muddled voices — and is helped out by some translations from Carl Weathers' Greef Karga — but if you're a "Harry Potter" fan, it's possible that you recognized their gruff little voice from that franchise. If you didn't, here's the skinny on the former "Harry Potter" star who voices all of the Anzellans on "The Mandalorian."
Moaning Myrtle is behind the Anzellan voices on The Mandalorian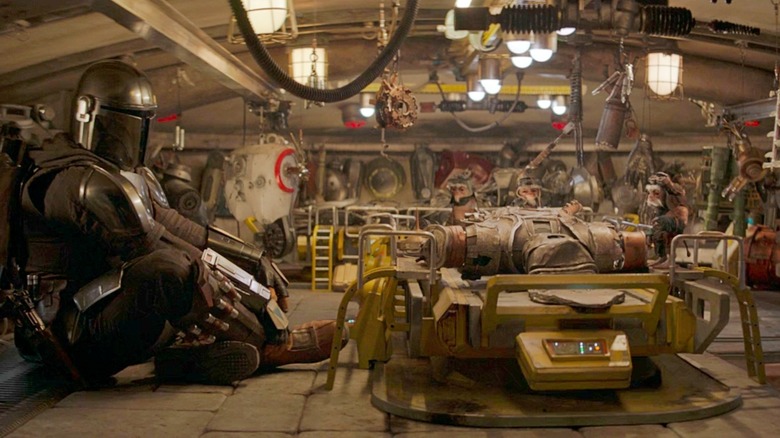 Lucasfilm/Disney+
All of the Anzellans on "The Mandalorian" were voiced by Shirley Henderson, who appeared in several of the "Harry Potter" films as Hogwarts' resident bathroom ghost, who haunts a U-bend in a girls' toilet after her tragically young death. Killed by the basilisk unleashed by the Heir of Slytherin decades before the original series even begins, Myrtle is basically just kind of a nuisance, clogging toilets on a whim and creeping out Hogwarts girls by crying while they're trying to go to the bathroom in peace.
The actress behind Myrtle, Shirley Henderson — who was 37 years old when she played the 14 year old Myrtle — is actually wildly accomplished, having received Scottish BAFTAs and Olivier Awards throughout her career. Beyond Myrtle and the Anzellans, she's appeared in projects like the "Bridget Jones" films, Sofia Coppola's "Marie Antoinette," the 2012 adaptation of "Anna Karenina," and Bong Joon-Ho's "Okja," among many others. Henderson definitely has a distinctive voice, which makes her the perfect choice for roles like Myrtle and the Anzellan creatures, and it'll be a delight to see her continually pop up in "The Mandalorian" as the Anzellans help Din and Grogu on their quest.