Ice Road Truckers' Fame Gave Alex Debogorski A 'Split Personality'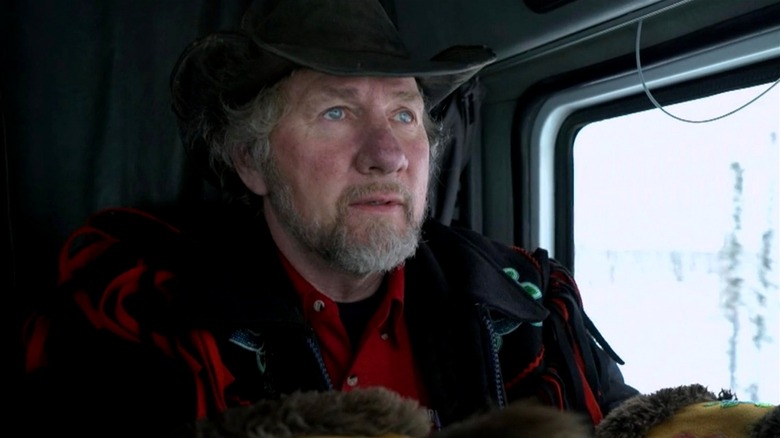 History
There are a few subgenres in the world of reality television. We have "The Kardashians" and other shows about the rich and famous, the TLC roster of wellness journeys, competitions like "Survivor" and "American Idol," and feel-good party series such as "Jersey Shore." 
While the stars of these shows experience their share of struggles, whether it's divorce or addiction, few are put in life-or-death situations on a near-daily basis like the men and women of "Ice Road Truckers." From 2007-2017, viewers tuned in to watch Alex Debogorski and other career truckers transport much-needed goods to remote spots in Alaska and Canada. This job involves much more than the ability to handle a massive vehicle, with these drivers forced to navigate treacherous roads and ice-covered lakes.
Debogorski experiences several close calls, including his nerve-wracking passage over a frozen lake that previously swallowed a friend's truck. He usually makes the sign of the cross before each trip and holds fast to the belief that his faith will keep him from harm. For Debogorski, it's just all part of his job. This is why the idea of fame sometimes makes him feel like a different person.
Alex Debogorski switches from coffee shop bum to reality TV star
In an interview with Overdrive Online, Alex Debogorski shared some insight on what it's been like becoming a household name thanks to his 10 years on "Ice Road Truckers." He said, "I went from doing normal things, and now I have a split personality. I go from a bum in a coffee shop to a truck show star."
Debogorski sometimes has to deal with the pains of celebrity, such as having fans invade his privacy and show up unexpectedly at his home. A particularly determined group traveled from Germany. "They asked me, 'Where were you? We've been here for three days,'" Debogorski said.
Debogorski hasn't let fame go to his head despite instances like this. He's still the same loving father of 11 and grandfather of 13 that viewers fell in love with on "Ice Road Truckers," but now, he's able to use his status for the greater good. For example, in 2015, Debogorski agreed to transport six pallets of vital food donations to St. Theresa Point, an isolated community in northern Manitoba, through the Emergency Northern Food Drive launched by Clarina Taylor. Because of skyrocketing grocery costs, it was becoming impossible for families to survive.
"I can't even just imagine the food prices. A can of soup being three or four times the price. You can't feed your family on just that," Taylor told CBC. "The very best outcome [of Debogorski's participation] is that there is now a larger audience as far as looking at the issue of food prices. I know that is a relevant issue."