Rocky Carroll Believes That Mark Harmon Helped Him Land His NCIS Role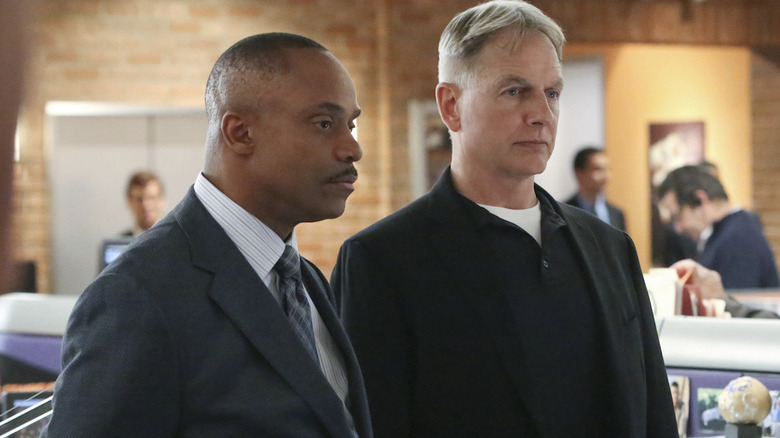 Patrick McElhenney/CBS
"NCIS" is no stranger to shaking up its cast occasionally. After all, a show doesn't get to 20 seasons without some new acting additions and unexpected departures. But fans may remember the significant shake-up of Season 5 of the hit procedural, as the NCIS team got a notable change in leadership. During that particular season, Lauren Holly decided to leave her role as Director Jennifer Shepard, but Rocky Carroll came in as Assistant Director Leon Vance. Carroll's character experiences an unexpected promotion when Shepard is tragically killed during the Season 5 finale. And as a result, it starts off the long tenure of Vance being in charge of Leroy Gibbs (Mark Harmon) and his team.
No pun intended, but Vance's first attempt at leading gets off to a rocky start. The beginning of Season 6 sees the appointed director changing Gibbs' team arguably for the worst. But as the seasons continue, Vance develops into one of NCIS's greatest and most trusted assets and a beloved character among many fans. It's a role that's afforded Carroll that coveted acting opportunity for a character to grow and develop onscreen. And behind the scenes, being in "NCIS" has also granted Carroll chances to direct episodes of the crime drama series. However, according to Carroll, none of his time on "NCIS" would have been possible without Harmon, as he believes the former show lead helped him land the role of Vance.
Rocky Carroll knew the right connection for NCIS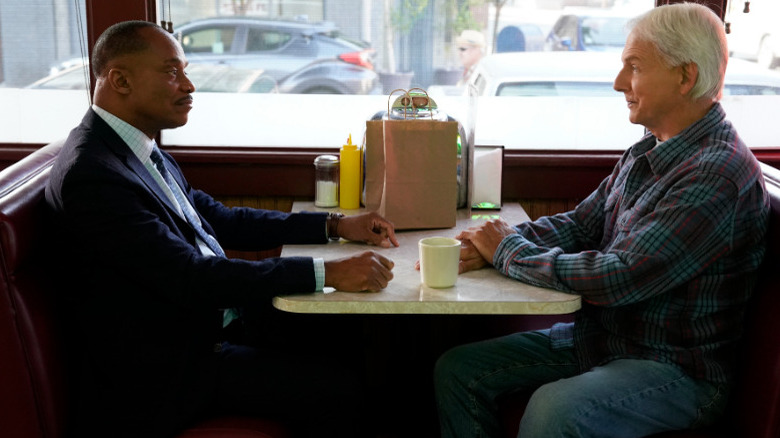 Cliff Lipson/CBS
As the adage goes, sometimes it's not about what you know but who you know. And fortunately for Rocky Carroll, the actor knew the right person that would eventually help land him a major part in "NCIS." As Carroll told CBS News in 2021, he had a longstanding relationship with CBS and already had a friendship with Mark Harmon that started back to their time together on "Chicago Hope." Carroll and Harmon both appeared on "Chicago Hope" in Season 3 as Dr. Keith Wilkes and Dr. Jack McNeil, respectively. Being new additions to a show is the perfect bonding formula for a solid friendship, which seems to be the case with the two actors. And as Carroll added in the interview, his friendship with Harmon from their "Chicago Hope" days led to his buddy vouching for him on "NCIS."
In a 2023 interview for TV Insider, Carroll reiterated that his connection with Harmon was the right one. Carroll told TV Insider, "When the network, when the executive producer — it was Shane Brennan at the time — first came and sat down with me, I knew that no matter what they thought or felt about me, that if Harmon hadn't said, 'You know what, I know this guy. We worked together, we work well together, I give you the thumbs up,' it would've never happened." 
Carroll and Harmon's friendship certainly helps explain the chemistry their two characters had on "NCIS." Vance and Gibbs' back and forth could deliver some entertaining scenes, especially when the two butted heads. In addition, Carroll and Harmon's friendship seems like a contender for a real feel-good Hollywood friendship. In another TV Insider interview, Carroll shared that Harmon greatly supported his buddy when he started directing on "NCIS."