Jerry Seinfeld Fittingly Had 'No Ideas' For Seinfeld After His Initial Meeting With NBC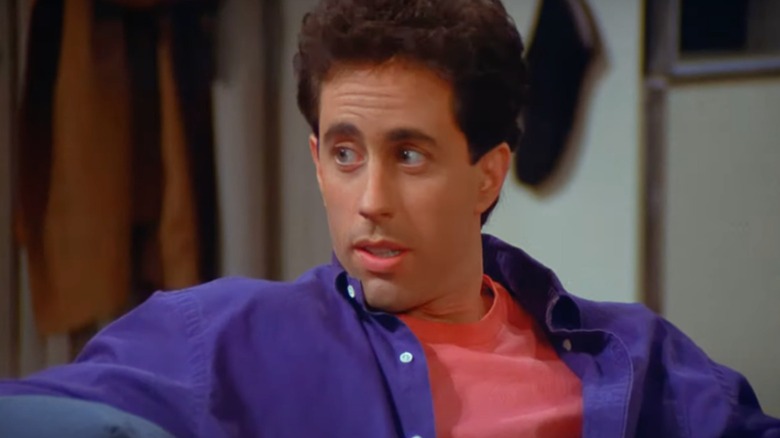 NBC
Since the creation of television, a few sitcoms have formed an elite club above all the rest. Classics like "Friends," "Cheers," and "The Office," to name a few, reached a level of fame and popularity that most of their contemporaries only dream of, enduring in pop culture long after their final episodes hit the airwaves. One of the standouts of this class debuted in 1989 courtesy of creators Jerry Seinfeld and Larry David under the title "Seinfeld." Why is it such an anomaly? Well, unlike other shows, most would agree that it's not really about anything.
Despite running until 1998, accumulating 180 episodes across nine seasons, "Seinfeld" is indeed a series about nothing. The show follows Jerry Seinfeld and his friend group as they go about their day-to-day lives making mountains out of molehills. Even the smallest, most mundane social interactions that most of us wouldn't think twice about manage to propel entire episodes. Surprisingly, this premise led to numerous unforgettable lines and moments that have allowed "Seinfeld" to remain as culturally celebrated as ever.
Going back to the origins of "Seinfeld," one shouldn't be that surprised to learn that when Jerry Seinfeld initially met with the brass of NBC to discuss the series, he didn't have any ideas for it.
Seinfeld and Larry David came up with the premise of the show after the meeting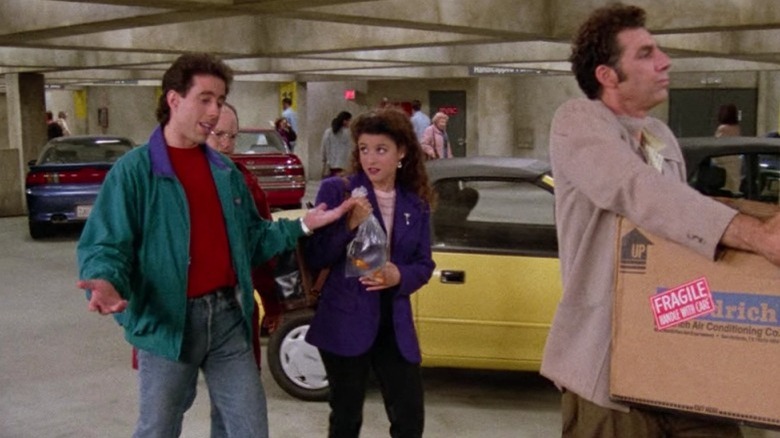 NBC
Jerry Seinfeld once recalled the genesis of "Seinfeld" during a 2007 interview, sharing a conversation he had with Larry David (who had no desire to act on the show) after a meeting with NBC executives (via AD Vids on YouTube). "'I had a meeting the other day with NBC. They were interested in me doing some kind of show.' He says, 'What kind of show?' I go, 'I don't know,'" Seinfeld said. Following this interaction, he and David went to go grab a bite to eat, and as they wandered around a deli, they cracked jokes about the products on the shelves. David pitched that this observational comedy could fuel the sitcom, and "Seinfeld" was born.
Even though it's pretty basic nature and comes from humble beginnings, "Seinfeld" enjoyed an incredible run on the small screen. In fact, given how beloved it still is all these years later, it's a wonder that it hasn't returned to extend its reign of TV domination. According to Seinfeld himself, attempts have been made to resurrect the series, as he revealed to The Hollywood Reporter in 2016. "We did have an offer — I won't say who from — to do a new, live episode of 'Seinfeld' on TV," he said, clarifying that he didn't consider it in the slightest.
It may remain popular, but "Seinfeld" has come and gone whether fans like it or not. If anything, we should just be glad that it came to fruition at all, bearing in mind how Jerry Seinfeld's first meeting with NBC went.