Peter Pan & Wendy's Trailer Has Jude Law Fans Split Over His Captain Hook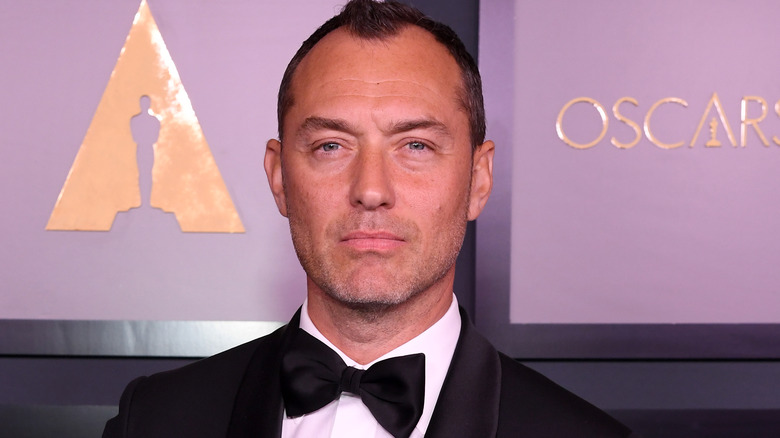 Jon Kopaloff/Getty Images
Ever since the story of Peter Pan entered the public consciousness in the early 20th century, the classic tale has found itself retold time and time again. The story has even taken some darker turns, such as in 1991's "Hook," which remains adored by fans despite its initial frosty reception by critics. 
No "Peter Pan" iteration has been as dark, literally and figuratively, as "Peter Pan & Wendy," at least based on the trailer, which dropped today. It immediately drew derision from "Peter Pan" and Disney fans who have grown tired with Disney remakes. Just a quick glance of the trailer on YouTube reveals a comments section full of snarky comments and references to other films.
While fans will have to wait until the movie's April 28 premiere on Disney+ to find out of it deserves the snark, there's at least one distraction to keep them busy until then. That's the inclusion of Jude Law as Captain Hook; although, even this is divisive. 
Law's Hook look is dividing fans
Sporting long, raggedy hair and missing a right hand, Jude Law is nearly unrecognizable in the "Peter Pan & Wendy" trailer. This striking appearance is exactly what fans are divided about. While @tiffanymarsou posted on Twitter that Law is the only good part of the otherwise dreary looking film, not everyone shares this opinion. 
"Getting Jude Law to play Captain Hook and not making him attractive beyond belief is a crime," @citrusro posted on Twitter. While Law does not look like his typical self, other fans approved of the look, but that was also not universal. In fact, one user pointed out how Law's charming personality and renowned appearance could work against his portrayal as Hook.
"Honestly, nothing about Jude Law as Hook is making me think 'an evil guy who can lead a bunch of pirates,'" @AjepArts posted on Twitter. "It's giving me more 'wet behind the ears.'" On the other hand, Law has previously and successfully played lightly against type in "Hugo" and "Contagion." Fans can only hope that he pulls it off again in "Peter Pan & Wendy."