Grogu Has Apparently Been With The Mandalorian For A Lot Longer Than You Think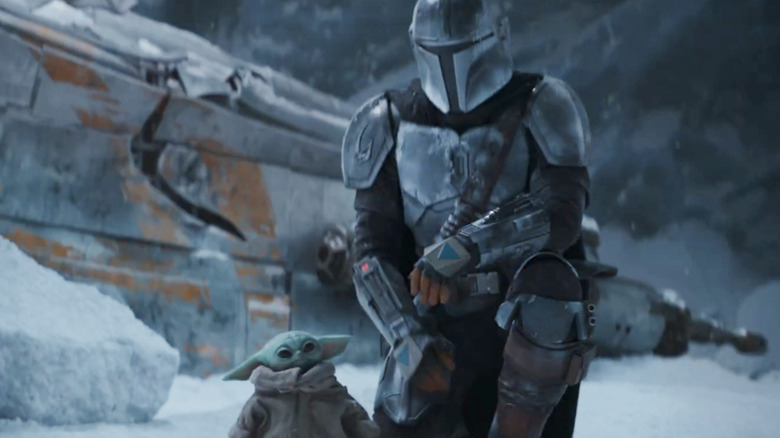 Disney+
Although many episodes of "The Mandalorian" are focused on the intergalactic adventures of the titular bounty hunter (Pedro Pascal) as he hops from world to world tracking down criminals, it's safe to say that Din Djarin's relationship with Grogu — the force-sensitive child he rescues in the first episode — is the true core of the story. Meeting Grogu and breaking his contract with the malevolent Moff Gideon (Giancarlo Esposito) leads Din Djarin down a new path in life, becoming a father figure to Grogu as the duo evade the Imperial forces tracking them down. 
By the time fans reach the end of "The Mandalorian" Season 2, Din Djarin is almost unrecognizable from the apathetic contract killer seen in the pilot. His relationship with Grogu has grown so strong that he's willing to embark on a suicide mission just to rescue him from Gideon. He even removes his helmet — a cardinal sin amongst his people — for the baby.
The incredible dynamic between these two characters is further emphasized in "The Book of Boba Fett," in which Grogu forsakes his Jedi training to rejoin Din Djarin on his adventures. Recent comments from series' creator, Jon Favreau, further indicates that Grogu and The Mandalorian have been together longer than previously believed.
Jon Favreau says the duo has been together for 'many years'
Disney+
During a roundtable discussion with Skytalkers, Jon Favreau made some interesting comments that indicated Grogu and The Mandalorian had been traveling together for years before the finale of Season 2. It's also implied Grogu spent years in Jedi training with Luke Skywalker (Mark Hamill) before returning to Din Djarin.
"He started off earlier in the Jedi temple ... and then we know that he's been rescued and spent many years with The Mandalorian," Favreau said when discussing Grogu's story. "Went back with Luke. Now, we've been two years apart from him there, training." Favreau's comments imply that all of "The Mandalorian" Season 1 and 2 takes place over "many years," which is not directly addressed in the show. It also implies the time jump between Season 2 and "The Book of Boba Fett" is two years long.
Fans on Reddit were left reeling by Favreau's comments, with users like u/_gloriana criticizing the series' confusing timeline and wondering whether the first two seasons actually played out over three to five years. Other users asserted that Favreau was referencing the real-life years between Season 2 and now. 
While the exact timeline of "The Mandalorian" remains unclear, Favreau's use of "many years" certainly makes it seem like Grogu and Din Djarin spent more time together than actually seen in "The Mandalorian." One has to wonder if they've missed out on some of their adventures if this ends up being the case