Donnie Yen Feared He Was Too Old For Rogue One (His Kids Convinced Him Otherwise)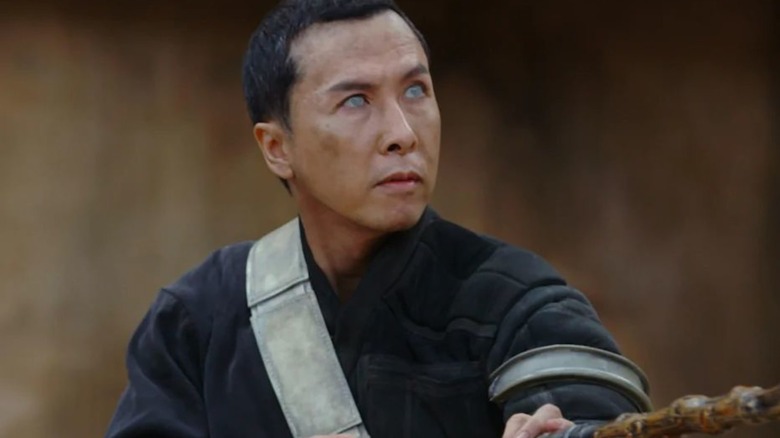 Disney+
While Donnie Yen has been a formidable powerhouse in the realm of martial-arts movies, the cinematic warrior's talents and skill set provided fans with arguably one of the coolest force-sensitive characters. Those who loved Chirrut Îmwe in "Rogue One: A Star Wars Story" may not know that had it not been for the actor's children, Yen may not have taken on the role. 
Donnie Yen has been thrilling audiences with his exceptional martial-arts skills and acting talents since the '80s. In that time, he has put out a wide range of motion pictures, and while there are a number of titles that arguably make up his list of best and worst movies, the actor is highly regarded for certain flicks on his resume, like "Ip Man," "Raging Fire," "Iron Monkey," and "Once Upon a Time in China II." His brief time in "Star Wars" is also a strong candidate for Yen's renowned list.
Playing a lightsaber-wielding Jedi is an exciting affair, but the only thing that tops that is playing a force-sensitive individual that doesn't need one. Yen's Chirrut Îmwe didn't require the famous laser sword to take down multiple enemies at a time, and he made such a task look easy while being unable to see. The impressive "Star Wars" personality is one of the highlights of "Rogue One," but when it came to deciding  whether or not to take the part, Yen sought advice from his most trusted advisors.
Donnie Yen's kids made it clear where they stand on the Ip Man vs. Star Wars debate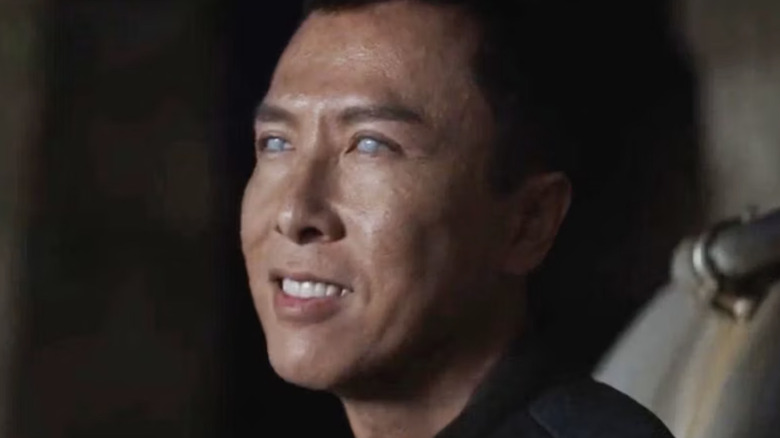 Disney+
Despite having attained several decades of experience, Donnie Yen hesitated when offered the role in "Rogue One," saying it was a bittersweet moment that forced him to ask some difficult questions. 
"I was thrilled, but at the same time, I was kind of confused. Am I too old to take that role?" Yen said while breaking down his characters for GQ. "I actually asked my kids. 'Do you think your father should do 'Star Wars?' Do you like 'Ip Man' better or 'Star Wars' better?' And they said 'Star Wars' ... So that changed my mind." 
Their love of 'Star Wars' and faith in their dad's abilities helped Yen make the jump to a galaxy far, far away. His children weren't the only ones who knew he was perfect for the part.  
"Rogue One" director Gareth Edwards wanted Yen to play Chirrut Îmwe after watching the actor's previous work. He thought Yen brought something necessary to the table to help the persona stand out. 
"The focus isn't on my martial-arts ability but my ability as an actor," Yen told Variety. "There are still scenes to satisfy the martial-arts fans."
The idea of being "over the hill" when it comes to action-packed movies seems to have disappeared from the actor's thought process as he has officially entered the "John Wick" franchise, playing someone willing to go toe-to-toe with Keanu Reeves' titular character, thus further proving his time as an action star is far from over.