Why Clayton Reeves From NCIS Looks So Familiar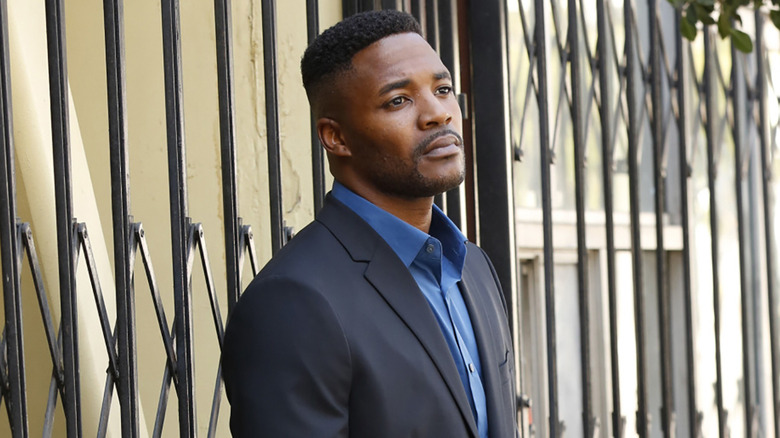 CBS/Paramount
"NCIS" is an ongoing police procedural that aired on CBS in 2003. Since that fateful September, almost 20 years ago, the series has gathered an impressive 19 seasons, with Season 20 dropping later this year and Season 21 already ordered. During the final two episodes of Season 13, the series introduced Clayton Reeves, an MI6 agent serving as the Liason Officer.
Reeves often worked with NCIS' Major Case Response Team, which meant the guy got some excellent screen time. A brave but soft-spoken man, Duane Henry left "NCIS" as Reeves met an untimely end near the close of Season 15 while trying to protect Abby Sciuto (Pauley Perrette). 
We were gifted Reeves for precisely 28 episodes. While the pang of his loss can no doubt be attributed in part to familiarity, which breeds fondness faster than almost anything else, the lion's share of the blame (but in a good way, if that makes sense) belongs to the actor who portrayed him: Duane Henry. Henry doesn't always get top billing but always sells what he gets. And if he feels familiar, well, there's a reason for that. He's been in quite a few prominent franchises.
Few survive the Doctor's help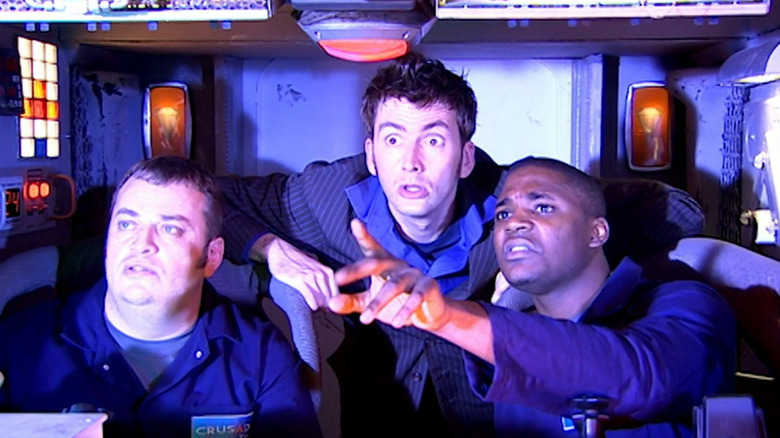 BBC Studios/HBO Max
"Doctor Who" is an ongoing science fiction extravaganza that first aired on BBC in 1963. To be blunt, it will probably outlast everyone reading this article, too, because the core premise of the series sees an alien demigod with the ability to reincarnate ad nauseam explore the farthest reaches of time and space. When the Doctor can go anywhere and anywhen and be anyone, why would the show ever stop? In more recent seasons, "Doctor Who" transitioned from being an education-based drama to being an action-based drama
In Season 4 Episode 10 (as counted from the reboot, which officially began in 2005), entitled "Midnight," Duane Henry portrays a character credited as Mechanic Claude. Claude is seen only briefly when the Doctor (David Tennant) ventures into the cockpit of a stranded space shuttle that has inconveniently stopped shuttling in the middle of a radioactive, barren planet. Claude lives precisely long enough to mention that he saw something moving outside the shuttle, which should be impossible. Only moments later, after the Doctor returns to the main cabin, the cockpit is wrenched from the shuttle, and poor Claude is never seen again.
Baking with the (former Disney) stars
"A Gingerbread Romance" is a Hallmark original movie, practically a genre descriptor unto itself, that was released in 2018. The story follows Taylor Scott (Tia Mowry-Hardrict) as she enters a contest to create a life-sized gingerbread house. Yes, it's as silly as it sounds, but let's not pretend that there is a single soul on this earth who would turn down that kind of chance in real life. Her contest partner (Jordana Lajoie) drops out at the last minute, leaving Taylor's team without a skilled baker to helm the project. Worse still, her ex-partner goes on to compete against her. In sheer desperation, Taylor stumbles into a local bakery, seeking help. What she finds instead is much, much more.
Duane Henry portrays Adam Dale, a single father and baker. He's built from the standard Hallmark recipe; kind, handsome, and a little sassy, but in a gentle way. Ultimately, this is also a Christmas movie, ending with Taylor discovering that Adam and his family are who she wants to call home.
Silly fun and some light murder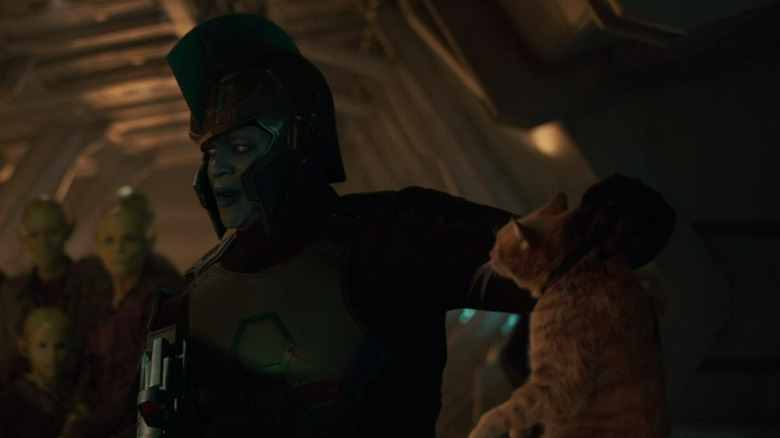 Marvel Studios/Disney+
"Captain Marvel" is a superhero movie in the Marvel Cinematic Universe released in 2019. For those counting chronologically, it's movie number 21 on an evergrowing list that has well surpassed 30 at this point. The story follows Carol Danvers (Brie Larson), a human inflicted with amnesia and superpowers. Before rediscovering her past, she's brainwashed and subdued by the galaxy's greatest mansplainer, Yon-Rogg (Jude Law), a Kree military commander with an aggressive hatred for most other alien species. That loathing is primarily directed at the Skrull, a race of shapeshifters.
Duane Henry portrays a nameless Kree soldier. Technically, he portrays Talos (Ben Mendelsohn) as a nameless Kree Soldier. Talos is a Skrull just trying to save his family from the oppressive Kree regime and, in doing so, finds himself aligned with Carol and her team. The first hint that something is different about Henry's nameless Kree soldier is that Goose, a many-tentacled hell beast shaped like a fuzzy little kitty cat, refuses to eat him. If that weren't enough of a hint, he goes on to kill the other Kree soldiers present. Hey, it saves his family and lowers the overall number of racists. Feels like a win-win situation.
A cozy heartthrob for Christmas
"Mistletoe in Montana" is a Hallmark original movie, yes, another one, that was released in 2021. The story follows Merry (Melissa Joan Hart) as she works on her widowed father's ranch, which doubles as a hotel experience. It doesn't seem to be a particularly successful business model because only one family shows up for the Christmas season. Merry then falls in love with her guest throughout the holiday festivities.
Duane Henry portrays Mark Aguilar, a single father who takes his two children (Hero Hunter and Mallian Butler) and their nanny (Harley Bronwyn) to Merry's father's ranch. He's a big city, big money, tech wizard with Henry's trademark smooth charm. Most of the stuff that Adam gets to do in "Mistletoe in Montana," which features a shocking lack of mistletoe, by the way, watches like the director and the writer just wanting to see Henry be attractive while doing Christmas activities. Which, if we're being honest, is totally fair.