The Real Reason Pauley Perrette Is Leaving NCIS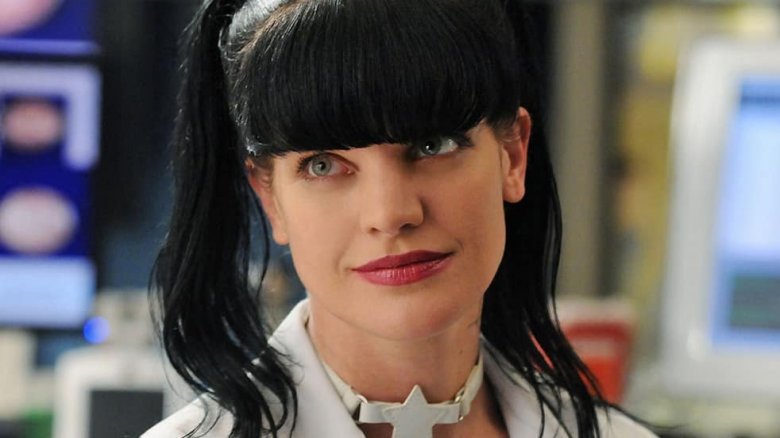 CBS
Contains spoilers for NCIS season 15
When longtime NCIS actress Pauley Perrette announced that she would be leaving her role as the intelligent and eccentric forensic specialist Abby Sciuto after 15 seasons and more than 350 episodes, two things happened: Viewers started preparing themselves for a goodbye they knew would be incredibly difficult, and then began speculating about exactly why the actress was exiting the series in the first place. 
Perrette took her final bow on NCIS and bid farewell to Abby, her red lipstick, and her goth-chic wardrobe on Tuesday, May 8. The momentous episode — the 22nd one in season 15, entitled "Two Steps Back" — tackled the aftermath of the terrifying encounter Abby found herself caught up in during the 21st episode of the season, "One Step Forward." Abby suffered a gunshot wound after a mysterious man approached her and Clayton Reeves, played by Duane Henry, in an alley and asked them for money. Though Abby quickly agreed to give him some spare change, the man pulled out a gun and became increasingly hostile until he finally pulled the trigger. 
The aftermath of that encounter left Abby's life in the balance, setting up a search for the perp that left the team scrambling to figure out which of the many crooks they'd collared might have come gunning for her. The answer lay in an NCIS story that aired nearly a decade ago — and by the time it all wrapped up with (spoiler alert) Abby cornering the man responsible all on her own, she'd decided to leave the agency and start a new life in London. Abby's motivations for starting over were crystal clear — and, as it turns out, so was Perrette's reason for departing the series.
Let's wind things back to October of 2017, when the actress confirmed her intended exit. Perrette delivered the news in a note on Twitter, in which she dispelled rumors that she was turning her back on NCIS in order to promote a line of skin care products. 
"So, it is true that I am leaving NCIS after this season. There have been all kinds of false stories as to why (NO I DON'T HAVE A SKIN CARE LINE AND NO MY NETWORK AND SHOW ARE NOT MAD AT ME!)," a passionate Perrette wrote. "It was a decision made last year. I hope everyone will love and enjoy EVERYTHING ABBY not only for the rest of this season but for everything she has given all of us for 16 years. All the love, all the laughter, all the inspiration ... I love her as much as you do."
What sparked this seemingly random skin care-centric hearsay? It was likely Perrette's September 2017 appearance on Inside Edition, where she discussed something completely unrelated to NCIS: how she has been the victim of fake skin care ads for companies who want to capitalize on her "flawless complexion" to sell their products. One company even fabricated a news headline that read "Pauley Perette AKA Abby Scuito is Leaving NCIS to Pursue Skin Care Line – See Which Anti-Aging Product She Really Uses!" While the 49-year-old actress certainly doesn't look her age, some brands and publications have taken the intrigue around how she maintains such a youthful glow way too far. 
"It's a fake company. It's a scam," Perrette explained. "I have people, hundreds and hundreds of people, asking questions about why I would pick a skin care line over my job. People are getting scammed and no one can catch these people."
She then took to social media to address (and bury) the gossip once more. "THE LIES! EVERYONE asking me about this (FAKE) skin care line? I DON'T HAVE A SKIN CARE LINE! I think Facebook, Yahoo, MSN, and all sites making money off fake ads should be liable for posting false ads. I'M NOT LEAVING NCIS FOR A SKIN CARE LINE! I'm leaving, but that's not why," she tweeted in November of 2017.
Despite leaving what she believed was little room for further conjecture about her motivations for exiting NCIS (until she was ready to reveal the real reason, of course), Perrette was again at the center of speculation. This time, buzz suggested that trouble had been brewing behind the scenes and that the actress could no longer tolerate it. This idea was fueled in part by Perrette's original announcement tweet, as some wondered why she would share that she was leaving so many months in advance if something wasn't amiss. 
Thankfully, Perrette departed on good terms. NCIS executive producers George Schenck and Frank Cardea told Variety that they had "known for some time" that season 15 of the series would be Perrette's last, and that everyone involved on the show wanted to give her a memorable send-off. "From day one, she has brought incredible passion and specificity to the role," the pair said in a joint statement. "Abby is a character that inspires millions of fans around the world, and all of us at NCIS are appreciative of Pauley for portraying her."
So, if it wasn't a wrinkle-obliterating, crows-feet-crushing range of high-end skin care products that pulled the actress away from NCIS, and if there was no cat-fight drama that pushed her to jumping the proverbial ship, why did Perrette leave? It's simple: She just had a feeling it was time to go. 
"I believe in God and the universe so firmly, and it just suddenly became blindingly apparent that now was the time," Perrette explained in an interview with TV Insider, adding that there was no hidden meaning in her announcing on social media her plans to depart. "After a lot of thought, I decided to announce it myself on Twitter because I didn't want it to be turned into anything 'shocking.' Abby leaving is more than a cheap TV ploy."
Perrette may be missing from NCIS in the future, leaving Ducky and Mark Harmon's Leroy Gibbs as the only remaining original cast members, but the mark she left on the series and the impact she had on its fans won't soon be forgotten. 
"There's never been a character like Abby on television. She's a brilliant scientist with this whole alternative look to her, but she's [also] a good girl with a huge heart. She's a church kid. She bowls with nuns. It's so many things wrapped up into one," Perrette gushed when speaking with TV Guide. "The effect that she's had around the world, especially in young girls pursuing math and science. There [are] young women out there who've gotten their degrees and are in the field of science and math and forensics because of this TV character."
The final episode of NCIS featuring Abby was an incredibly emotional one, but Perrette hopes fans will remember one very important thing: "Abby's legacy is going to be forever." And like the feisty, free-spirited Abby said, this goodbye isn't for good.