Anthony Mackie's Storied Career Is All Thanks To Busta Rhymes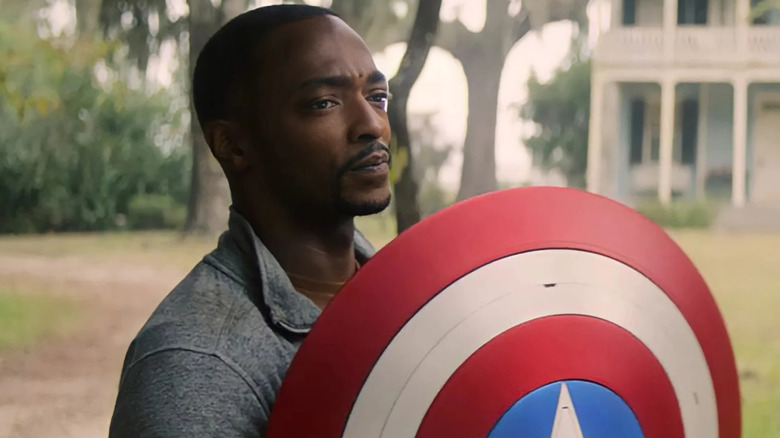 Disney+
Although Anthony Mackie has been in the game for over 20 years, it seems like he is beginning to enter a new era of superstardom. The actor got his first big break in 2002, playing Clarence alongside Eminem in "8 Mile," with numerous projects like "The Hurt Locker" and the fan favorite "Abraham Lincoln: Vampire Hunter" following afterward.
Of course, Mackie officially entered Hollywood's spotlight after joining the MCU as Sam Wilson in "Captain America: The Winter Soldier." While his superhero journey started with the actor playing second fiddle to Chris Evans's Captain America, he eventually inherited the iconic stars and stripes, ushering the MCU into a new era as Captain America. While Marvel Studios has yet to reveal any tangible information regarding "Captain America: New World Order," fans can rest assured that Mackie will play a substantial role in the MCU as it inches closer to the upcoming "Avengers" movies.
Needless to say, Mackie has a bright future ahead of him in Hollywood, whether it's leading the Avengers or bringing video games to life in "Twisted Metal." It turns out the actor knew from a young age that he wanted to be someone who lights up every room they're in, using rapper Busta Rhymes as his inspiration for change.
Busta Rhymes made Anthony Mackie want to be that guy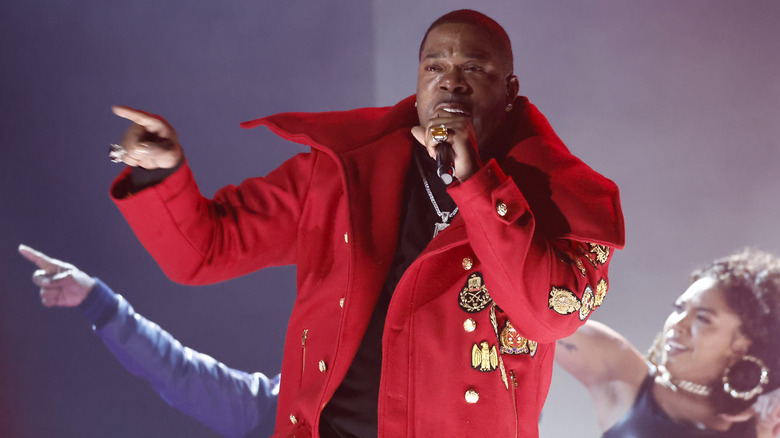 Emma Mcintyre/Getty Images
During his appearance on "The Kelly Clarkson Show," Anthony Mackie revealed that watching Busta Rhymes perform on "The Arsenio Hall Show" was a massive inspiration for his career. The actor reminisced about being a 12-year-old kid, sitting on the floor and watching the late-night talk show with his mom. When Busta Rhymes took over the show with his insane performance, a young Mackie knew he wanted to recreate that effect one day. 
"Leaders of the New World was on 'Arsenio Hall,'" Mackie said. "They were performing 'Scenario.' Busta comes out to do his verse, and he has on this Dr. Seuss hat. And he goes, 'Powerful, impact, boom, goes the cannon,' and his hat goes [imitates hat expanding], and literally the entire audience goes crazy. Like, Arsenio Hall runs off the stage, the cameras are shaking. We're in our living room like 'Holy s***.' It was insane. And I was like, 'Mom, I want to be that guy.' I was like, 'That guy affects change. I wanna be that guy.'" 
If anyone doubted Mackie's incredible storytelling, the performance in question is just as wild as he remembered. Leaders of the New World joined A Tribe Called Quest on "Arsenio Hall" to perform "Scenario." The result was a legendary live performance that quickly became too big for the stage, with many members of the groups running into the hyped-up audience. Fans can't miss Busta Rhymes either, as the rapper is wearing a "Cat in the Hat" hat, which he inverts during his verse before he captivates audiences with his rap.