Denzel Washington Gave Michael B. Jordan A Secret Weapon For Directing Creed 3
It may be an early call, but "Creed III" is already shaping up to be one of the biggest movies of the year. The third installment in the critically and commercially successful "Creed" series (itself a continuation of Sylvester Stallone's "Rocky" franchise), the film not only provides another star turn for Jonathan Majors ("Ant-Man and the Wasp: Quantumania") and a fitting end to the story of Adonis Creed — it marks the directorial debut of its leading man, Michael B. Jordan.
Known for his many collaborations with director Ryan Coogler (including Marvel Studios' "Black Panther" and Coogler's own directorial debut "Fruitvale Station) Jordan took on the daunting task of finishing what Coogler started with 2015's "Creed" – the sleeper hit that launched an unlikely cinematic universe as well as the two men's careers. Commitments to the two "Black Panther" films prevented Coogler from returning to the director's chair, though he served as a producer on both "Creed" sequels and receives a story credit on the third entry.
Now on his own in the ring, Jordan revealed on "Jimmy Kimmel Live" that he looked to other actor-directors for guidance, as he felt they "really knew what it was going to be like transitioning from in front of the camera to behind the camera." Jon Favreau told him to finish his first shot of the day as quickly as possible; Bradley Cooper cautioned him not to overthink the process; but it was Denzel Washington that gave him a tool that would ultimately become a "lifesaver" during production.
Storyboard, storyboard, storyboard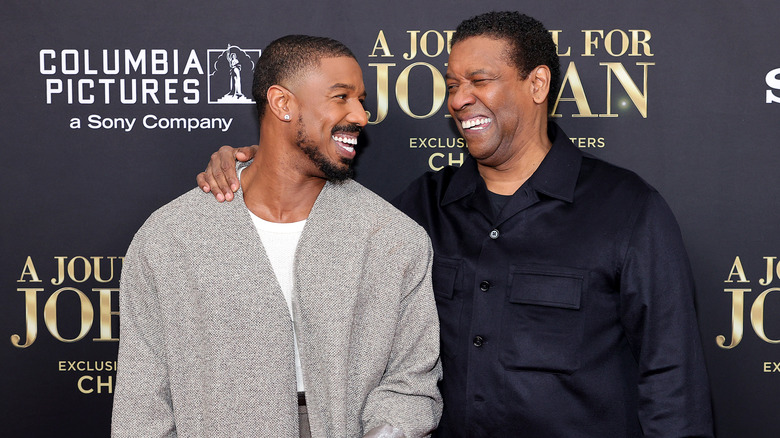 Theo Wargo/Getty Images
As he told Jimmy Kimmel, Michael B. Jordan would ask Denzel Washington for advice while they were working together on the 2021 film "A Journal For Jordan." Washington, one of Hollywood's most legendary and recognizable actors, made his directorial debut with 2002's "Antwone Fisher."
While rehearsing "A Journal For Jordan," the actor Jordan said Washington offered him a "crucial" piece of advice. "'You gotta storyboard, storyboard, storyboard,'" he recalled the "Flight" star warning. Jordan didn't understand at the time why he was so adamant about this point, but Washington insisted — even to the point of immediately contacting Warren Drummond, a prolific storyboard artist who worked with Washington on "Antwone Fisher," "Roman J. Israel, Esq.," and "Fences."
"We were in the middle of rehearsal," began Jordan, "and he picks up his phone and he calls this guy and he was like 'Hey, Warren, it's D. Yeah, yeah, so remember that kid I was telling you about? Yeah, well uh, he's gonna hire you. Alright cool.' And he gives me the phone, and I'm like 'oh, thanks, D, I appreciate that.'" Though he laughed about the memory, it seems as though that call may have been one of the most important ones he made leading up to production. "[Storyboarding] was so crucial," he asserted. "Just to shot-list and really prepare what scenes are you actually gonna shoot and shots that you actually need. Storyboards were a lifesaver for me."