Why Barbara Mangold From We Have A Ghost Looks So Familiar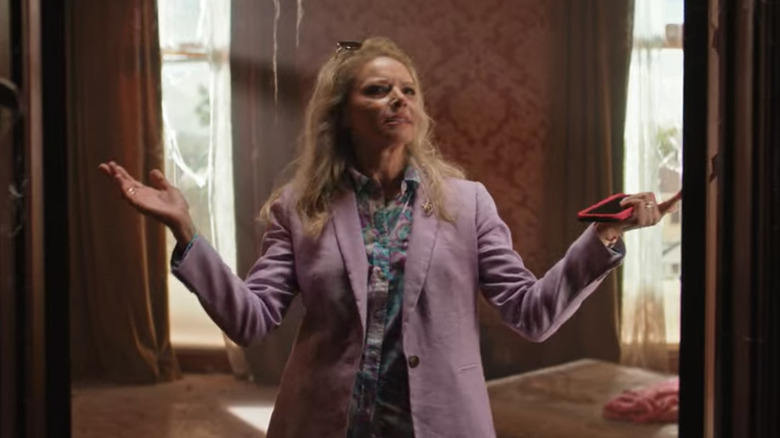 Netflix
Netflix's new horror-comedy, "We Have A Ghost," focuses on the funny side of having a spirit haunting one's home. By the end of "We Have a Ghost," however, viewers have nothing nice to say about the film. When Frank Presley (Anthony Mackie) and his family find a new house in the suburbs, the price tag seems too good to be true. While it's suspicious, their real estate agent, Barbara Mangold (Faith Ford), insists housing costs are low in the area.
It soon turns out that Barbara wasn't being honest about the property. Not only did the owners flee a year before, but also, Kevin (Jahi Di'Allo Winston) finds out the place has been nicknamed "The House of Death." 
Luckily, it turns out the family's ghost, Ernest (David Harbour), is more confused than malicious. Kevin befriends the spirit while Frank and Fulton (Niles Fitch) turn Ernest into an Internet sensation.
Ford plays Barbara in the movie, but she's also appeared on soap operas, as well as beloved sitcoms beforehand. Here's where fans have seen Ford prior to this.
Her breakthrough was on the soap Another World
After starting out in show business as a model, Faith Ford found she enjoyed acting classes much more than posing. Like many actors early in their careers, the young Ford found steady work on the sets of soap operas. Her first IMDb credit is as Muffy Critchlow on a 1983 episode of "One Life to Live."
Shortly afterward, Ford was cast as Liz's (Irene Dailey) adopted granddaughter, Julia Shearer, on the long-running series "Another World." She was the third actor to play the character after Kyra Sedgewick and Jonna Leigh. Julia is an accomplished young woman, but she's also headstrong and extremely troubled. She even plagiarizes one of Felicia's (Linda Dano) books.
Ford only got to play Julia for 20 episodes before her character was murdered by Ross (Robert Phalen) in 1984. The actor said that, in retrospect, she'd have pursued more theater while in New York City; however, coming from Louisiana, soap operas seemed like a golden opportunity.  
Ford's most iconic role is Corky on Murphy Brown
Faith Ford's longest-running and most iconic role has to be Corky Sherwood on "Murphy Brown." The actor plays the extremely sunny FYI journalist Corky Sherwood on 288 episodes of the controversial hit show, including the short-lived revival season. She was even nominated for five Emmys during the series' run. 
Corky is originally hired to replace Murphy Brown (Candice Bergen) after the reporter briefly enters the Betty Ford Clinic. After Brown returns in the first episode, Corky is reassigned to lighter pieces. Despite Corky's irritatingly optimistic attitude, Ford insists that the character should never be portrayed as stupid. 
"She's not a ditz. I'm always fighting against that," Ford said to Tampa Bay Times in 1990. "Sometimes she says something that sounds ditzy, but she has a very reasonable point to make."
Corky also grows over the course of the show, marrying and later divorcing Will Forest (Scott Bryce) before an on-again/off-again relationship with Miles Silverberg (Grant Shaud). The character reappears on the 11th season of "Murphy Brown" in 2018 when she joins Brown as a co-host on her new morning show.
She's a loving mom in North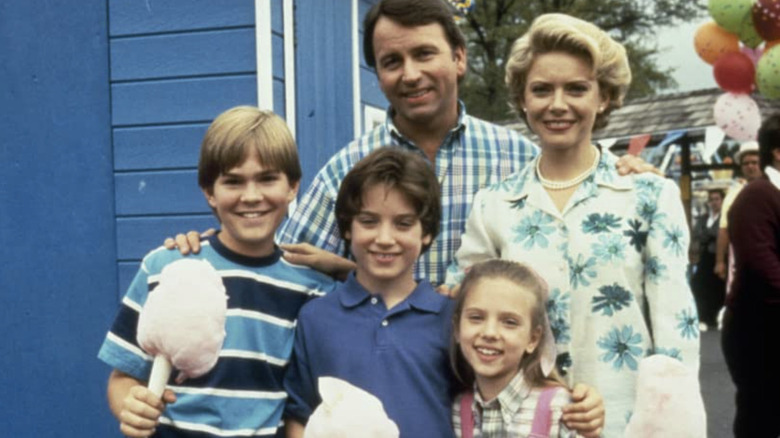 Tammie Arroyo/Getty Images
"North" may have been intended as a quirky, charming children's adventure about the title character (Elijah Wood) looking for a new family after "divorcing" his parents; however, the end result was a truly notorious 1990s box office bomb. Critics weren't happy with the Rob Reiner film either. 
"I hated this movie," Roger Ebert infamously said. "Hated, hated, hated, hated, hated this movie. Hated it."
Luckily for Faith Ford, when people discuss what went wrong with the film, she doesn't seem to be a primary culprit. Part of a huge ensemble cast, Ford plays the matriarch of the Nelson family, Donna, alongside her husband, Ward (John Ritter). After several bad starts with North, the caring Nelsons seem to be exactly the kind of loving family the boy is looking for.
Even though Donna and Ward are great parents, North still isn't happy with them, and he decides to leave them for New York City. The pair are just one more stop on North's journey toward finding the parents he really wants.
Ford plays one of the title characters on Hope & Faith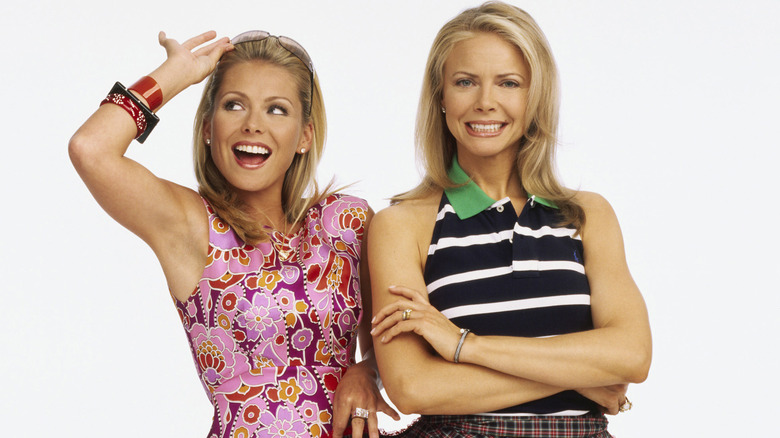 ABC Networks
When "Murphy Brown" ended in 1998, Faith Ford starred on "Maggie Winters," but the sitcom only lasted 16 episodes. She then got back to her soap opera roots in a unique way. In 2003, Ford played the sister to a dramatic former soap opera star portrayed by Kelly Ripa on the ABC comedy "Hope & Faith."
The show is inspired by the life of creator Joanna Johnson, who starred on "The Bold and the Beautiful." Ford plays a mother, Hope Fairfield, who has to take in her sister, Faith, after her character from "The Sacred and the Sinful" is unexpectedly killed off. Where Hope is pragmatic and intelligent, Faith schemes up ways to make money, as well as to get herself back into acting. Of course, these plots never work, but Hope tolerates her sister's flaws anyway.
It's a fun premise, but "Hope & Faith" didn't connect with audiences. Ultimately ABC axed the sitcom in 2006 after 73 episodes.