Steve Howey Felt 'Very Protective' Of Shanola Hampton While Filming Intimate Scenes In Shameless
Showtime
Although "Shameless" centers around the Gallagher family, the show wouldn't be the same without the supporting characters that comprise the rest of the cast. Figures like Mickey Milkovich (Noel Fisher) and Sheila Jackson (Joan Cusack) add depth and levity to the narrative, though "Shameless" fans agree that Kevin and Veronica carried the show. Portrayed by Steve Howey and Shanola Hampton, Kevin and Veronica have one of the healthiest relationships depicted in the series. Even though they have their ups and downs, Kevin and Veronica can face the challenges of parenthood, all while running The Alibi Room together. Another prominent aspect of their relationship is their intense physical connection, which remains evident throughout the narrative.
Regarding their sex life, Kevin and Veronica tend to bare it all. Early on in the series, it's clear that physical intimacy is an integral part of their dynamic. Sex scenes are par for the course on "Shameless," and as the show's strongest couple, it makes sense that Kevin and Veronica's relationship is often featured in these moments. Filming sex scenes can get pretty awkward when an entire crew is watching behind the camera, but Howey found himself feeling protective of Hampton when crafting those more intimate moments.
Steve Howey and Shanola Hampton worked together to make Kevin and Veronica's relationship seem realistic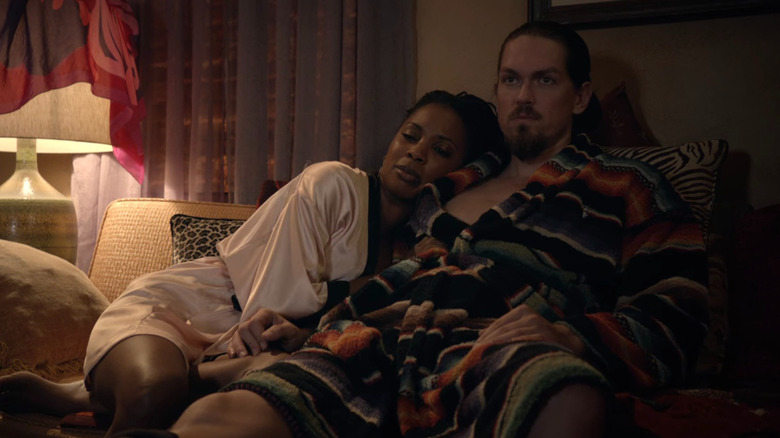 Showtime
Steve Howey and Shanola Hampton are friends in real life, resulting in a professional dynamic that makes Kevin and Veronica's relationship feel authentic. When it came to filming sex scenes, Howey always took the time to make sure that Hampton felt safe on set. On the most recent episode of the podcast "Not Skinny But Not Fat," Howey elaborated on how his friendship with Hampton was built on mutual respect, a factor that made filming intimate scenes a lot easier. However, during the installment titled "Steve Howey on Sex Scenes, Manifesting, and Parenting," the "Shameless" star admitted that it wasn't always easy to find a balance between intimate scenes that serve the narrative and unjustified nudity. 
"I was very protective of her, and so they wanted her; some directors wanted it to be a little sordid. A little gratuitous. And it's like, we don't need to do that. We already do enough as it is," Howey explained. "But yeah, it was a lot, but a lot of these nudity and sex scenes came from really, really well-written material, so it didn't feel gratuitous. Some were a little, but for the most part, we protected each other, and we made something really cool."
It's nice to hear that Hampton and Howey had each other's backs through it all. Hats off to the actors for their dedication to the story.