Laika Announces Missing Link, Reveals Voice Cast And Characters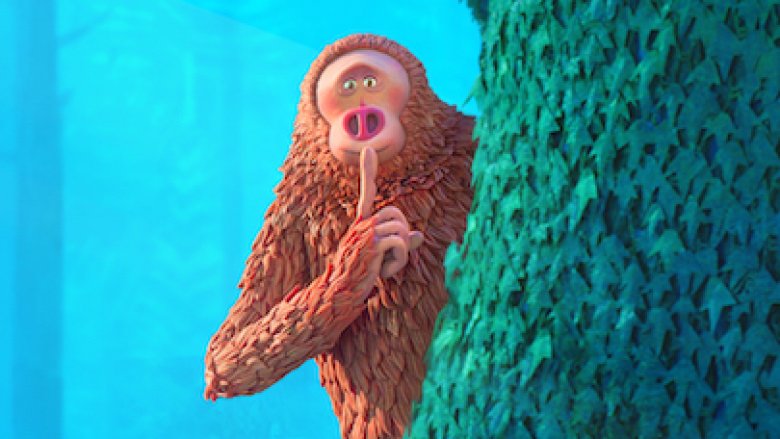 Laika Entertainment
Laika is going big for its newest animated feature — literally. 
The famed stop-motion animation studio has announced its upcoming film Missing Link, unveiling the feature's first photo at Cannes Film Festival in France (shown below), confirming the star-studded voice cast (via Variety), and revealing in-depth character information (via Collider). 
Created using 110 sets and 65 different locations, Missing Link centers on the charismatic Sir Lionel Frost, voiced by Hugh Jackman, who "considers himself to be the world's foremost investigator of myths and monsters." Unfortunately, none of Sir Lionel's high-society peers can recognize this, as they're rather small-minded. Sir Lionel nonetheless ventures to prove himself to the elite by traveling to America's Pacific Northwest to confirm the existence of man's primitive ancestry, the legendary creature known as the Missing Link. 
The Hangover franchise star Zach Galifinakis provides the voice for the Missing Link (more properly referred to as Mr. Link), who is soulful yet sad, given that he's the very last of his kind. Mr. Link is described as "the slightly silly, surprisingly smart, and soulful beast upon whom Sir Lionel's dreams depend," and "as endangered as they get." He and Sir Lionel team up to help one another: Mr. Link has what Sir Lionel wants and Sir Lionel can aid in bringing Mr. Link to his "rumored distant relatives" in the "fabled valley of Shangri-La."
But Sir Lionel and Mr. Link won't be alone; Adelina Fortnight, voiced by Zoe Saldana, will partner with them on their adventure as well. Adelina is an "an independent and resourceful adventurer who possesses the only known map to the group's secret destination," and the unlikely trio embark on "a riotous rollercoaster of a ride" that sees them "encounter more than their fair share of peril, stalked at every turn by dastardly villains seeking to thwart their mission."
Missing Link also features the voices of Emma Thompson (Sense and Sensibility), Stephen Fry (The Hobbit), David Walliams (Little Britain), Amrita Acharia (Game of Thrones), Timothy Olyphant (Justified), Matt Lucas (Alice in Wonderland), and Ching Valdes-Aran (Nurse Jackie). 
Additionally, Missing Link is the first title out of Laika that will be distributed in the U.S. via Megan Ellison's Annapurna Pictures; Universal/Focus Films handled distribution of the studio's first four films – Kubo and the Two Strings, The Boxtrolls, ParaNorman, and Coraline, all of which received Academy Award nominations. 
ParaNorman director Chris Butler is back at the helm for Missing Link. The filmmaker said of the upcoming feature, "It was a constant source of delight to witness how our game and captivating cast imbued these larger-than-life characters with distinct personality. Hugh lends Sir Lionel a giddy schoolboy enthusiasm bubbling beneath the surface of his suave English gent; Zoe brings an unflappable ardor and a witty playfulness to Adelina, and Zach's performance as Link is not only laugh-out-loud funny, but a beautifully nuanced balance of innocence and vulnerability. It was a treat to be able to join this eclectic gang of adventurers on their journey across the world."
Laika president and CEO Travis Knight noted that Missing Link achieves "something we've never tried before: a raucous comedy entwined with a swashbuckling epic, underscoring the universal need to find belonging." Producer Arianne Sutner added, "It's only now with our fifth film that as a team we have the experience, the know-how, and the collaborative confidence to even attempt a movie of this size and scope ... I couldn't be more in awe of our Laika crew members. Their endless reserves of imagination were pushed to the limit during the production of this ambitious movie, and we ended up soaring past those limits."
Find Missing Link in theaters in the spring of 2019.