Young Sheldon's Raegan Revord Reveals The On-Set Stunt That Left Her Crying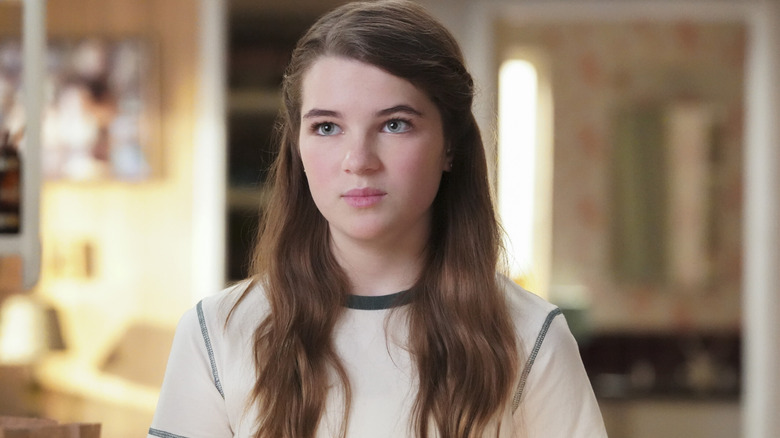 Bill Inoshita/Warner Bros.
When it comes to child actors, there can be a bit of a confusing dynamic. On the one hand, they're in a high-pressure environment with seasoned stars, and are expected to act in a professional manner. Yet at the same time, they are children, which means they aren't immune from the occasional need for some playtime, mischief and emotional release. On the set of "Young Sheldon," child stars Iain Armitage and Raegan Revord, who portray Cooper twins Sheldon and Missy, are prime examples of this dynamic.
For Armitage, who was nine years old when the series premiered in 2017, he enjoyed the rare privilege of being mentored by none other than Jim Parsons, who brought the train-loving adult version of Sheldon to life for 12 years on "The Big Bang Theory." But when Armitage wasn't learning the ins and outs of the theoretical physicist, he wanted to play. In fact, he convinced the president of Warner Bros. to build a park at the studio.
As for Revord, she's been able to grow as an actress and take a more layered approach to her delivery thanks to advice from Annie Potts. However, all the invaluable mentorship in the world can't prevent a nine-year-old from understandably shedding some tears when a stunt goes wrong.
A fire extinguisher threw Raegan Revord back several feet
In Season 1, Episode 14 of "Young Sheldon" ("Potato Salad, a Broomstick, and Dad's Whiskey"), matriarch Mary Cooper (Zoe Perry) takes a full-time receptionist job at her church, which means she won't be home to take care of Sheldon and Missy after school. When Meemaw (Annie Potts) refuses to give up her afternoons to babysit, it's decided that the twins are mature enough to stay home alone for a few hours.
However, Meemaw worries about how they're faring, and lurks outside the Cooper house to catch a glimpse. Panicked, Missy grabs the fire extinguisher and releases it on poor Meemaw. It's a humorous scene, but its creation wasn't fun for Raegan Revord. She told Grumpy magazine, "It took a lot of takes to see which [fire extinguisher] worked, but one of them threw me back three or four feet. So when I went flying back, I was shaking and crying."
Still, this scary moment didn't deter Revord from continuing with "Young Sheldon," which is renewed through at least 2024. It also didn't deter her from dreaming about an acting career that goes beyond the show. In fact, she sees herself one day appearing and performing her own stunts in a Marvel film. She told Glitter magazine, "A dream role for me would ... be a character in the MCU. I'm so obsessed. I love action movies, so being a superhero so that I can have stunts would be so cool!"