Why Elizabeth Kilbride From NCIS: LA Looks So Familiar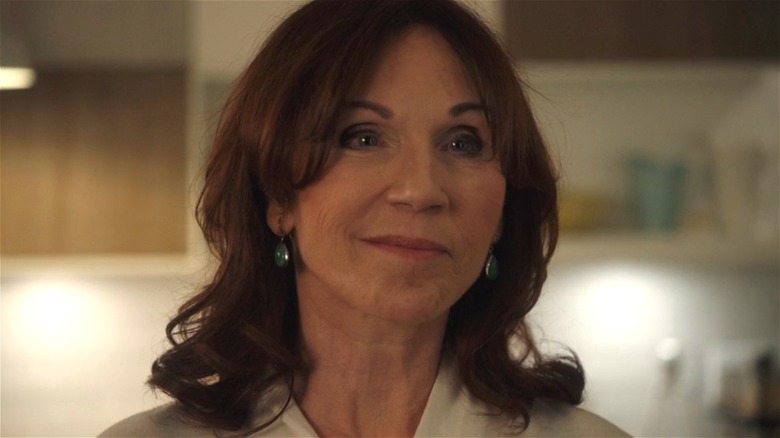 CBS
Crime procedurals are like a nature preserve for beloved television actors. On any given weekday evening, you can probably spot at least one surviving member of the cast of "Wings" or "Small Wonder" having their Miranda rights read to them while they say something like "This is preposterous!" or "I'll have your badge for this, Mariska Hargitay."
The "NCIS: Los Angeles" Season 13 episode "A Farewell to Arms" was no exception, and longtime TV fans will have undoubtedly clocked series newcomer Elizabeth Kilbride as a familiar face. That's because the former wife of Admiral Holace Kilbride (Gerald McRaney) was played by primetime veteran Marilu Henner. If the name isn't already ringing some bells, then it must have been nice living in a bomb shelter without access to pop culture for the last fifty years. Henner has been writing, producing, and most of all, acting, for the better part of half a century. Let's take a look at some of her more familiar work on the big and small screens.
Marilu Henner made waves on Taxi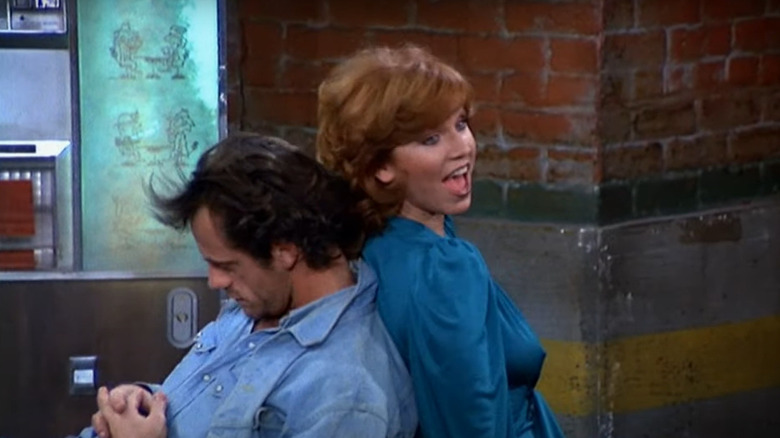 ABC
Even with a career spanning five decades and with dozens of projects under her belt, it is an inarguable fact that Marilu Henner's most recognizable role came early, when she booked a gig appearing in the pilot episode of "Taxi."
It's been a while — the show premiered in 1978 — so you'd be forgiven if you weren't familiar, but it would be an understatement to say that "Taxi" was a pretty big deal in its day. A baker's dozen Emmys notwithstanding, it cemented some of pop culture's most enduring comedic stars, including Danny DeVito, Christopher Lloyd, Andy Kaufman, Carol Kane, and Tony Danza. 
More than holding her own, Henner played Elaine Nardo, a divorcee and single mother with a passion for the finer things in life, despite difficulties fitting in with New York's upper class. 114 episodes of classic sitcom highs and lows and five Golden Globe nominations later, Henner had more or less solidified herself as television royalty. For the real nerds in the audience, she even played herself playing Elaine in an uncredited cameo in the Andy Kaufman biopic "Man on the Moon," alongside the rest of the cast of "Taxi," nearly 20 years after the show's cameras stopped rolling.
Marilu Henner returned to TV with Evening Shade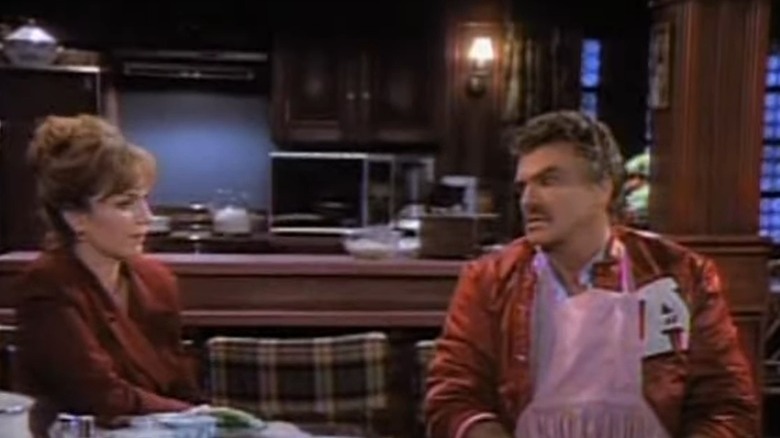 CBS
By the dawn of the 1990s, Marilu Henner had been to the big screen and back, having appeared in "Cannonball Run II" and as the female lead in the cult classic Michael Keaton crime comedy "Johnny Dangerously." It was time to head back to the hearts and living rooms of the American public.
Also making a return to television was Henner's "Cannonball Run II" co-star Burt Reynolds, who was coming off of a string of box office disappointments. The solution: "Evening Shade," a feel-good CBS sitcom which ran for four seasons between 1990 and 1994. The show saw Henner cast as Ava Evans Newton, the much younger and frequently pregnant wife of Reynolds' Woodrow "Wood" Newton. Together, the two explored the ins and outs of small town life in the sleepy any-town of Evening Shade, Arkansas. Woodrow, a former player for the Pittsburgh Steelers, adjusted to the lifestyle of a high school football coach. Henner's Ava faced her own challenges, raising four children and holding the post of district attorney. While not as ubiquitous as "Taxi," the series made waves, with The Los Angeles Times in 1991 referring to its cast as "The glitziest gathering of talent that has ever drawled dialogue."
Marilu Henner won big time with Brooklyn Nine-Nine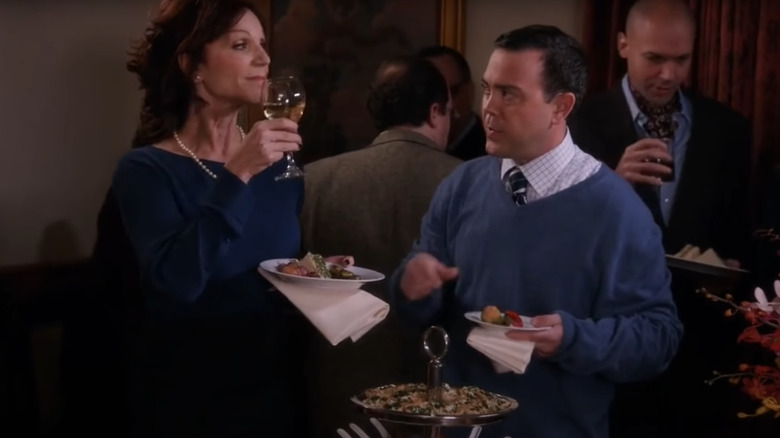 Fox
It can be difficult to choose a metric by which to gauge the success of an acting career. Do you measure by the awards that have been won? The co-stars with whom a performer has shared the screen? We put it to you that the answer is no, and that the only real scale of thespian success lies in the number of times that a performer has been partnered with John Lo Truglio on TV. By that standard, and others, Marilu Henner did a bang-up job when she debuted as Vivian Ludley on the Season 1 episode of "Brooklyn Nine-Nine" simply titled "The Party." There, Lo Truglio's Charles Boyle became captivated by Henner's Ludley when the two connected over foodie culture. What followed was a truly impressive mouth exchange in a coat closet.
Henner's tenure on the program was more memorable than it was long, lasting only five episodes, but what a great five episodes they were. Boyle went full Boyle, and so did Vivian, leading to a hasty engagement. A police baton was employed in the pursuit of more full-throated communication. Before long, sadly, Henner's character was relocated to Canada, from whence sitcom love interests never return. Still, it was cool. Cool, cool cool, cool, cool.