Austin Butler Took A Dangerous Risk To Impress Quentin Tarantino In Once Upon A Time In Hollywood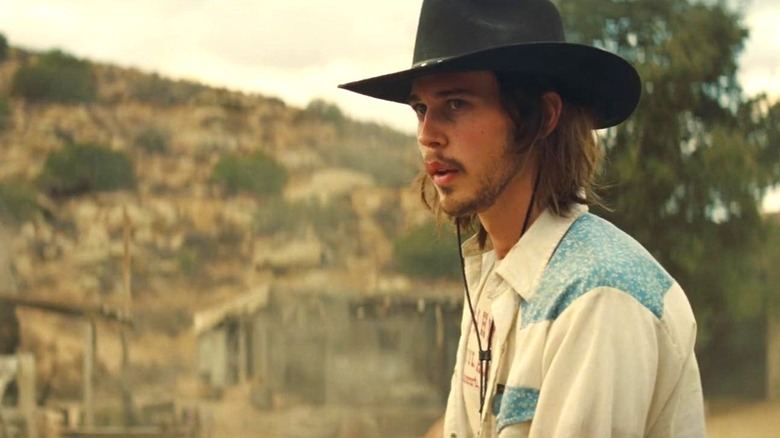 Sony Pictures
In a long career of stylistic and heightened films, "Once Upon a Time in Hollywood" is a highlight of the latter half of Quentin Tarantino's filmography. Joining the highly-ranked "Inglourious Basterds" as another film that's thoughtful in its historical revisionism, Tarantino himself has since proclaimed "Once Upon a Time In Hollywood" as his best movie. And it isn't hard to see why. The star power of Leonardo DiCaprio, Brad Pitt, and Margot Robbie alone is enough to carry any film. But within the depths of its narrative also happens to be a moving story that is much preferable to reality. Centering around the profound friendship between Rick Dalton (DiCaprio) and Cliff Both (Pitt), the film posits a world where burgeoning actor Sharon Tate (Robbie) was not subjected to her tragic fate at the hands of the Manson Family.
So impressive was the endeavor that legacies beyond Tarantino's were affected — legacies like that of Elvis Presley. Before Austin Butler donned the iconic pink jumpsuit of the King of Rock and Roll, he established his star qualities by proving his skills in his role as one of Manson's most infamous disciples.
Austin Butler made sure to show his skills on horseback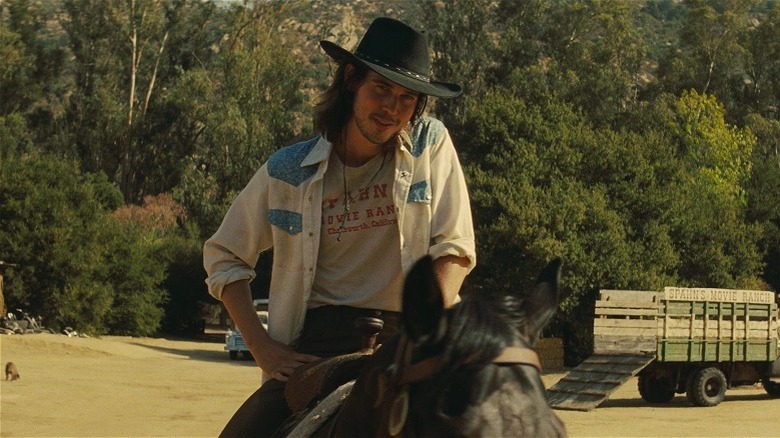 Sony Pictures
Tex Watson (Austin Butler) was just one of many characters in "Once Upon a Time in Hollywood" based in reality. Like Squeaky (Dakota Fanning), Tex was a real-life follower of Charles Manson. But portraying a real person was not the only high-pressure experience Butler had to contend with. One of Tex's main set pieces includes a breakneck race at Spahn Ranch to head off Cliff, who's causing a ruckus. Any stunt such as that merits careful coordination on any day. But on the day of rehearsal, Butler recalled that when Tarantino arrived, all bets were off.
"So we were going to do a rehearsal and then Quentin showed up and we're shooting on film, I'd never shot on film before, and suddenly he's there and he said, 'Should we shoot the rehearsal?' And the stunt guy goes, 'Go half speed, do not go full speed,'" Butler told Marc Maron on his podcast, WTF. "I thought, 'I got Quentin Tarantino in the car, Bob Richardson's there, there's no way that I'm not gonna go as fast as I possibly can.'" Although Butler had not ridden on that specific road before and could have seriously hurt himself, he refused to pass up the opportunity to show what he could do while one of Hollywood's most famous directors was filming. His grand stunt only took a few takes, and he lived to tell the tale.