Ant-Man Star David Dastmalchian Says Bringing Veb To Life In Quantumania Was A 'Healing' Experience - Exclusive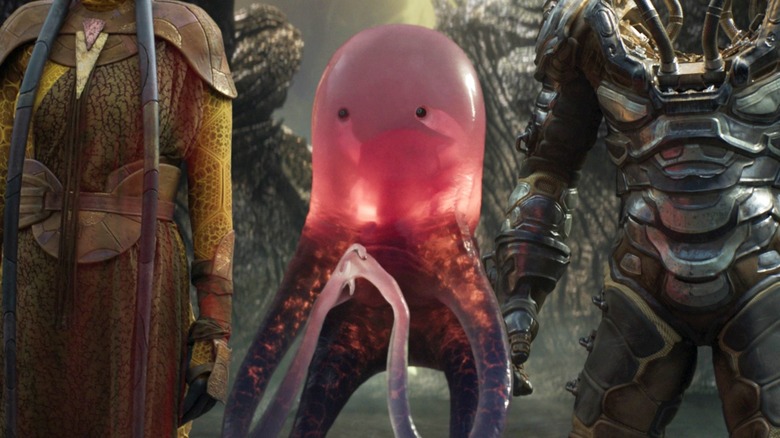 Marvel Studios/Disney
Since much of the new Marvel Cinematic Universe hit "Ant-Man and the Wasp: Quantumania" takes place in the Quantum Realm, there was no way, sadly, for Scott Lang's crew, including Kurt, played by David Dastmalchian in the first two "Ant-Man" films, to make an appearance. Luckily for Dastmalchian — whose bevy of comic book movie roles includes the beloved Polka-Dot Man in "The Suicide Squad" — director Peyton Reed had another role in mind for the venerable actor, but through motion capture.
The wonderful result is Veb, a curious creature whom Scott Lang (Paul Rudd) and his daughter, Cassie (Kathryn Newton), encounter when they get separated from Hope Van Dyne (Evangeline Lilly), Janet Van Dyne (Michelle Pfeiffer), and Hank Pym (Michael Douglas) in the Quantum Realm. Without question, Veb is far different in looks and attitude from any character Dastmalchian has played before.
"My 5-year-old daughter described Veb as a 'pink pickle jar full of goo.' Veb is devoid of traditional appendages and organs the way that our human bodies [have], and Veb is an endlessly fascinated individual," David Dastmalchian told Looper in an exclusive interview.
"Veb is a creature of the Quantum Realm who is as curious as they come," Dastmalchian continued. "The things that Veb is curious about are quite perplexing to those of us who are used to having things like nostrils or ears or a mouth. He doesn't understand what that hole is — where does it go? Where does it lead to? What comes out of it? These are the things that really perplex Veb's mind. Living within that big pink swirling jar of goo is this beautiful beating heart."
And it was that beautiful beating heart that came along when Dastmalchian needed it most, as he suffered a deep, personal loss at the beginning of the production.
Dastmalchian describes Veb as a 'bright light of love'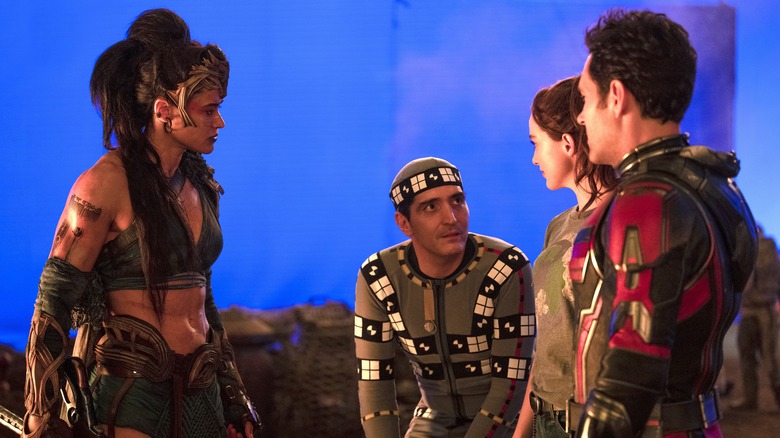 Marvel Studios/Disney
While David Dastmalchian was thrilled to get the call from Peyton Reed to rejoin his "Ant-Man" family for "Quantumania," the actor's enthusiasm was dampened when his father passed away in fall 2021, about a week after he landed in London to start filming. Dastmalchian said the death of his father — which came a year and a few months after the passing of his mother during summer 2020 — put him in a very "dark place."
Fortunately, Dastmalchian found light in the caring friendship of his "Ant-Man" family members, including Paul Rudd. "Paul came to me and helped lift my spirits. He was so great during that week; he made me laugh so hard," Dastmalchian recalled. "He had so many jokes, some of which were inappropriate ... He's got that magic charm."
Even more, the goodwill of Dastmalchian's character, Veb, vastly contributed to his healing process. "Veb is a dear friend," the Kansas native described. 
"Friendship means more to Veb than anything. He has no family in the Quantum Realm besides his friends," Dastmalchian said. "He is part of a group of people who've been oppressed by a ruthless warlord and overlord, and Veb bonds together with his friends. They're trying to survive and trying to take care of one another, and his heart beats pure and true. I loved that, because I was in such a sad, dark place where I was feeling sad about film and family and loss and death, and getting to take on this character who has this bright light of love inside of him was healing for me."
"Ant-Man and the Wasp: Quantumania" is now playing in theaters. Dastmalchian's next comic book offering, "Count Crowley Volume 2: Amateur Monster Hunter," will be available on March 14.