The Mountain From Game Of Thrones Wins World's Strongest Man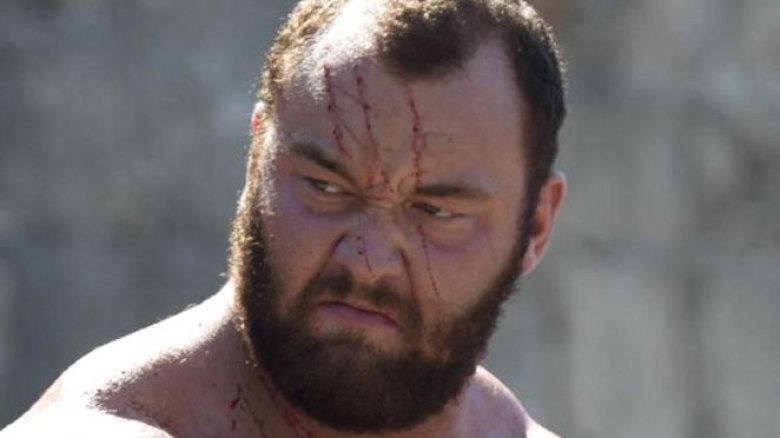 HBO
The Mountain that Rides is now the World's Strongest Man.
Hafthor Julius Bjornsson, who plays Gregor Clegane on HBO's Game of Thrones, has cemented his title as the World's Strongest Man by winning the international contest of the same name in the Philippines, according to a report by The New York Times.
Bjornsson, who fittingly goes by the name of Thor, has been lifting in the competition since 2011, consistently notching second or third place, but never first — until now. 
The Iceland native also won the Arnold Strongman Classic and the Europe's Strongest Man contests this year, making him the first person ever to win all three titles in the same calendar year.
Bjornsson utterly trounced the competition in Manila this year, walking away with 51.5 points to the runner-up's 45. The previous year's winner, Eddie Hall, sat out the competition this time, and may be retiring — making it the Mountain's time to shine.
Winning the World's Strongest Man competition has long been a dream for Bjornsson, who measures 6 feet 9 inches and weighs 400 pounds. 
Some of the events he competed in for this year's competition are the Car Deadlift (which is exactly what it sounds like), the Truck Pull (same), and the Loading Race, which involves lifting heavy objects like anchors, anvils, and tires from the ground and carrying them to a platform.
Bjornsson previously made headlines for his feats of strength by breaking a 1000-year-old viking record, carrying a 1,433-pound log on his back for five steps. In the legend the record comes from, the viking Orm Storulfsson broke his back on the fourth step.
Originally a basketball player, Bjornsson began his acting career in 2014 with his role on Game of Thrones, being the third actor to play the role of the Mountain that Rides. The 29-year-old athlete is now playing the character in a monstrous, heavily-armored, seemingly reincarnated form, sometimes going by the name of Ser Robert Strong.
Game of Thrones returns for its final season in 2019. Until then, you can presumably find Bjornsson at the gym.