Ant-Man And The Wasp: Quantumania Box Office Continues To Shrink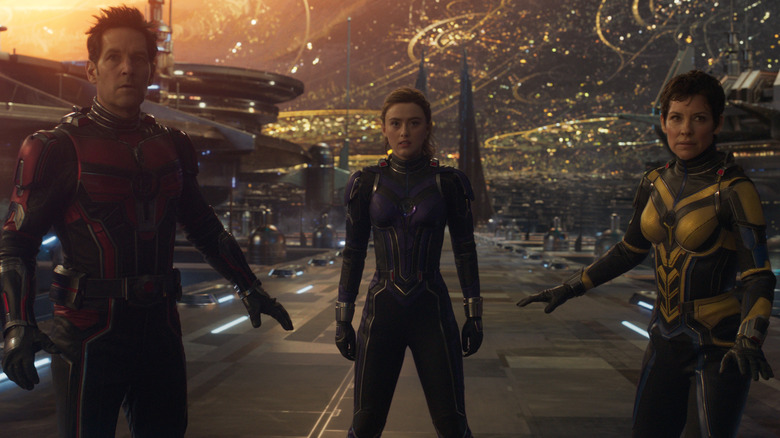 Marvel Studios/Walt Disney Studios Motion Pictures
"Cocaine Bear" snorted up a healthy dose at the box office this weekend, while "Ant-Man and the Wasp: Quantumania" shrunk down to make way for a new Marvel low.
Going into this weekend, all eyes were on how the "Ant-Man" threequel would fare during its second week. With poor reviews from critics — Looper gave Marvel's latest a 4/10 — and a mixed reception from audience members as signaled by a B CinemaScore, it was all but expected that the Paul Rudd film would suffer hefty a drop. "Quantumania," which kicked off the Marvel Cinematic Universe's Phase 5, opened to over $100 million domestically, giving it the highest-opening for any "Ant-Man" film. This weekend, however, paints an entirely different picture.
Deadline reports that "Ant-Man and the Wasp: Quantumania" suffered a near 70% drop at the domestic box office, bringing its sophomore three-day offering to just over $32 million. Meanwhile, the Elizabeth Banks-directed "Cocaine Bear" opened to $23 million, making it Universal Pictures' latest viral hit. The horror-comedy immediately achieved meme-status following its debut trailer in late 2022, which emphasized just how ridiculous it was to see a bear go on a cocaine-fueled rampage. Globally, "Cocaine Bear" stands at $28.4 million. With positive reviews and a generous CinemaScore of B-, Banks' latest should continue to be a worthy draw for multiplexes as the box office enters March.
Lionsgate's faith-drama "Jesus Revolution" also made an impactful showing at the box office, coming in at third place with a domestic debut of $15.5 million. The "Ant-Man" threequel also faced competition from "Avatar: The Way of Water" and "Puss in Boots: The Last Wish," both of which rounded out this weekend's top five.
What does the future hold for Quantumania?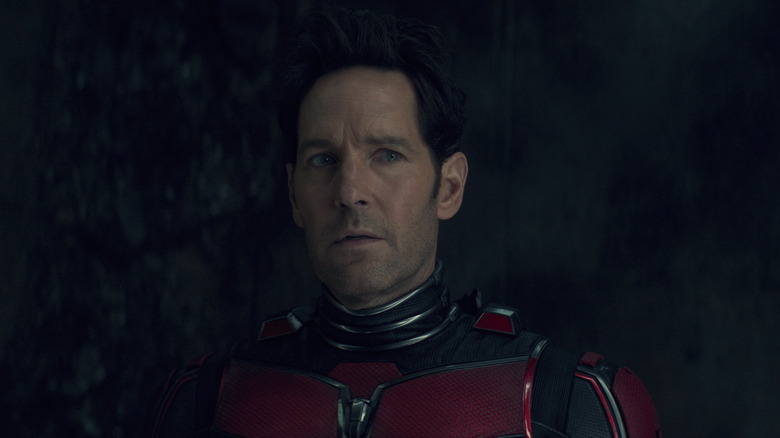 Marvel Studios/Walt Disney Studios Motion Pictures
"Ant-Man and the Wasp: Quantumania's" 70% drop is certainly worth investigating. Per Gitesh Pandaya, the film had the largest second weekend drop for a Marvel threequel. It currently ranks ahead of "Captain America: Civil War" and "Spider-Man: No Way Home," both of which boasted 60% and 68% sophomore weekend drops, respectively. As for the entire Marvel Cinematic Universe, "Ant-Man and the Wasp: Quantumania" had a larger drop than "Thor: Love and Thunder's" 68% drop (via The Wrap).
Is Marvel losing its legs? Despite all the negative buzz surrounding the film's finances, the threequel still managed to emerge as the number one film over the weekend. The film is expected to slip to second place next week when "Creed III" debuts in cinema. The Marvel film will also lose premium and large format auditoriums to Michael B. Jordan's boxing flick, including select IMAX screen.  
As it stands, "Quantumania," which boldly and formally introduced Kang (Jonathan Majors) to the MCU, has reached $364 million worldwide. Currently, it';s  It made $46.4 million internationally this weekend, proving that audiences around are still interested in what Marvel is cooking. The film is doing relatively well in Europe and Latin America, though China is still its number one international market. Deadline estimates that the threequel will surpass $500 million worldwide. Its predecessor, meanwhile, crossed over $620 million worldwide (via The Numbers).