Woody Harrelson's SNL Monologue Has Twitter In An Uproar Over 'Drug' Comments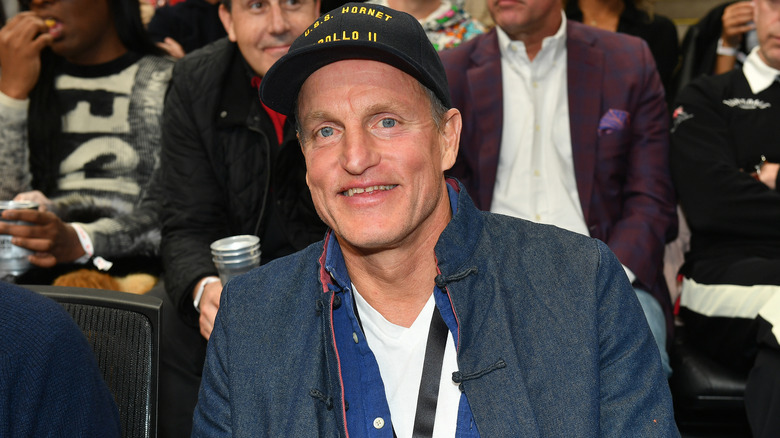 Paras Griffin/Getty Images
This weekend, "Zombieland" and "Natural Born Killers" star Woody Harrelson returned to host "Saturday Night Live" for the fifth time. This made him officially part of the illustrious Five-Timers' Club, joining other established members like Tom Hanks, Steve Martin, and Paul Rudd. However, this was not the most momentous aspect of this Saturday's show. Instead, debate and controversy sparked across social media about comments the actor made during his 7-minute monologue.
If you know about Harrelson's private life, you know that he is no saint — nor does he claim to be. Over the last decade, Harrelson has been quite outspoken about certain points in his life, including those times when he got into the most trouble. This is evident in interviews, including one from 2017 with The Hollywood Reporter, in which Harrelson sounds quite candid and self-aware about his past mistakes. At the end of the interview, he admits that he's still a rebel at heart who enjoys living on the edge. "I got the most amazing wife I could imagine,"  Harrelson said. "But did marriage calm me down? I don't think anything will ever calm me down."
Taking the SNL stage once again, Harrelson was faithful to himself and used his daring sense of humor and unreserved bluntness in a monologue that caught many off-guard. That being said, a few of the statements made by Harrelson have sent the internet into an uproar, bringing to the surface the polarizing, incendiary debate that the pandemic sparked.
Two kinds of drugs
During his monologue, Harrelson made no attempts to hide his past with alcohol or the fact that he still has a seemingly functional relationship with the Devil's lettuce. However, it may be surprising to some that these were not the drugs mentioned in the actor's monologue that caused the impassioned online clamor, nor was it the fact that Harrelson rather hilariously threw his poor manager Jeremy under the bus for breaking the law by claiming he, and not the actor, transported weed from California to New York.
What instigated the online furor was Harrelson's use of a metaphor to make an implicit critique of COVID measures and denounce the big pharmaceutical companies behind the vaccines. Harrelson talked about smoking a joint and sitting under a tree in Central Park to read this probably fictional film script. "So the movie goes like this," Harrelson says. "The biggest drug cartels in the world get together and buy up all the media and all the politicians and force all the people in the world to stay locked in their homes, and people can only come out if they take the cartels' drugs and keep taking them over and over. I threw the script away. I mean, who was gonna believe that crazy idea?"
Unsurprisingly, there are two opposing views on the implications of Harrelson's "unbelievable script" anecdote. One commends and agrees with the actor; The other attacks and discredits him. 
Two kinds of views
On Twitter, one of the most retweeted responses came from Nick Brennan, who has worked for NBC in the past. "What on earth was this antivax nonsense."  MMA fighter Jake Shields replied, "It's called truth. "Two hours after his "antivax nonsense" post, Brennan posted a screenshot of Twitter CEO Elon Musk's favorable response to the SNL monologue, captioning it, "And here it all makes sense."
On Reddit, the responses were equally polarized. "Odd," commented u/Rain1dog. "Just watched the entire monologue and thought it was well done. It never came off as an anti-vax rant." On a different board, another user criticized both this monologue and another recent one by comedian Dave Chapelle: "And they just had Dave Chappelle giving an anti-semitic monologue a few months ago. Gross." u/Hrispir wrote, "I don't take medical advice from actors, especially actors who admit they spend most of their time stoned."
On YouTube, the majority of the top comments seemed to be in Harrelson's corner. "That's what you call being natural on the stage." Wrote @peterjmccann. "Then he proves he's more 'high' minded than all the rest at the end and leaves them flat. Love it." Another commenter, @boatbaby8896, pointed out the live studio reactions — or lack thereof — stating, "Love the audience silence at the 'cartel' joke."
One user, @bishmayoung, went as far as putting in words what many viewers must have thought when watching the monologue, writing, "And just like that he was never seen again in Hollywood or on SNL." Whether you agree or disagree, whether you find it brave or unhinged, it is undeniable that Harrelson took a risk with this controversial joke.