1923's Pete Plenty Clouds Is Played By A Big Yellowstone Star's Nephew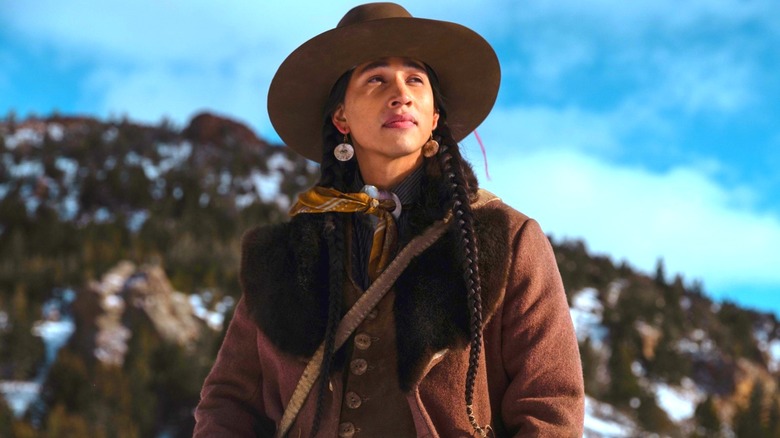 Emerson Miller/Paramount+
The bonds of family are a uniting element in Taylor Sheridan's "Yellowstone." John Dutton (Kevin Costner) owes his entire cattle ranching empire to his family, even if he doesn't know how to thank them properly. Tireless and remorseless Beth (Kelly Reilly) is the mastermind who keeps her father's ranch afloat, while younger brother Kayce (Luke Grimes) provides the brawn. This is a tale as old as time, and Sheridan makes sure that is evident with his prequel series "1883" and "1923." Each generation of Duttons risks life and limb to hold on to their piece of family history. They do not always treat the members of their family with equal concern, but they remain family nonetheless.
In the latter half of "1923" Season 1, family bonds are not only significant to the Duttons. Teonna's (Aminah Nieves) harrowing experiences in a Catholic boarding school shed light on the unsettling truth of forced assimilation that was sadly all too common for Indigenous children. Eventually, Teonna escapes her nightmare with the help of Hank (Michael Greyeyes) and his son, Pete Plenty Clouds. These strong familial bonds of support and devotion exist both on screen and off. Fans of "Yellowstone" will immediately notice that the actor who plays Pete Plenty Clouds shares a family name with a classic character from the series.
Mo Brings Plenty is a hallmark of the Yellowstone community
Pete Plenty Clouds appears briefly in "1923," but he also happens to be a legacy. The character is played by Cole Brings Plenty, who fans of the series should recognize. The young actor is the nephew of long-standing "Yellowstone" star Mo Brings Plenty. His character (also named Mo Brings Plenty) first appears in Season 1 of "Yellowstone" as Thomas Rainwater's (Gil Birmingham) driver and bodyguard. Because Rainwater did not grow up on a reservation, Mo Brings Plenty offers insight into certain realities his employer did not experience growing up. The actor brought his own experiences in a different capacity to the set of "1923." Not only does his nephew play an integral part in Teonna's storyline, but Mo Brings Plenty was also a consultant for the series.
"We were so fortunate to have Mo Brings Plenty and Birdie Real Bird on set with us, they were there every day," Aminah Nieves told Outsider about the help she received from the "Yellowstone" actor. Teonna goes through trials that no person ever should. After imprisonment by the Catholic church, Teonna can only escape through violence. She murders nuns to secure her escape, but even when she is on the run, life doesn't get easier. Time after time, she has to fight to live. This is an extremely personal tale, and Nieves credits the on-set consultants, such as Mo Brings Plenty, with assisting with this difficult work.