Henry Winkler's Role On South Park Wasn't His Only Time Playing A Monster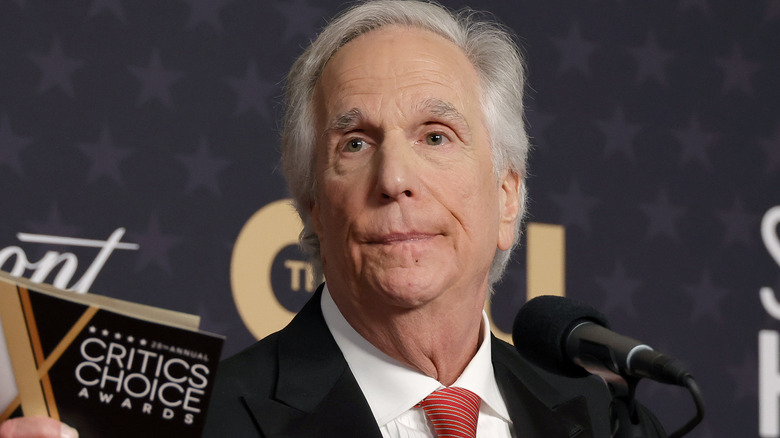 Frazer Harrison/Getty Images
It's no secret that over the course of its long history, the "South Park" franchise has seen more than its fair share of legendary entertainers lend their voices to the iconic animated series in cameos that you might have forgotten ever happened. Almost from the very beginning, no less than Isaac Hayes himself voiced the main characters' mentor Chef, and as the show's stature in popular culture kept on growing, more and more big-name actors and musicians became interested in visiting the strange little town in Colorado in some capacity or another.
"South Park" creators Trey Parker and Matt Stone have also shown amusement in casting well-known actors and then reducing their roles to unrecognizable non-verbal grunts. The most famous example of this is probably George Clooney's hilarious cameo as Sparky in an early Season 1 episode of the show, but in Season 2, they pulled the trick again with Henry Winkler, who was (at least at the time) best known as part of the cast of "Happy Days." 
Henry Winkler lent his voice to an episode that also references his infamous Happy Days shark jump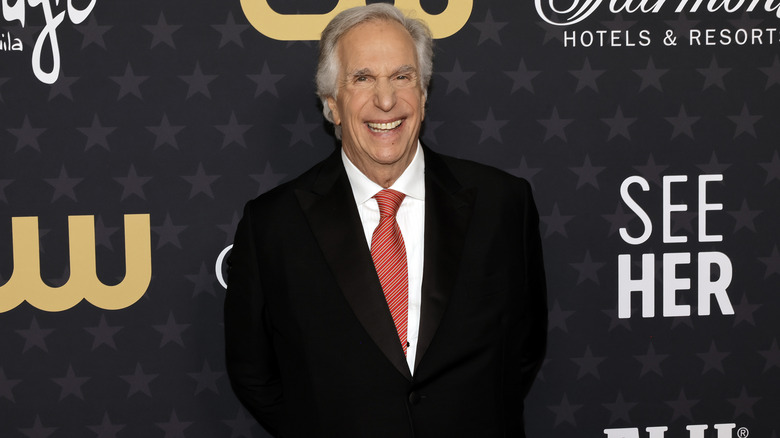 Kevin Winter/Getty Images
In Season 2, Episode 7 of "South Park," the boys are menaced by The Scary Monster as their school bus teeters on the edge of a cliff. Unless you have an uncanny ear for monster growls, you might not notice that the Scary Monster is voiced by none other than Arthur Fonzarelli himself, but a look at Winkler's IMDb credits reveals the truth.
One of the show's "Rashomon"-style flashbacks depicts a scene that isn't even from "South Park." In typically absurd fashion, the kids remember when Fonzie "jumped the shark" on the show "Happy Days," an infamous TV moment that spawned a still-popular figure of speech referring to how good shows go bad and the exact moment when it happens. But in another typical "South Park" twist, Winkler doesn't voice Fonzie for the flashback (show co-creator Trey Parker voices him), but instead simply grunts and growls as the Scary Monster in the episode.
"City on the Edge of Forever" hit Comedy Central in 1998, but Winkler has had quite the career renaissance since then. He most notably appears as acting teacher Gene Cousineau on the HBO original series "Barry," which Winkler says is the best project he's ever been involved with (via Den of Geek). In a way, that only makes his nearly anonymous cameo in an early "South Park" episode even funnier. And true Winkler devotees already know that the "South Park" episode is not the only time he's voiced an animated monster. 
He also voices Fritz on Monsters at Work
In 2021, the animated series "Monsters at Work" debuted on Disney+. It's a sequel to Pixar's 2001 film "Monsters, Inc.," and its voice cast includes franchise stars Billy Crystal and John Goodman. But Henry Winkler is also among its main cast, voicing the Monsters, Incorporated facilities chief Fritz. While it isn't Winkler's first time voicing a monster, this is a much friendlier and more verbal variety of monster compared to his role on "South Park" and in a press junket interview with ABC 7 Chicago from when his addition to the show was first reported, he spoke about how he enjoyed coming up with some of his dialogue on his own.
"Here's what I love: they let you improvise. And if it works for the show, they leave it in," recalled Winkler. "My character was going on vacation and I just sang, 'I'm going to the Caribbean with snow in my past,' and it's in!"
Gene Cousineau himself couldn't ask for a better acting gig than that.