George Clooney's Hilarious South Park Cameo You Might Have Missed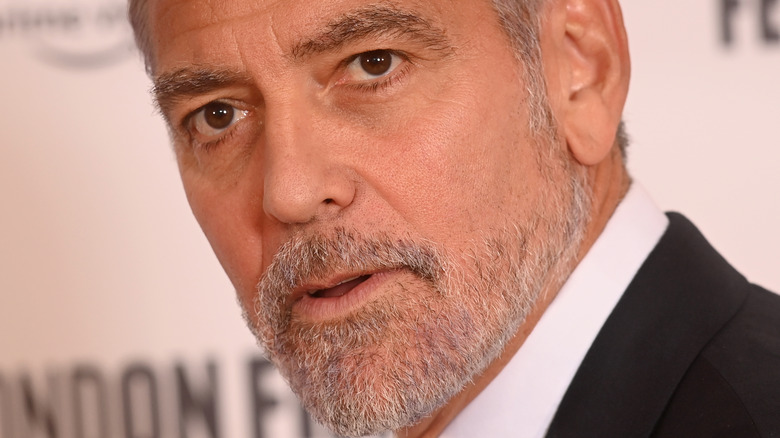 Dave J Hogan/Getty Images
In the 25 years we've come on down to "South Park," creators Trey Parker and Matt Stone have never missed an attempt to make jokes at the expense of some very famous people. From pop stars to political figures, no familiar face crudely tweaked for the show was safe from being torn to shreds by way of animation described by Eric Cartman (Trey Parker) as "all crappy." Incredibly though, some stars were happily in on the joke from the beginning, with George Clooney being one of the show's most prominent supporters during its early years.
So fond of the four boys' adventures in their quiet mountain town, the Oscar-winning actor, director, and producer even braved a recording booth for one of the most iconic characters in the show's history. During the peak of the Clooney-era trailing off from "E.R.," the rising star — who was making a name for himself by way of "From Dusk Till Dawn" and (ahem) "Batman & Robin" — went totally out of his comfort zone for the award-winning show. Rather than being a visiting voice to "South Park," Clooney took on the role of a family dog discovering his sexuality in what still stands as one of the show's most groundbreaking episodes.
George Clooney voiced Stan's gay dog, Sparky, in South Park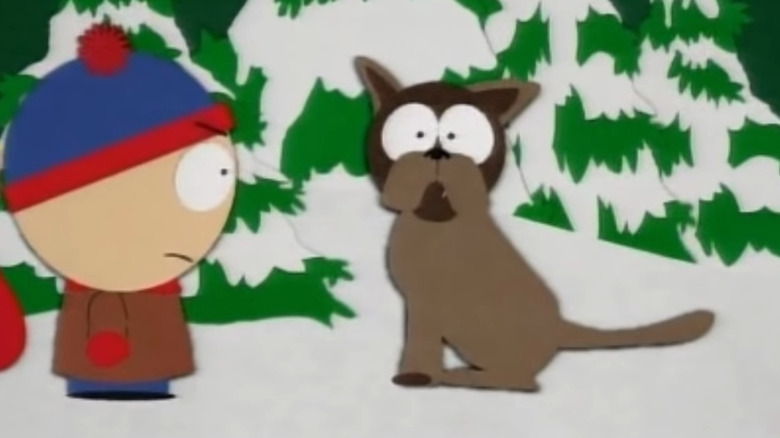 Comedy Central
In the fourth episode of Season 1 — "Big Gay Al's Big Gay Boat Ride" — George Clooney appeared as Stan's (Trey Parker) pet dog, Sparky, who, after constantly humping other male dogs, runs away to find a home that accepts him. While it seems unthinkable now, open discussion on homosexuality was a rare thing on television, making it understandably a subject Parker and Matt Stone happily tackled head-on, earning them immense praise. Phil Dyess-Nugent of The A.V. Club said, "If the first season of 'South Park' produced a masterpiece, it's 'Big Gay Al.'" What didn't get much credit, however, was Clooney as Sparky, mainly because his contribution to the show went only as far as barking.
A gag unto itself, Clooney's lines — consisting of a single onomatopoeia — still played a part in Stan helping the town embrace homosexuality and, in turn, its most iconic openly gay local, Big Gay Al (Matt Stone). The added star power was even pushed in anticipation of the episode airing, with Clooney's name being thrown around in commercials and even getting mentioned in the show's opening. From there, he voiced a role closer to his past credits when he starred as Dr. Gouache in the first feature film, "South Park: Bigger, Longer and Uncut." By being so game for a laugh, it made sense that Parker and Stone mocked the actor in their other well-known feature film sometime later, which he took on his perfectly chiseled chin.
He backed Matt Stone and Trey Parker on Team America: World Police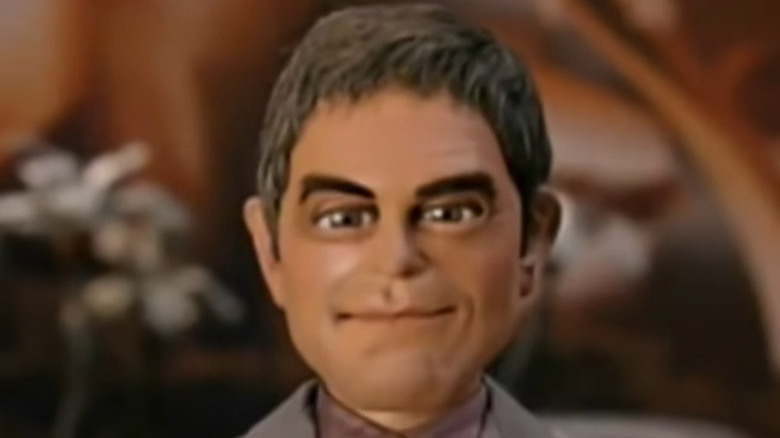 Paramount Pictures
During their brief stint away from the snowy and consistently rocky terrain of "South Park," Matt Stone and Trey Parker pulled on the strings of live-action by way of "Team America: World Police." Met with equally high praise for their action-packed puppet picture, the film's most notable jabs were aimed at the creme de la creme of Hollywood, George Clooney included. Though he didn't take as much damage as other stars in the film like Alec Baldwin, Sean Penn, and Matt Damon, Cloney welcomed the satirical spotlight.
Speaking to Hotdog Magazine in 2005 (via Irish Examiner), Clooney accepted that being joked about came with the territory in the business he was in, and he was happy that Parker and Stone were taking shots. In relation to appearing in the film, Clooney was grateful, saying, "I must say I would've been offended if I wasn't in it." Concerning the film's directors, Clooney explained, "Those guys, they're friends of mine. I helped them get their show on the air and was Sparky the gay dog and was in their 'South Park' movie. Part of the fun about being up here is that we get to be objects of that."