Fans Love Seeing Red And Kitty Back In Action On That '90s Show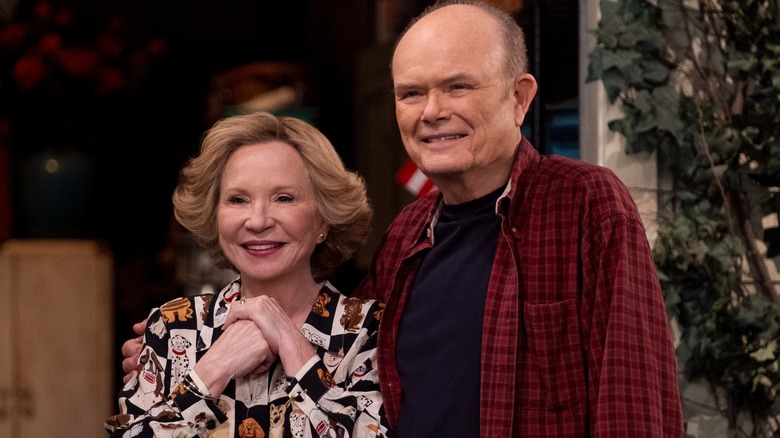 Patrick Wymore/Netflix
Netflix's "That '90s Show" was a perfect example of how to revive a popular sitcom from long ago. It kept the rebellious spirit of the original while focusing on new characters and picking up with their mischievous adventures. Of course, there was plenty of fan service thrown in as well, but it felt earned and wasn't overdone. Much of the original cast of "That '70s Show," including Topher Grace, Laura Prepon, Mila Kunis, Ashton Kutcher, and Wilmer Valderrama, returned in minor capacities, only appearing in an episode or two. 
However, the real standouts of the first season were Kurtwood Smith and Debra Jo Rupp, reprising their roles as Red and Kitty Forman, respectively. Their granddaughter, Leia (Callie Haverda), spends the summer with them, and they show how not much has changed between the decades. Red and Kitty have just as much development as the new crop of kids, and it was a real treat for fans to see one of the best married couples in sitcom history return.
Fans agree Red and Kitty carry That '90s Show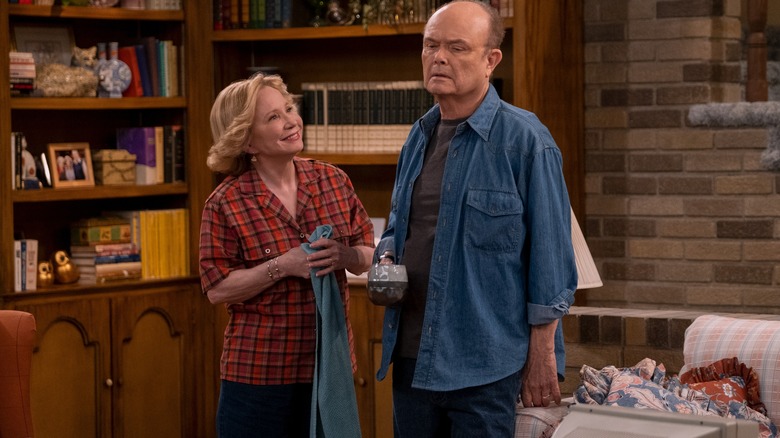 Patrick Wymore/Netflix
A healthy dose of trepidation with any sitcom reboot is to be expected. But it would appear, based on social media reactions, that fans were pleasantly surprised to see Kurtwood Smith and Debra Jo Rupp still had it when "That '90s Show" debuted. Kitty is still a delight, and while Red may have mellowed with age, he's still not above threatening a youngster when they cross him. @MotionlessFiend offered these words of praise, "Red and Kitty still steal the show with every scene they have, but the new kids are good too. It feels almost like the original show. This is a sequel series done right!"
For many viewers, Red and Kitty's inclusion was a major selling point to returning to Point Place, like @saintjxmmyx, who wrote, "I'm only watching that 90s show for the absolute living legends that are Red and Kitty Forman." For others, the series was all the better with their inclusion, like @JustRahz stating, "That 90s Show was a lot better than I expected. Red and Kitty carried the show, but honestly I didn't mind the cast they had. Now I want to re watch That 70s Show."
Luckily, fans don't have to say goodbye to Kitty and Red just yet. Netflix renewed the series for a second season, meaning Leia will return to Point Place for another summer to see her grandma and grandpa.