Joe Chrest Hopes Ted Gets A Shot At The Upside Down In Stranger Things Season 5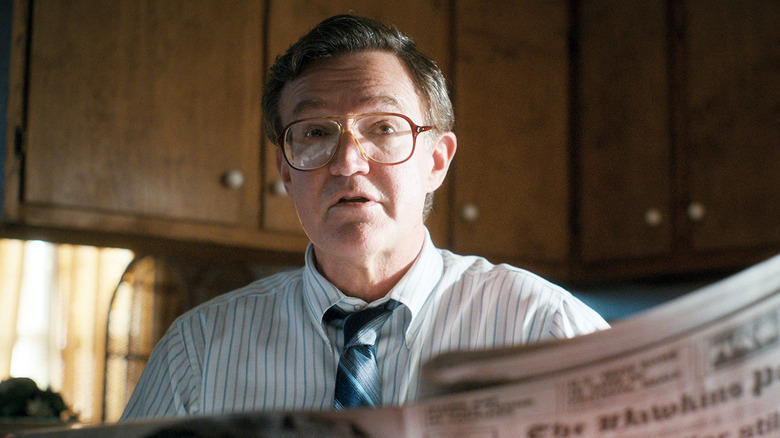 Courtesy of Netflix © 2022
It's safe to say that most parents would worry at least a little bit if their children became involved in a battle against a sinister alternate dimension — that is, unless that parent is Ted Wheeler (Joe Chrest), father of Mike (Finn Wolfhard) and Nancy (Natalia Dyer) on Netflix's "Stranger Things."
From the beginning of the series, a few things are made clear about Ted: He's even-tempered, he has an endless supply of sarcastic one-liners, and he enjoys the simple things in life, like reading the daily newspaper with no distractions. Even when dark forces begin to penetrate the town of Hawkins, he remains in his safe, suburban bubble, refusing to get worked up over things that are outside of his norm. This includes the tense Wheeler family dinner after Mike's friend Will Byers (Noah Schnapp) goes mysteriously missing — all Ted wants is to enjoy his chicken and newspaper.
As the situation in Hawkins becomes ever more dire, Ted's cluelessness continues, much to the frustration of the other characters. When a frantic Dustin Henderson (Gaten Matarazzo) comes knocking for Mike and Nancy, and Ted informs him that he has no idea where his own kids are, Dustin replies, "You're really no help at all, you know that?"
Throughout "Stranger Things," Will's mom — Joyce Byers (Winona Ryder) — and Chief Jim Hopper (David Harbour), the guardian of Eleven (Millie Bobby Brown), are the sole parental figures involved in the battle against the Upside Down. However, with the fifth and final season of the series approaching, Joe Chrest wants to see Ted finally set aside the newspaper and take on some Demogorgons.
Chrest wants to see Ted Wheeler fight back against the evil in Hawkins
In an interview with Pop Culturalist, Joe Chrest revealed that he wants to see Ted Wheeler finally embrace the craziness of Hawkins and shock viewers by jumping into action. Specifically, he'd love to see Ted have a moment similar to that of news anchorman Howard Beale (Peter Finch) in the 1976 film "Network," when he rants about the poor state of the world on live television: "I'm mad as hell, and I'm not gonna take it anymore!"
"I know he [Ted] loves his kids — he works his butt off for his family to the point of passing out when he gets home. At some point, now or never, I want to see that 'Network' moment ... Give me a shot at the Upside Down! Audie Murphy [a famous World War II soldier and actor] with a golf club!"
Chrest also wants the show to highlight a bit of Ted's background, which he speculated could be military-related. This would be an interesting addition to the character, since Chrest himself is a veteran of the United States Air Force and served during the Cold War. In fact, he was singled out for his expert marksmanship.
Series co-creator Ross Duffer announced in an interview with TV Line that, due to the aging of the young stars, the highly-anticipated "Stranger Things" Season 5 will likely feature a time jump of a few years. This gives the evils of the Upside Down plenty of time to break through Ted's comfortable bubble and force him to see the truth. Plus, could you imagine how many great sarcastic one-liners would come if he were face-to-face with Vecna (Jamie Campbell Bower)?