The Impractical Jokers Are Selective With Their Locations (After A Hard Lesson)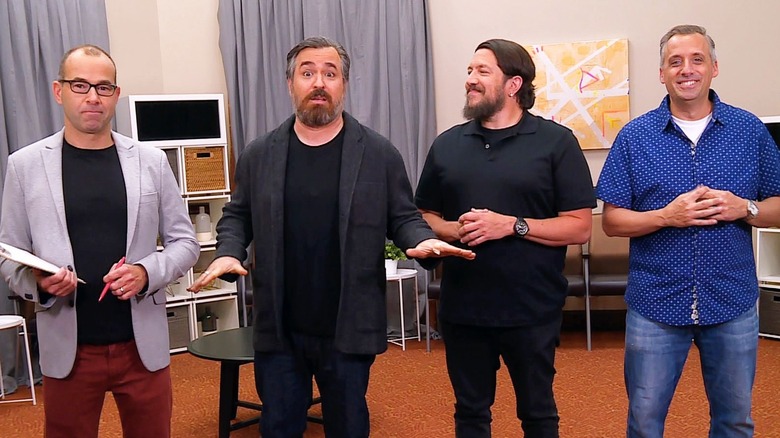 TruTV
Giving longtime friends a television show that allows them to torment each other and the general public has proven to be a huge success for "Impractical Jokers." This particular show sees Brian Quinn, James Murray, Joe Gatto, and Sal Vulcano set up a series of hidden cameras, and challenge each other to perform increasingly bizarre and erratic stunts. Most of the time these challenges are absolutely ridiculous, which can cause quite a stir, though that can depend entirely on the location.
Usually set in and around New York City, "Impractical Jokers" has taken place in stores, offices, restaurants, and many other locations that see people congregate — a perfect setup for the friends and their impractical pranks, since messing with each other doesn't have nearly the same sting without a captive audience. As told to SILive, sometimes these pranks can invoke a police response, with Vulcano providing an anecdote about a challenge requiring the jokers to use baby talk to communicate with adults. "So we thought the best way to do that was to go to a place where there's children and talk to them and then transfer it to the adult. But we didn't have kids with us," Vulcano said. "The cops were called that day." 
The locations in "Impractical Jokers" tend to have an impact on the jokes themselves, and a recent interview with one of the show's stars explains exactly why the environment can have such a tremendous effect on the results of their efforts.
The behavior of people changes due to the environment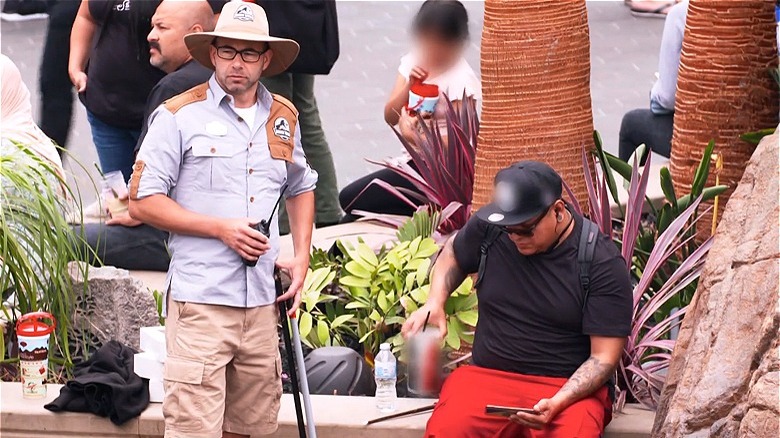 TruTV
Speaking with Den of Geek, series star James Murray discussed the show's episode set around Universal Studios in Hollywood, California. Murray was then asked if people's behaviors change depending on the location, and Murray confirmed this to be the case. He elaborated that the show once tried filming in a New York City laundromat, but "Impractical Jokers" found that people don't want to interact in places like that. Murray added that attempting to create this laundromat episode was one of the worst days of filming they ever had.
As opposed to a laundromat, Murray said that filming in Universal Studios was a completely different experience because people were there to have fun. He clarified this thought, saying, "There's also this weird social etiquette that you have to obey in theme parks. You know what I mean? It's so crowded, you have to be careful of people and there's rules and ways that it functions. There's set rules that you need to follow. And that's always fun to screw with. When there's some kind of norms or rules that people en masse are following, when you defy those rules, when you take up two seats on a rollercoaster, things like that, that's when people react strongly."
Murray finished his statement by adding that amusement parks are absolutely great for "Impractical Jokers." This makes perfect sense considering that the show revels in candid responses.