Aminah Nieves And Jennifer Ehle Used Safe Words And Hugs To Get Through Their Intense 1923 Scenes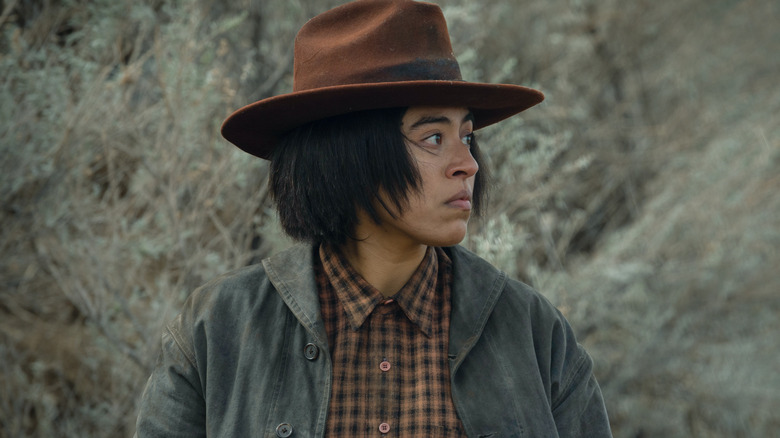 Emerson Miller/Paramount+
The "Yellowstone" franchise exists to tell the story of the fictional Dutton family. While the flagship series catches up with the Duttons in the modern day, various spin-offs have shed a light on how the Duttons came to Montana and owned a bunch of land. "1883" and "1923" draw attention to John Dutton's (Kevin Costner) ancestors, but fortunately, "1923" changed some things in the proceedings.
In addition to catching up with Jacob (Harrison Ford) and Cara Dutton (Helen Mirren), as well as their son Spencer (Brandon Sklenar) in Africa, the show also follows the story of an Indigenous girl named Teonna Rainwater (Aminah Nieves), who was taken from her family and placed in a boarding school run by the Catholic Church. Indian boarding schools were a real thing, and they were rife with abuse, as the show depicts in great detail. 
Much of this abuse comes at the hands of Sister Mary (Jennifer Ehle), and the two share a combative relationship on-screen. However, the two actresses who play these characters needed to trust one another to get through such traumatic sequences. And they had various ways to maintain their mental health throughout filming.
The intense scenes in 1923 weren't fun to do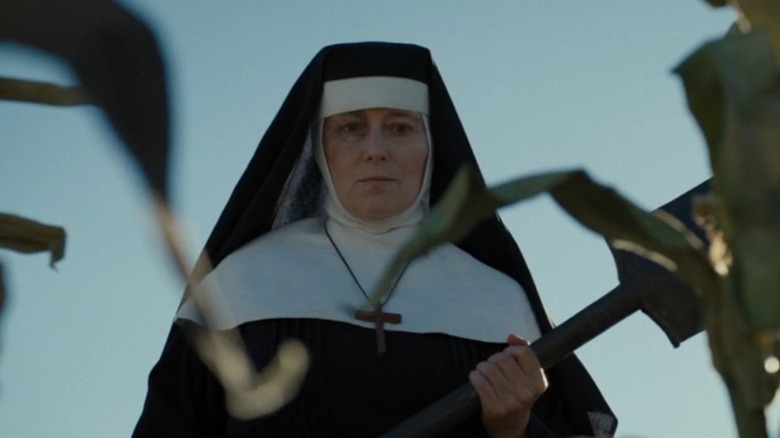 Paramount+
"1923" viewers knew exactly what they were in for from the first episode. Sister Mary beats Teonna for displaying insolence in a scene that's tough for anyone to watch. Things don't get any better throughout the rest of the season, and those kinds of scenes certainly took their toll on the actors. 
It's paramount for film productions to be a safe environment for all involved, especially when dealing with delicate subject matter. Fortunately, it sounds like the team behind "1923" gave Aminah Nieves and Jennifer Ehle the resources they needed to perform to the best of their abilities while knowing they were in good hands. When asked by Decider about such intense scenes, Nieves explained, "We're both very aware of our boundaries and have a deep respect for one another. The moment we felt unsafe, it was like we had tap patterns." Ehle went on to mention how they had safe words as well, with Nieves responding, "After every take, we would just hug it out. After those scenes were finished, we would cry together. I was very safe." 
Ehle concluded by saying, "I had to feel safe in order to do those abusive things. Sometimes working the dark stuff is the most fun to do. This wasn't fun. This one wasn't fun." While it may not have been fun to film, it hopefully showed audiences what life has been like for Indigenous people over the years in this country and helped them gain a greater amount of empathy for those who were in this country first. 
If you or someone you know is dealing with spiritual abuse, you can call the National Domestic Violence Hotline at 1−800−799−7233. You can also find more information, resources, and support at their website.