Maverick And Rooster's Relationship Wasn't In Top Gun: Maverick's Initial Script
It's difficult to imagine "Top Gun: Maverick" being anything less than what it was. While one can't claim that long-gestating sequel is objectively perfect, it made a durable and long-lasting impression on audiences. The film broke pandemic box office records and managed to bring older audiences back to cinemas. It even found a diehard fan in director Steven Spielberg, who made it a point to tell lead star Tom Cruise that his highest-grosser "might have saved the entire theatrical industry."
Nearly a year after its debut at CinemaCon 2022, Joseph Kosinski's aviator sequel is still being widely celebrated, especially on Paramount+, with Variety reporting that "Maverick" became the service's most-watched flick during its premiere weekend. With such consistent acclaim and support, it's fair to say Kosinski and co. captured lightning in a bottle. What may surprise ardent fans, however, is that a key component of the sequel wasn't in the original iteration of the script.
While speaking with Collider in late 2022, before the film received six Oscar nods, Kosinski revealed that the original idea of "Top Gun: Maverick" didn't feature Rooster (Miles Teller) and Maverick's (Cruise) initially contentious relationship. As production on "Only the Brave" wrapped up, Kosinski was asked by producer Jerry Bruckheimer to peruse through the "Maverick" script. While the director was enthralled by Penny Benjamin's character (Jennifer Connelly) and the prospect of Maverick stealing an F-14 from the enemy's base in the climax, Kosinski felt the sequel was missing an emotional core. "I felt like I had ideas about how I thought I could improve it, the main one being the relationship between Maverick and Rooster being at the center of it," the director said. 
Joseph Kosinski and Tom Cruise made the right call with the Rooster storyline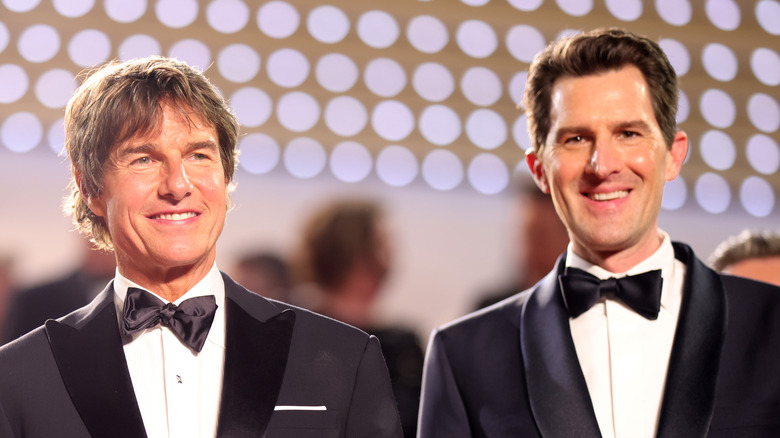 Andreas Rentz/Getty Images
To bring Tom Cruise on board for the sequel, the "Tron: Legacy" director realized the "Top Gun: Maverick" needed an "emotional hook" that captivated the star. A month after his initial chat with Collider, Kosinski expressed to Deadline that Cruise was hesitant to return to the world of "Top Gun," especially after the passing of original film director Tony Scott.
Continuing his conversation with Collider, Kosinski detailed just how important it was to convince Cruise that Rooster and Maverick had to be at the center of the sequel to make it work. "And the first thing I pitched to him was the Rooster story," the director said. "That this reconciliation between these two characters set against a mission that would take both of them across enemy lines where they'd have to come together and fight their way back as a team, just like he and Goose were." 
It's hard to imagine "Top Gun: Maverick" being as successful as it is without Rooster and Maverick's relationship, which slowly evolves as the film progresses. In an interview with Cinema Blend, Rooster actor Miles Teller described his character's final moments with Maverick as "cathartic," a description that any fan of the sequel would agree with.