Tom Selleck Was Drawn To Blue Bloods And Magnum PI For The Same Reason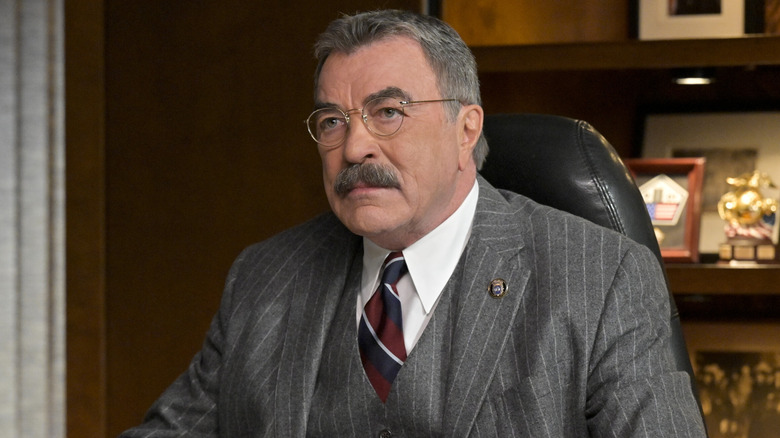 Kathy Hutchins/Shutterstock
Despite what he's most famous for, some fans will primarily know Tom Selleck as Richard Burke, the sweet, sexy, way-too-old-for-her ophthalmologist boyfriend of Monica Geller (Courteney Cox) on "Friends." But of course, Selleck has had a long, successful career before and after "Friends" playing law heroes.
Selleck is now known as New York police commissioner Frank Reagan on the CBS hit "Blue Bloods," currently airing its 13th Season. The head of a big family of law enforcement workers, Frank's father Henry (Len Cariou) was commissioner before him while son Danny (Donnie Wahlberg) is a gruff NYPD detective, son Jamie (Will Estes) a police sergeant, and daughter Erin (Bridget Moynahan) the assistant district attorney. As they fight crime on the streets and enjoy weekly family dinners at home, the already tight-knit Reagans learn more about each other with each episode.
Before his time on either "Blue Bloods" or "Friends," Selleck was known as Thomas Magnum in the earlier CBS hit, "Magnum PI." Though not officially law enforcement, Magnum is a former Navy SEAL and Vietnam vet turned private investigator working for an elusive author. The successful series, often considered a "Hawaii Five-O" spinoff, ran from 1980 to 1988 and had the fifth most-watched series finale, with over 50 million viewers tuning in. It was rebooted in 2018 with Jay Hernandez in the title role, airing its 5th Season on NBC. Interestingly, it turns out that there is a characteristic inherent in both "Blue Bloods" and "Magnum PI" that attracted Selleck to them.
Tom Selleck liked both series because of their character development
Though these two series have nothing specifically to do with each other, they do have a common trait that attracted Tom Selleck to them. When Rachel Ray asked Selleck why audiences still tune into "Blue Bloods" after so many years, Selleck revealed a core reason why he was drawn to both "Magnum PI" and "Blue Bloods."
"What has always worked for me, or what my appetites are, they go towards character-driven shows," Selleck explained. "Magnum was a character-driven show. I don't remember half the plots, or even way less than half." He explained that he appreciated the "Blue Bloods" script because "it was character-driven in an age where there's just so many procedurals on."
While many would argue "Blue Bloods" is a procedural, the original "Magnum PI" did something unusual, and a bit controversial, for its time: It depicted Vietnam veterans in a more realistic, sympathetic way. "When I created 'Magnum, P.I.' I got thousands of letters from Vietnam veterans thanking me for portraying Vietnam veterans who were something other than killers and drug addicts and crazy and unable to function in society," creator Donald Bellisario told the Television Academy. "It was quite a departure for television at that time." Selleck, also a vet, fought for the veteran aspect too when the studio balked. "Magnum was recognized as the first show to portray Vietnam veterans in a positive way," he told AARP. "I don't want to get too emotional, but I am very proud of this."