Foo Fighters Fans Loved Dave Grohl Even More After His 60 Minutes 'Drumming Greats' Segment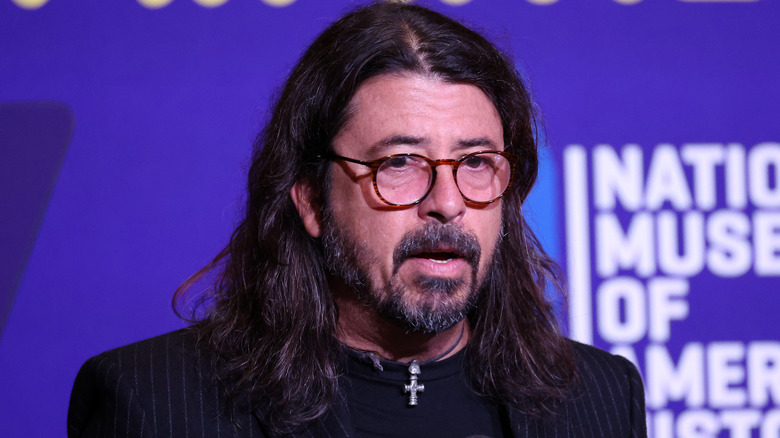 Paul Morigi/Getty Images
Dave Grohl has been a mainstay in American music for decades now. Those old enough will remember how his concrete-shattering drums added to the raw force of Nirvana's breakout album "Nevermind," and in doing so helped change the trajectory of rock music. By now, he's more recognized as the singer, guitarist, and primary songwriter for Foo Fighters, with whom he's sold over 12 million albums in the United States alone. 
However we associate him, Grohl is undoubtedly well-liked. His occasional appearances in Super Bowl commercials certainly hit home that he has a sense of humor, and his legendary habit of leaving $1,000 tips and other acts of kindness have earned him the reputation of the nicest guy in rock. Oddly enough, it's a moniker Grohl rejects, not because he thinks he isn't nice, but because he believes that he's met many others in the music business with bigger hearts than him. 
In any case, there are plenty of famous folks in all manner of entertainment whose reputations are a mile wide and an inch deep. What happens when you put them in front of a reporter with a camera? As it turns out, Anderson Cooper and "60 Minutes" found out when they sat down with Grohl.
Fans love Grohl's humility in the interview
In 2014, Anderson Cooper presented a "60 Minutes" segment profiling Dave Grohl, which saw Grohl talk about a lot of things, including, unsurprisingly, drumming. One particular sequence saw Grohl interviewed alongside the late Foo Fighters' drummer, Taylor Hawkins. When Cooper suggested that Grohl may in fact be the best drummer in music, Grohl was quick to deflect to his bandmate. "Taylor is a much more technically-minded drummer than I am," Grohl insisted, "which I think makes the band work the way it works."
But it's the comments from fans below the YouTube video that seem to hit home about how they feel about Grohl. "Dave Grohl is such a nice person," wrote @carbonz1995. "He's never got a bad word to say about anybody." Several other comments zoomed in on Grohl's sincerity and humility. "Love the respect Dave gives everybody," wrote @neeksthecuz.
The compliments in this segment also play quite differently now, following Hawkins' unexpected death in March 2022. Joining in 1997, Hawkins was the drummer for the Foo Fighters for around 25 years. Grohl and Hawkins were close, and Hawkins' death was one of more than a few tragedies Grohl's had in his life. "This makes me sadly happy, how they both referred to each other as the best drummer on earth," wrote @fuzzbrain913, not long after news of Hawkins' passing, "They're so down to earth and supportive of each other. You will be missed, Taylor."