The Curmudgeonly Reason Natasha Lyonne And Phil Tippett Became Real Friends On Poker Face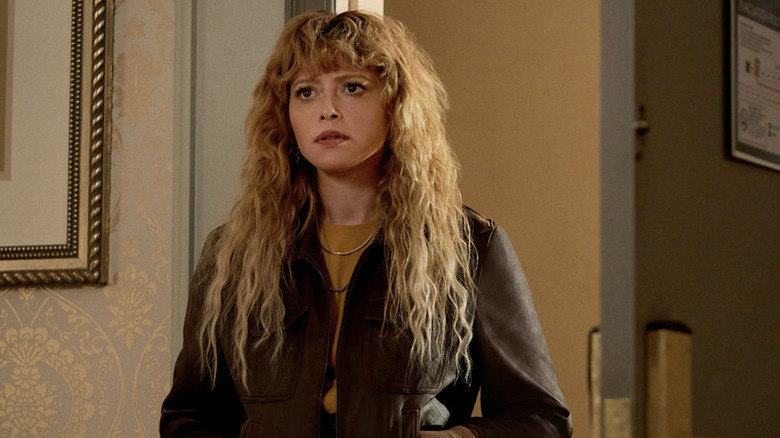 Karolina Wojtasik/Peacock
Rian Johnson's thrilling new series "Poker Face" puts a wild spin on the murder mystery genre. Starring Natasha Lyonne as human lie detector Charlie Cale, the exciting drama recruits a stellar array of talented guest stars including Simon Helberg, Dascha Polanco, Nick Nolte, and Cherry Jones. The series even has an exciting crew behind the camera, like legendary visual effects artist Phil Tippett (of "Star Wars" and "Jurassic Park" fame), who lends his expertise to a standout episode.
In Episode 8, titled "The Orpheus Syndrome," a character similar to Tippett (played by Nolte) uncovers a past secret when his former collaborator (Jones) returns with a vast conspiracy within the industry. Tippett, after his time working on the original "Star Wars" series, provided consultation for the episode (on top of Johnson's own experience with the franchise), resulting in a truly stirring hour of television. The episode also has authentic roots behind the scenes as Lyonne (who also serves as an executive producer of the series) formed a natural bond with Tippett on set.
While on a break from filming, Tippett and Lyonne unintentionally crossed paths, leading to a discovery of shared interests between the two. Talking with The Wrap, Tippett revealed the surprising encounter, and how the pair became quick friends. 
While looking for solitude, the two found an unexpected friendship
Karolina Wojtasik/Peacock/Jesse Grant/Getty Images
Fans have been incredibly vocal about their love for Natasha Lyonne in "Poker Face." The series is an exceptional vehicle for her to flex her acting abilities, both dramatic and comedic, leading to a charming performance that's impossible to resist. In "Poker Face," Lyonne's character Charlie consistently makes friends wherever she goes due to her refreshing honesty and unwavering empathy. This quality might stem from Lyonne herself, as she was one of the lucky few to form a relationship with the esteemed film artist Phil Tippett.
At The Wrap, Tippet broke down how this episode came to be and how his friendship with Lyonne naturally blossomed. He revealed how the cast and crew respected his boundaries by pushing down their burning "Star Wars" questions, and how he happened upon Lyonne during their break: "I just took my lunch and I went into the barn to eat my lunch, and Natasha was there." He continued chatting about how they would spend their time together conversing over experiences in film and television, particularly Lyonne's "Russian Doll" and Tippett's "Mad God." 
These intensive passion projects are glorious works of art that took a surprising toll on the creators, which the two bonded over, as Tippet shared: "They were very, very similar, because both of those shows totally broke us as human beings. Really, seriously, psych ward, rehab-type stuff because we just dump everything into it and you don't meet too many people that you can share that kind of experience with, as in none. I would bum cigarettes from her and we would spend a really enjoyable hour." We couldn't possibly think of a more relaxing way to spend one's lunch break.