Anthony Mackie Credits Samuel L. Jackson For Teaching Him About The Acting Business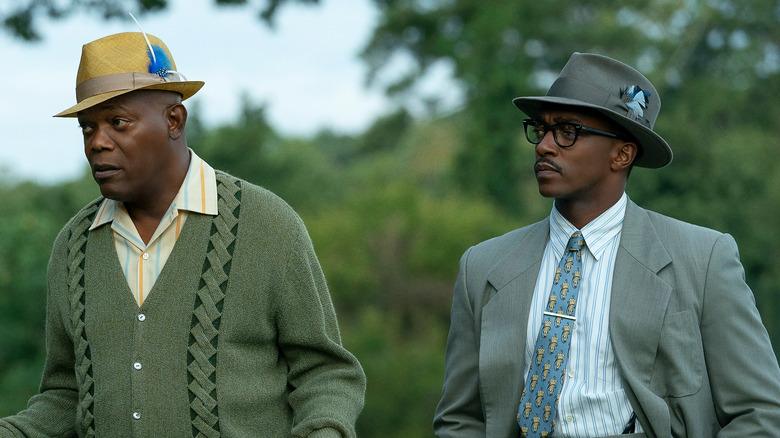 Apple TV+
Want to feel old? Anthony Mackie has been appearing in movies for more than 20 years. Since his first credited on-screen work in "8 Mile," the newly-minted Captain America has racked up over 70 acting credits. That sort of career proliferation doesn't come easy. It helps to have a solid role model in your corner, teaching by doing and showing you how to make a good impression so you don't inadvertently step on some toes.
And if you're looking for someone to emulate in show business, you could do a lot worse than Samuel L. Jackson, whose utility-player approach to acting has dropped him square in the middle of just about every successful film franchise of the last three decades. Any young actor would be fortunate to spend time in his shadow, learning the ropes and leveling up. And luckily for Mackie, he had that opportunity on more than one occasion during the early days of his career. Even better, it sounds like he was beyond grateful that it happened.
Anthony Mackie shares the love for Samuel L. Jackson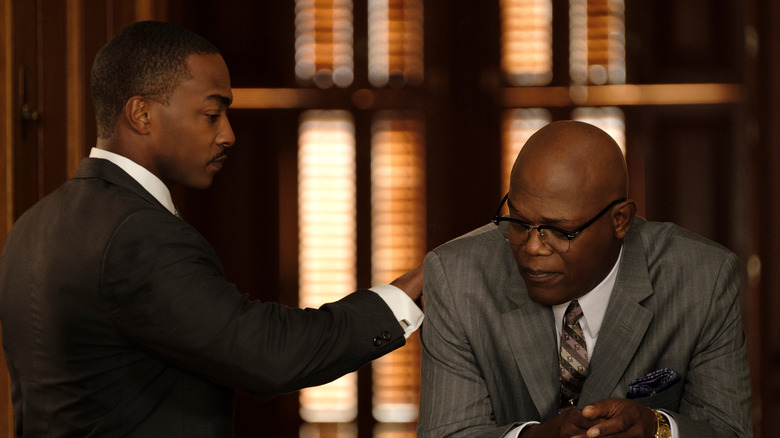 Apple TV+
Anthony Mackie seemed genuinely excited for the opportunity to sing Samuel L. Jackson's praises during his recent return visit to the "Happy Sad Confused" podcast. There, he described Jackson as something of a mentor-and-then-some.
"Sam Jackson taught me a lot from afar. Three of my earliest movies were with Sam Jackson and because of that my set etiquette is a complete replica of Sam Jackson." Mackie wasn't specific as to which movies he was referring to, but his earliest collaborations with Jackson were in 2005's "The Man," 2006's "Freedomland," and 2010's "The Start of Dreams."
Mackie continued: "[Jackson] literally was my work dad and taught me everything about the business from afar. And every now and then I'd ask him a question and he'd give me one of his answers, 'Shut up, motherf*****!' And I would take that. But literally, when you see me on set, it is a direct representation of how Sam Jackson moved and operated with this business, with class. People went the extra mile for him, just because he was a cool dude."
It's nice to hear these sorts of stories coming out of show business. Even nicer: The fact that both Mackie and Jackson wound up getting sucked into the endless MCU machine, meaning that they'll be working together and appreciating one another's professionalism for decades (and decades and decades).