Chase Stokes Got Knocked 'Out Cold' By Outer Banks Co-Star Rudy Pankow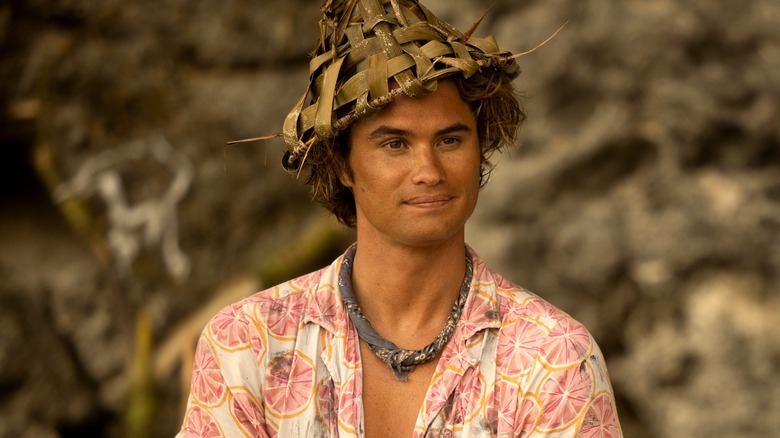 Jackson Lee Davis/Netflix
Netflix is a platform that allows the teen drama genre to flourish without any constraints related to content censorship or cast, crew, and/or writer limitations. A prime example of this can be seen in the teen mystery series "Outer Banks," which explores the confrontations and struggles between two different social classes in a divided North Carolina coastline. In the tradition of S.E. Hinton's "The Outsiders," the series divides the residents between the "Kooks," and the "Pogues" — the wealthy seasonal citizens and the working class faction respectively.
With Season 3 of the program set to premiere on February 23, 2023, fans can get ready for more intrigue, relationship dynamics, and the slippery slope of greed. Chase Stokes is set to return as Pogues leader John B. Routledge, along with all of the other main cast members, and the adrenaline-packed moments that defined many of the most exciting scenes from Seasons 1 and 2 sound as if they will be returning as well. 
In one of these sequences, Stokes also had a close call with a serious injury during the action-packed filming of the third installment. In fact, Stokes was knocked out cold by his co-star Rudy Pankow (who plays JJ Maybank). Here is what happened.
Pankow accidentally caused a door to fall on Stokes' head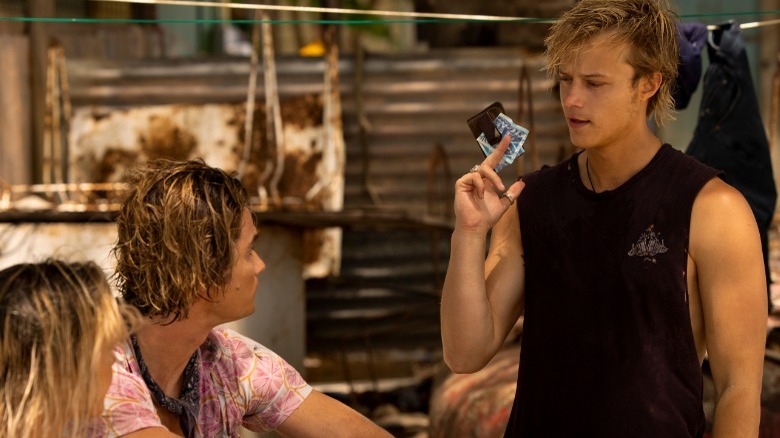 Jackson Lee Davis/Netflix
During a cast interview with MTV News while promoting the 3rd Season of "Outer Banks," Rudy Pankow let it drop that he accidentally caused series lead Chase Stokes to suffer an injury while filming a scene from the new installment that involves the two actors acting the sequence on a plane. When asked what his favorite behind-the-scenes memory was of Season 2, Pankow replied, "I mean, there's a lot of behind-the-scenes moments," before he was humorously cut off by Stokes who interjected, "Go for it. Why don't you tell us?" prompting him to let the world know what happened.
The actor then shared "I accidentally injured Chase. I wouldn't say it's my favorite thing in the world." Jonathan Daviss (who plays Pope Heyard) cut in and revealed that Chase Stokes' injury was a concussion. Rudy Pankow then shared the story: he was following his co-star's orders to exit the plane quickly, and with a bit too much haste his leaving the plane brought the aircraft's door down on Stokes' head a bit too hard.
The injured star of the show provided details on how he was left completely unconscious for a few moments, but woke up and continued to shoot the scene that involved jumping into the water below and swimming. There is no bad blood between the colleagues though, and Chase observed how he is completely okay from the accident — to which Rudy still offered an on-air apology.