Dee Bradley Baker Appreciates That Star Wars Fans Still Love Commander Cody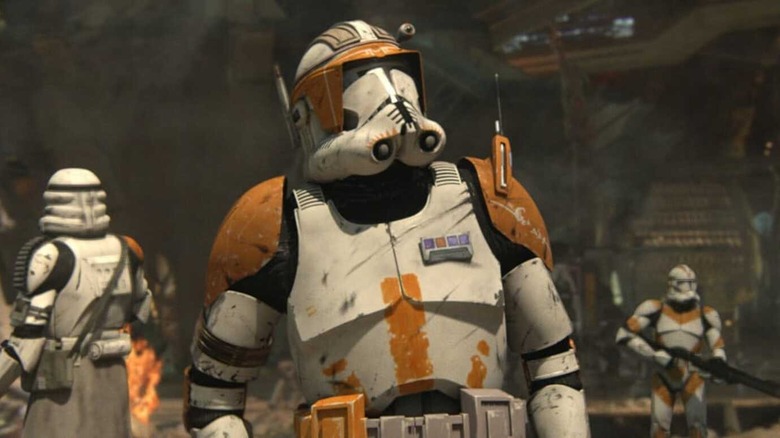 20th Century Fox
General audiences may not realize it, but clones are a massive part of "Star Wars," even if they haven't received the theatrical screen time they deserve. Although the clones continue not to get any respect in-universe, fans have nothing but love for the lookalike, yet unique, characters.
While Lucasfilm introduced the clones in "Star Wars: Episode II — Attack of the Clones" and continued to showcase them in "Star Wars: Episode III — Revenge of the Sith," the soldiers really hit their stride with "Star Wars: The Clone Wars." The animated series, while focusing on Anakin Skywalker, Obi-Wan Kenobi, and Ahsoka Tano, emphasized the high-ranking clones in the Republic's army, primarily Commander Cody. While fans first saw Cody in "Revenge of the Sith" ordering his troopers to execute Obi-Wan, the show, set before the movie, explored his friendship with the Jedi general, making his ultimate betrayal much more heartbreaking.
Cody served the Republic admirably, sporting his iconic orange uniform instead of the traditional yellow worn by clone commanders. "The Clone Wars" ran for six seasons from 2008 to 2014, before returning for a seventh and final run in 2020. During the show, Cody was in countless battles across the galaxy, fighting alongside Obi-Wan, Anakin, and numerous others. Viewers finally got more of Cody in 2023 with "The Bad Batch" Season 2, showing his post-war life serving the Empire. For a character introduced way back in 2005 and who hasn't been featured in many storylines since 2020, one would think that Cody would fall to the back of fans' minds. However, the Commander still holds a special place in audiences' hearts, and Cody's voice actor Dee Bradley Baker couldn't be happier to see the outpouring of support.
It's clear that Star Wars fans want to see more of Commander Cody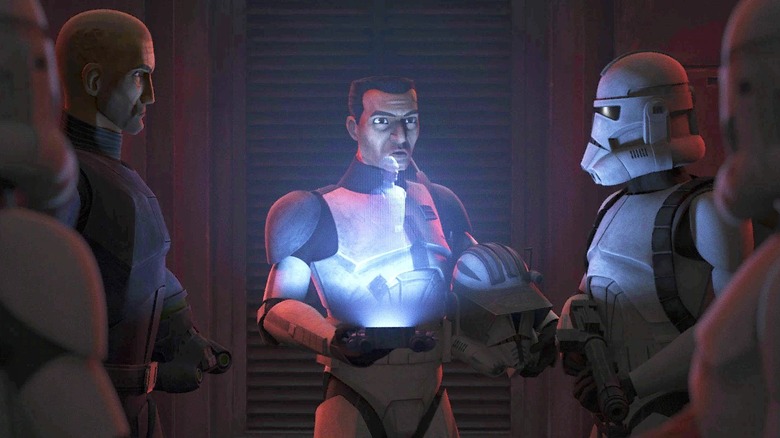 Disney+
During an interview with StarWars.com, Dee Bradley Baker, the voice of every animated clone in the galaxy, talked about Commander Cody's highly-anticipated return in "The Bad Batch" Season 2. Specifically, the actor was excited for fans to see Cody after Order 66, as they haven't stopped asking him about the character since the days of "The Clone Wars."
Speaking on Cody's episode of the series, "The Solitary Clone," Baker said, "It's a compelling and interesting story and it's one of the really interesting episodes I think that fans are going to love, in particular because they love Cody and they want more Cody. I know they do, 'cause they tell me. [Laughs.] They tell me at the conventions. They'll take a signed 8x10 of Cody, even though I haven't voiced Cody for quite a while. They still love him, and so here he comes. So let's see where that goes. It's pretty great."
"The Solitary Clone" gives "Star Wars" fans exactly what they want, showing Imperial Commander Cody questioning whether or not he's on the right side as a wave of desertion seemingly sweeps across the ranks of the clones. According to a Reddit discussion, audiences loved the episode, just as Bradley believed they would. Cody's last-minute desertion was enough to excite them to theorize about potential future appearances from Obi-Wan's former right-hand man.